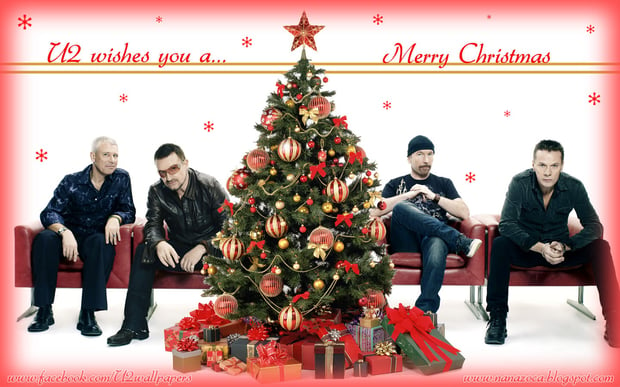 Image via u2wallpapers.blogspot.com
Happy holidays, everyone! It's that time of year where Christmas music warms your heart (or drives you crazy), your clothes stop fitting (thanks, Grandma), and we celebrate with those close to us.
With social media being one of the main ways bands communicate with fans, we've come up with some tips on how to celebrate with them on the web. While people are buried in their phones, or avoiding conflict with Grandma about their grades or new girlfriend, they'll be happy to see you posting exciting, engaging content. Try these five ways to celebrate the holidays over social media with your fans!
1. Share holiday-themed pictures and videos
We know that social media is all about photos these days. Facebook gives the most organic reach to photos, and Instagram is becoming more and more popular by the day. And let's be honest, who doesn't love a good holiday photo? This is a chance to really show your band's personality. Get a group photo of everyone in ugly Christmas sweaters, or get a shot of the drummer with a Santa hat on drinking egg nog. Or for a quick, shareable video, get a clip of your band's rendition of a popular holiday song. For this, it's best to be lighthearted – let your fans know you enjoy the holidays just like they do, and that you want to share your memories with them!
2. Ask about your fans' memories
Social media is a tool for communication, first and foremost. The whole point is to talk with your fans, not just at them. The holidays are a time of reflection, so ask your fans to share their memories with you. You could even use a Tumblr submission tool to ask fans to send you their favorite shows from the past year, album highlights, or what they're most grateful for in their own lives. Don't be afraid to publish some of these posts – it will encourage more people to submit!
Letting your fans know that you care about them and not just the dollar they contribute to your music is crucial. Be genuine in your approach; you should want to know the positive ways they associate your music with their life!
3. Host a holiday Twitter Q&A
How often are you home for the holidays, sitting around on your parents' couch, browsing the web as you wait for the family dinner to finally start? Our guess is pretty often. Take this time to see what your fans are up to. Twitter is a great platform to answer questions quickly and easily. But don't make it just about music – answer non-music-related questions like, "What drink gets you through family dinners?" Let it be funny, but be smart about the questions you choose to answer – you don't want anything to bite you in the butt!
4. Count down to a holiday surprise
Countdowns on social media are a great way to promote something big. Oftentimes, we'll see artists changing their profile or cover photos each week, or even each day (be careful when doing this to not over-post), in order to release an album or launch a tour.
As many of you already know and are probably seeing in your newsfeeds, people love to count down until the holidays. Now, we aren't suggesting you count down the days until Christmas (unless that's your audience), but take advantage of the fun suspense of the holidays and count down to a surprise for your fans. It could be a holiday single or a new music video just in time for the holidays. It could also be a special edition of a previous release. Either way, have your special offer ready, and use a fun, not-too-excessive countdown on your social media profiles to build interest.
5. Give something away
Social media giveaways are becoming more and more common. You'll often see something on Instagram like, "Tag two of your friends, repost this picture, and enter to win X prize!" It may seem a little spammy, but only if you word it wrong. Come up with a unique, holiday-themed prize, and use social media to give it away. An engaging type of giveaway could be something along the lines of posting a photo of your prize, and then tell your fans to tag someone who would appreciate this gift. Not only are you encouraging your fans to engage with you, but you're putting them in the spirit of giving as well!
Next up:
Sam Friedman is an electronic music producer and singer-songwriter based in Brooklyn, NY. His music blends experimental ambience with indie-driven dance music. In addition to pursuing his own music, he is a New Music Editor for Unrecorded and is passionate about music journalism. Check out his music and follow him on Twitter @nerveleak.