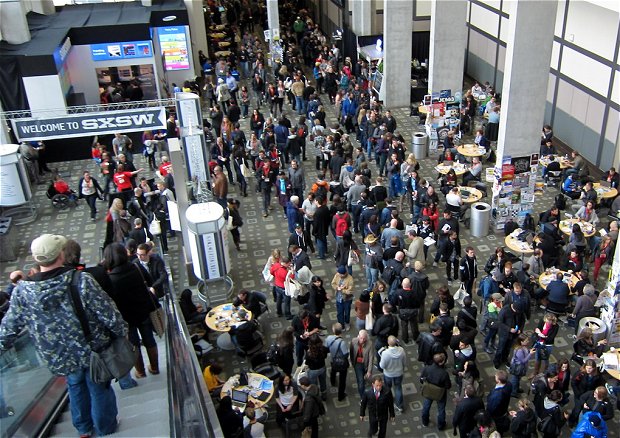 Photo by Svein‑Magnus Sørensen
A version of this article originally appeared on the Green Light Go blog.
I've been to SXSW a lot. I mean, a lot. Like 20 of them to be exact. I've also seen a lot of changes over the years and discovered the best way to network that leads to long-term relationships and overall effectiveness. If you plan on attending SXSW this year and want to make the most of the experience, here are a few tips to get you started.
1. Start with your goals
What do you hope to come out of attending or performing at SXSW? Maybe you're looking for booking agents or you would like a label to put out your next record. Maybe you have an album finished but want to go the DIY route and build your publicity, marketing, and distribution teams. Determine what that goal is and who would help you reach it.
2. Research and make a list of contacts
The best place to start is at the SXSW website, perusing the panels and showcases. If you click on the themes tab, you'll be given specific groupings in a quick-glance format so you can focus solely on areas of interest to you. Take a look at the panels to determine if any appeal to the goals you set, and then research the panelists who could be added to your list. You can also look under bands to determine potential showcases to attend for the labels, bands, management companies, etc. you hope to meet. If you won't have a badge to attend panels, Google "SXSW 2015 parties" for a list of people to contact. Many of these will note who's presenting or sponsoring the party and can give you new ideas on labels, booking agents, and PR as well.
3. Make contact before you get there
This is the key so few follow. For years, I would hop on a plane thinking my outgoing personality would solicit a slew of new in-depth relationships. It didn't. There's simply too much happening down there, too many people you meet, and no matter how much you plan to connect after the festival, it never really seems to go anywhere. If you get a head start and reach out before the festival, it gives you a chance to build name recognition and then put a face with a name once you get there. The best two ways to make contact are through email and Twitter, and I recommend doing both.
4. Make it all about them
This is where it'll be tough. You'll have to make it all about them. Don't even think about asking them to check out your band in that first email unless you want a greater chance of them ignoring you. If it's a label, ask if it'll be hosting any parties or showcases this year if you haven't already found that information. If you do have the information, let them know the bands you're excited to see and why you like both the label and the bands. If it's a panel, let them know you're looking forward to seeing the panel and what you hope to learn. (If they're a great panelist, they'll be thankful for that early feedback). Also offer to let them pick your brain if they need help with potential touch points.
Just because you're making it all about them doesn't mean you shouldn't include a subtle hint about your band or company. In fact, it's vital. Definitely tell them who you are and include in your signature:
band or company name
website
SoundCloud or Bandcamp where they can hear your music
The good ones will be interested enough to click on those links to learn more about you on their own. And that's who you want to work with anyway – the ones who will take the time to learn about you as well.
5. Attend the showcase, panel, or party
This is your opportunity to put the face with a name. If you've already made contact, you should have arranged a time to meet at this point. Since there's so much going on during the festival, I recommend attending your contact's showcase, panel, and/or party. Anyone who's been to SXSW knows how difficult it is to get to everything, and your support of their event goes a long way.
6. Send email post-SXSW, and maintain the relationship
About a week after SXSW has ended, send follow-up emails letting your contacts know it was great to meet them and specifically telling them what you liked about the showcase, panel, party, or conversation. Keep an eye on what could interest the person you're building the relationship with, and email or tweet the information that could be of benefit when you see it. Continue to engage on Twitter by re-tweeting and replying to tweets.
Janelle Rogers began her 20-year music industry career working for SXSW Music and Media Conference. She then went on to work for BMG Distribution for 10 years in the alternative music department where she championed bands like Kings of Leon, Ray LaMontagne, The Strokes, Belle & Sebastian and The White Stripes. In 2002 she launched Green Light Go Music PR as a haven of honesty, integrity and passion for underrepresented artists and labels. She has since been named Mentor of the Year by the University of Michigan, Dearborn, appeared as a panelist at NXNE and been an official SXSW mentor.