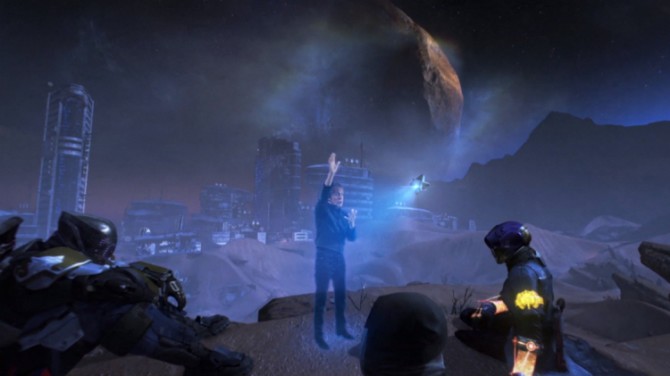 Paul McCartney composed "Hope for the Future" for Destiny and released it as a single and video earlier this month. (Image via dualshockers.com)
Musicians who want to gain more fans used to dream about being featured on the soundtrack of a film or TV show. That ambition is still relevant, except that today, video games are a bigger deal than Hollywood – and have been for a while now. This means that getting your music into a video game can be tougher than landing a song in a film. The struggle is worth it, though. Video games make more money than movies, and games are so successful that the gaming industry is growing four times faster than the US economy. Sounds strange, but it's true.
So, wondering how you can get in on the action? Here are six tips and answers to questions you may have about getting your music in a video game.
1. Know the vibe of the game
If you want to get your music into Grand Theft Auto or games of a darker nature (Saints Row, Max Payne) your tunes should be edgy and provocative. If you'd like to be in something more like Super Mario or another Nintendo game like Zelda or Super Smash Bros. (keep in mind, though, that Nintendo does most of its music internally), your music should be more upbeat, melodic, or even easy listening. Grand Theft Auto and Mario are at the top of the gaming totem pole, but your best bet is to begin with indie games such as Fez, or the upcoming Hyper Light Drifter. For example, composer Disasterpeace has had good luck within the indie games scene.
2. Work your network
Your raw skills as a musician are important, but just like in the movie business (and the music business, for that matter), your network is key. You can't expect to knock on Angelina Jolie's door and casually ask that your music be included in her next film, and unfortunately, it's the same deal with top game developers like Shigeru Miyamoto (Super Mario, Zelda) and Hideo Kojima (Metal Gear Solid, Boktai). Having an "in" is key to this industry, as it is in most highly competitive industries. Attend conferences like E3 and PAX, work your connections, and try to get your foot in the door.
3. Complement the game rather than upstage it
Being featured in a game is a great way to increase your exposure, but don't try to steal the show. The majority of songs in games are intended as background tunes. Just think about it – if players wanted to primarily listen to music, they would have bought a record. Instead, they bought a video game. So let gamers have their fun with the game play, and don't try to steal the scene.
4. Do your research on what the game needs
The ratio is about 30 percent licensed music and 70 percent original compositions, according to Brandon Young, director of music affairs at Activision Blizzard, Inc. A game's needs depend on its style; games like Guitar Hero or Rock Band are obviously focused on licensed music, Grand Theft Auto 5 contains a mix of licensed music and original compositions, and Super Mario 3D World is all original compositions. So by doing your research beforehand and ensuring you have something to offer that they're genuinely looking for, you'll avoid wasting your time and their time.
5. Target a game or company on your level
The beautiful part about the gaming industry is that, as huge as video games are, it doesn't really matter how popular your band is. Developers are interested in small indie musicians as well as the stadium-fillers of the world. At the same time, know your place – if you're just starting out, think about composing for a small indie game. If you want your music associated with Call of Duty, you basically have to be the Rolling Stones. Regardless of what level you're at in terms of a following, just focus on writing killer tunes.
6. Make sure you know the going rate
Kotaku reports that video games are the new best way to make a living composing music. Animation Arena states that starting salaries for video game composers are around $55,000 a year. After years of experience, salaries top out at about $215,000. In terms of licensed music, royalties range from eight cents to 15 cents per composition, and buyouts range from $2,500 to over $20,000. If you feel like you're not getting paid enough, get a lawyer involved.
Don't forget that the gaming industry is super competitive. You may get rejected at first, but don't take those rejections personally. Don't give up until your music is in a game! Here's to hoping the next time I'm speeding through the streets of San Andreas or Liberty City in Grand Theft Auto, one of your songs is blaring from my convertible.
Nick Moorhead is a music journalist who's been writing about indie rock, hip-hop, and everything in between since 2011. Before that, he was project manager at Cybersound studios in Boston. A graduate of Trinity College and Startup Institute, you can follow him on Twitter @MoorheadNick.