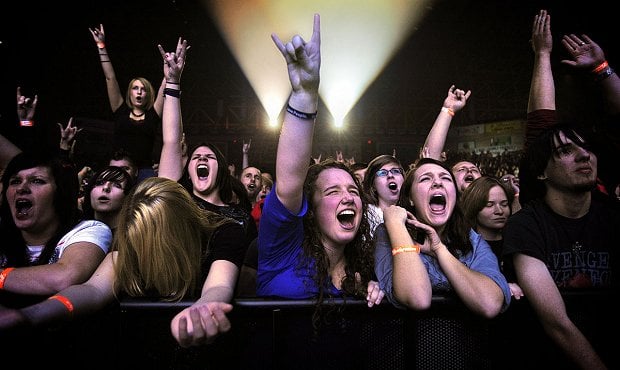 Photo by Michael Holahan
It takes more than just great songs and musicianship to get create a standout performance. I'm not talking about gimmickry, but rather a complete, consistent, and unique package that's aligned with your brand, cuts through all the competition, and leaves an indelible impression in the minds of your fans. Here are six basic tips that will elevate your next live show.
1. Deliver the goods for your fans
Ernie Petito, formerly of Warner/Chappell Music, says, "There's a live performance element that's a crucial part of selling your songs." Believe it! Korn brought a bagpiper onstage, Marilyn Manson wore a blue contact lens and even physically cut himself onstage to provide that little extra dramatic edge, and the drummer from Rage Against the Machine played with his back to the audience in front of a huge mirror so you could see everything he did. Says Petito, "Industry persons and fans expect you to deliver – whatever that takes."
2. Make an impact onstage – explode!
Jody Whitesides, an independent artist, says jokingly, "If you want to make an impact on stage – explode!" Not literally, of course, but you want to do something different than the average band. Here are just a few simple examples of ways to make that important impact:
use interesting instruments, like tympani, tabla drums, or a huge harp
invite guest musicians, like a horn section or a small string quartet
dress in interesting costumes and masks
have sexy dancers join you onstage
project a film on a screen
display a news broadcast on a television
program voices to speak between songs
incorporate specialized lighting, lit candles, fog machines, or flash pods
invite the crowd up onstage with you to dance or hang out while you perform
hire a local celebrity, such as a sports star or radio DJ, to announce your set
Whatever you decide to try out, just ensure it makes sense with how you brand your band.
3. Interact with the audience
Get the audience involved in your show as well. Hand out inexpensive instruments (say, kazoos) for everyone to play along during a certain part of one of your songs, distribute glow sticks for everyone to wave, or throw beach balls into the audience for fans to bounce around. Or, if you have fans that mosh at your shows, you can always get the audience to create the ultimate "wall of death" (assuming, of course, that the venue where you're playing is cool with it).
While there's only so much that independent artists can do when they're just starting out, some major artists are creating ultimate VIP packages where fans can eat full meals and party before the show. Get creative and come up with a "VIP" fan experience that works for your budget! It could be as simple as providing an opportunity for your fans to hang backstage and take a few selfies or Vine videos with you.
4. Utilize new technology for further engagement
Be sure to utilize new technology to improve your live performance experience. You can allow fans to create the setlist for the night by voting for certain songs from your website or texting in requests in real-time while you're performing. You can also use sites like UStream, blogTV, Stickam, Livestream, Juke Zoo, and more to stream content live for fans at home.
5. Don't forget about the afterparty
Make what happens after your live performances as equally as important. Though this is an older example, the band Motley Crüe became notorious for throwing the most out-of-control afterparties, complete with whiskey, beer, and scantily clad women. People lined up for blocks around the Whisky a Go Go club on Sunset Boulevard just to see the band's show and get a chance at attending one of the afterparties.
6. Be consistent with your brand
This really can't be stressed enough: Remember that whatever live performance concepts you come up with need to be aligned with your music and with what you ultimately want to project. Don't force anything. Make them a natural part of your brand. I'm not advocating gimmickry in lieu of great songs and musicianship. Rather, I'm suggesting that you produce a complete, consistent package that stimulates all senses and helps you stand out in the overcrowded marketplace.
Bottom line: Every single show you perform should be an event to remember, and never just another gig.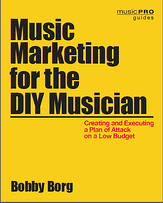 Bobby Borg is the author of
Music Marketing for the DIY Musician: Creating and Executing a Plan of Attack on a Limited Budget
(September 2014). Find the book on Hal Leonard's website under "Trade Books" or on Amazon. Signed copies with a special offer are also available at bobbyborg.com.