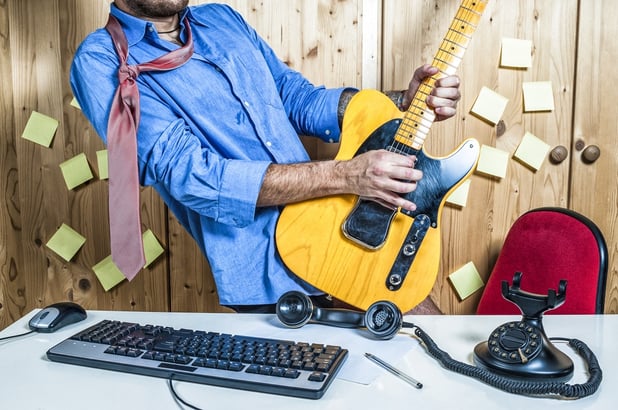 Image via Shutterstock
If you're working a day job to fund your music career, you may feel like you haven't "made it" yet as a real musician. But when you consider the paths of many famous musicians, you'll notice that working a "regular job" while pursuing music on the side is something that many now-iconic artists have done.
In fact, many successful musicians kept on working at their day jobs, even after "making it big" in the music business. Here are eight musicians who held onto their day jobs while building their music career.
1. Wayne Coyne (The Flaming Lips): fry cook
Wayne Coyne started the Flaming Lips in 1983, but it wasn't until 1993 that the band achieved mainstream success with their breakout hit "She Don't Use Jelly." During those 10 years, Coyne worked as a fry cook at Long John Silver's.
"In the beginning, it seemed like a dead-end job," Coyne said of his fry cook days, "but at least I had a job. And frankly, it was easy. After two weeks, I knew all I needed to know, and it freed my mind. The job allowed me to dream about what my life could become."
2. Ian Curtis (Joy Division): unemployment officer
While post-punk pioneers Joy Division recorded their debut album, Unknown Pleasures, frontman Ian Curtis spent his days working as an employment counselor in a Manchester unemployment office, while the other band members also held down their own various day jobs.
Joy Division had already made appearances on national television, as well as BBC Radio 1's John Peel Sessions, but despite this success, the band members all held down day jobs until the fall of 1979, several months after the release of Unknown Pleasures when the Buzzcocks asked the band to open for them on their UK tour.
3. Kele Okereke (Bloc Party): movie theater attendant
In 2004, Bloc Party signed to Wichita Recordings and were working on their debut album. During this time, frontman Kele Okereke was working at a movie theater in Soho selling popcorn and movie tickets. He would eventually quit this job to focus on the band full time, but not until Silent Alarm was released and reached the number three spot on the UK Albums Chart.
4. Art Garfunkel (Simon and Garfunkel): math teacher
Although he's recognized in the music world for his vocal contributions to songs like "Bridge Over Troubled Water" with Simon and Garfunkel, Art Garfunkel was also a high achiever in the academic world.
When Simon and Garfunkel signed to Columbia Records in 1964, Garfunkel was a student at Columbia University. He went on to complete a BA in Art History and an MA in Mathematics Education while recording and touring with Paul Simon. He even completed the coursework towards a doctorate degree.
In 1970, "Bridge Over Troubled Water" went to number one on the Billboard charts in 10 countries. The duo split after this release, however, and Garfunkel spent two years teaching math at a private school before returning to his musical career.
5. Philip Glass: taxi driver/plumber
When Philip Glass's seminal minimalist opera Einstein on the Beach premiered at the Met in 1976, the composer was working as a taxi driver to support his composing career. Einstein on the Beach was a critical success, but clearly the monetary rewards weren't enough, as Glass would continue working as a cab driver and a plumber for the next three years.
Glass' notoriety in the avant-garde music scene occasionally led to some odd interactions, such as the time when Glass was called to Time Magazine art critic Robert Hughes' house to install a dishwasher. Hughes recognized the composer and complained that Glass was an artist, and therefore shouldn't be installing a dishwasher. Glass replied that yes, he was an artist, but he was sometimes a plumber as well, and Hughes should go away and let him finish the job.
6. Freddie Mercury (Queen): second-hand clothing salesman
Before he was Freddie Mercury of Queen, the British singer and songwriter was Fred Bulsara of Kensington Market. In the years before they formed Queen, Mercury and drummer Roger Taylor worked at a stall in Kensington Market where they sold used clothing alongside Mercury's original paintings.
Even after the band's self-titled debut album charted in the US Billboard Top 200, Mercury continued to work at the stall. Taylor later said of the Kensington Market days, "We sold clothes and bric-a-brac and just about managed to earn enough to keep the band ticking along."
7. Nels Cline (Wilco): book/record store employee
Before joining Wilco in 2004, guitarist Nels Cline was well known in the LA avant-garde jazz and experimental music scenes. He played alongside the likes of people like Charlie Haden, Mike Watt, Thurston Moore, and Willie Nelson throughout the '80s and '90s.
During these years, Cline worked at a variety of record stores and bookshops to help pay the bills. It wasn't until he joined Wilco at age 48 that Cline finally devoted himself to playing music full time.
8. Charles Ives: insurance salesman
Modernist composer Charles Ives is known today as one of the greatest American composers, but during his lifetime, he was known mainly as the co-founder of the Ives & Myrick Insurance Agency. Ives achieved a great deal of success in the insurance business. He's recognized today as one of the pioneers of estate-planning insurance, in fact. Unfortunately, his compositions went largely unnoticed until after his death in 1954.
In today's music industry, it's important to develop a number of different revenue streams in order to build a sustainable career. Sometimes, one of those revenue streams might involve working as a fry cook or math teacher, and if that's what you need to do to support your art, then that's exactly what you should do.
So if you ever feel like you're stuck at a day job now, just remember that you're part of a proud tradition of musicians who have used "normal jobs" as a way to support their art.
Next up:
Casey van Wensem is a freelance composer, musician, and writer living in Kelowna, B.C., Canada. You can hear his musical work at birdscompanionmusic.com and read his written work at caseyvanwensemwriting.com.