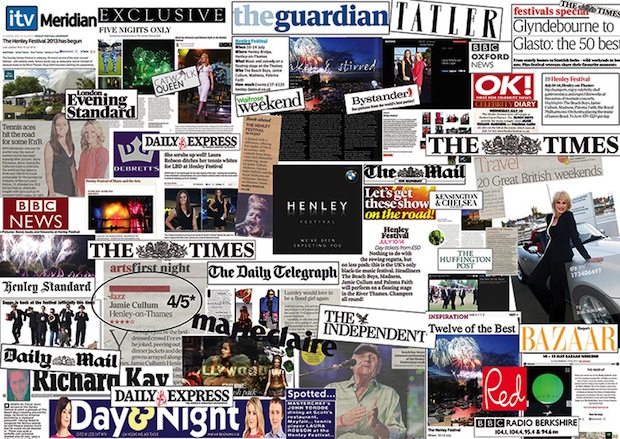 Image via Henley Festival
If you're a band that's decided to tackle your publicity on your own, it's crucial that you be as thorough and organized as any professional publicist would be. Beyond pitching for coverage and securing asset premieres, this means undertaking some more paperwork-y type responsibilities as well, such as keeping track of your press. Below, I'll get into what I mean by that in more specific terms, and then highlight the reasons why this can prove helpful.
How to keep track of your press coverage:
If you're a band acting independently as your own PR machine, you're unlikely to forget the magazine interview or MP3 premiere you worked hard to make happen, but that doesn't mean you shouldn't document it somewhere. An organized list of all your major press coverage (interviews, reviews, concert previews, photo shoots) with hyperlinks and the date of publication is a must-have.
Additionally, it's always recommended to keep tabs on press you may not have realized you'd gotten. Set up a Google Alert with very specific terms related to your band, your singles, and your album, and do regular searches on Twitter, Instagram, Tumblr, and Google Blogsearch with these same terms. You may be surprised by what you find! Make sure it all goes into the same, well-organized document. Use a system that makes sense for you, but organizing the links chronologically is smartest, for the reason I am about to illustrate…
Why you should keep track of your press coverage:
It helps you understand the trajectory of your PR campaign
When you see the duration of a press campaign documented in the order that it happened, it helps create a "big picture" understanding of where your campaign did and did not have momentum, and will also help you isolate the specific press items that helped dramatically increase your profile and beget much of the press that followed. This will be very useful if you plan to undertake a DIY publicity campaign in the future.
It helps you get more press!
A catalog of your press links and clippings can serve as a résumé in certain situations. Some writers and editors will be more inclined to cover your band if they notice that, hey, a colleague, peer, or respected publication has already endorsed your music.
A word of caution: including links to other press sites in a pitch can come across as condescending or self-congratulatory, so tread carefully. Additionally, major national outlets are unlikely to be impressed or intrigued by coverage from small, locally-specialized press; if you were voted "Band of the Month" by your local alt-weekly, that's unlikely to do much to help capture the attention of a high-profile editor.
It lets you know who your fans are
Just as documenting your press helps give an understanding of the trajectory of your press campaign, it also allows you to zero in on the writers who responded positively to your music. When it comes time to share some new music with the world, it helps to have, on record, a list of the people who have already been enthusiastic about your band. These are relationships you can foster and, ideally, rely on for coverage in the future.
It will help your future publicist
If your DIY publicity efforts are successful, you may find yourself with the means, financially or otherwise, to link up with a freelance publicist or label publicist who can handle PR duties for your newly-notable band. Being able to share a thorough record of your existing press would be immensely helpful to this hypothetical publicist. They'd be able to determine who to hit up first, what worked, what didn't, and get a sense of where to aim next for coverage.
Jason Baxter is the in-house publicist for Seattle's Hardly Art Records, and performs in the electronic duo USF. In a past life he was a music journalist and writes comic books in what little spare time he has.