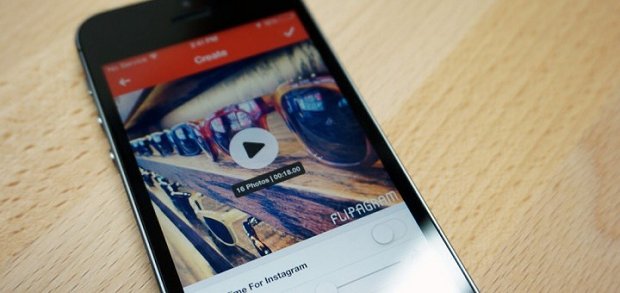 Image via socialgadgetnews.com
This article originally appeared on The Daily Rind.
Flipagram is a fast-growing social network that allows anyone to create visual stories with photos and videos set to music. Flipagrams are unique in their length – the average is about 30 seconds, but there's no time limit. You're able to add links to the caption, which is not supported on platforms like Instagram, and any music used in a Flipagram is also automatically linked to iTunes and Spotify to download or stream. Flipagrams can also easily be shared to other social platforms including Facebook, Instagram, YouTube, Twitter, Tumblr, etc.
What makes Flipagram unique is the engagement it spurs: it empowers fans to create and share their stories with music, and in turn allows the artists to like, comment, and "reflip" that content. The result: a platform of fans creating mini music videos that promote your music. So how can you make the most of Flipagram as an artist?
1. Give tour recaps
Create a Flipagram for each city while on tour. This can show the audience from the stage each night, city landmarks, the venue, soundcheck, etc. Tag it with the city/venue name, and share on your socials and website.
2. Ask fans to create Flipagrams with your music
Every song has a story. Ask your fans to tell you what that means to them by inviting them to use your song in their own Flipagram, using a specific hashtag, or encourage them to create a lip sync and show off their dance moves using the live camera option.
3. Like, comment, and reflip
Fans are using your song to tell their story; what can you do to connect with them now? Like, comment, and our favorite: reflip! Each action creates a badge on the original post, like a digital autograph, and reflipped stories also appear on your artist page. This engagement shows the user that you paid attention and makes them feel more connected.
Next up:
Joanna Noyes is the Director of Interactive Marketing & Audience Development at The Orchard, where she focuses on growing audiences, engaging fans, and driving revenue for their music clients.