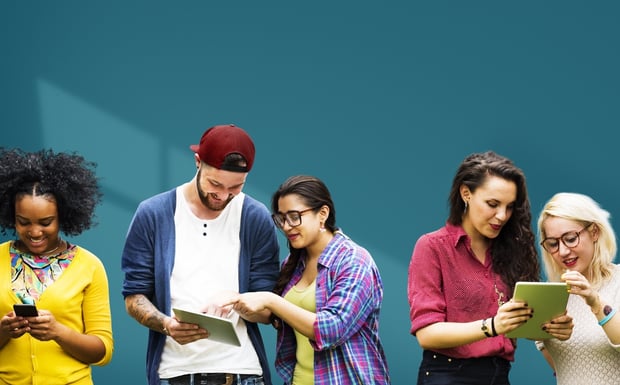 Image via Shutterstock
It's a new year, and you probably have plenty of resolutions. How many of them have you kept, and how many of them have already been broken by this point? If there are a few that have fallen by the wayside – which I suspect there are – maybe it's time to pick up some new ones. If you're in a band, or if you're trying to make a go at working in music full-time, social media should be a big focus of yours, and there are a few things that you should resolve to be better at this year. Here are four resolutions you might not have thought of that you should take on for the remainder of the year.
1. Improve your customer service
Okay, this may sound odd, but bear with me. It's really important, and it tends to be ignored by many people, but it's one of the few things that really, really shouldn't be. The customer service that I'm talking about is often annoying and it shouldn't be your job, but it is.
Be prepared for your fans to ask you inane, even stupid questions – ones that they could probably find the answers to if they actually looked. Some common inquiries are:
"Where are you playing in my town?"
"How much are tickets?"
"I'm having a problem buying tickets to your show!"
"iTunes isn't working!"
If you get big enough, and if you stick around long enough, you'll run into all of these questions and so many more. In fact, it's highly likely that you'll hear them many times.
Of course it isn't your fault that iTunes is down, and if you're smart, you've already posted every detail about your shows in many different, very obvious places, but that doesn't mean that people won't ask these things anyway. It might be extremely annoying, and it certainly seems like a waste of time, but think of it this way: they asked you, and if you don't at least point them in the right direction or tell them that you're working on it or looking for a solution, it's very likely that you'll lose that person as a fan – and a customer – forever. It's a hassle, but it's just a part of doing business.
2. Organize your posts (before they go out)
Having a presence on social channels at all times is ideal, as it ensures that people don't forget about you and move on, but updating all of your channels can get tiring if you do it in the moment. Pre-planning posts for your social media avenues is essential, and if you're not doing it yet (or if you aren't trying very hard), make 2016 the year that you step up your game.
There are so many ways to keep track of what you've written and what you have ready to go, and there's no right or wrong here. Just do what works for you, but make sure that it really is working for you. A simple Word document or Excel spreadsheet will do just fine if you're just starting out or if you want to stick with just the basics, but there are plenty of options if you want to move to the next level. You can also delve into the world of categories and checklists, or just brainstorm and schedule as you go. Either way, make sure you are pre-planning this year, and that it's organized.
3. Post more videos
Video has become the next big thing for every social media platform. You've probably noticed that your Facebook and Twitter timelines have become inundated with clips as of late. Brands and advertisers have taken note, and there's no reason why you shouldn't as well.
It's easy, really, and if you're savvy, you probably already have some experience with making videos. Keep in mind that a video will likely get people's attention more than plain old text. Instead of tweeting the same announcement about an upcoming single, album, or tour stop, why not switch things up and post a 10-second video? The message can be the same, but the medium changes slightly, and people are much more willing to click your clip than you think they are.
4. Read your analytics
Again, this might be something that you've played around with, but that you haven't fully invested your time in properly. I've heard that from a lot of people, and it's a shame. If social media is really important to you (which it should be to anybody trying to amass a following and sell something, and you're attempting both), doing it well should also be paramount. Don't waste your time posting and scheduling if it's all a waste! Figure out what works by looking at the numbers.
[4 Online Tools You Should Be Using to Gather Insights About Your Fans]
What time of day do your posts get the most favorites or likes? Are they videos, text, or photos? Are your campaigns doing well? Take a quick look at your Facebook or Twitter analytics and see what has performed the best and what didn't do so well. You don't need to turn this into an exact science – and in fact, you can't – but it shouldn't take too long for you to get an idea about what your strengths and weaknesses are. Play around with what you're saying, how you're saying it, and so on. Even if you make some missteps, you can always learn something new and go from there. The goal is to put your messages in front of as many people as possible, but the knowledge you gain along the way is also important and valuable.
Get more social media tips:
Hugh McIntyre is a freelance pop music journalist in NYC by way of Boston. He has written for Billboard, The Hollywood Reporter, and MTV, as well as various magazines and blogs around the world. He is also the founder and editor-in-chief of the blog Pop! Bang! Boom! which is dedicated to the genre of pop in all of its glory.