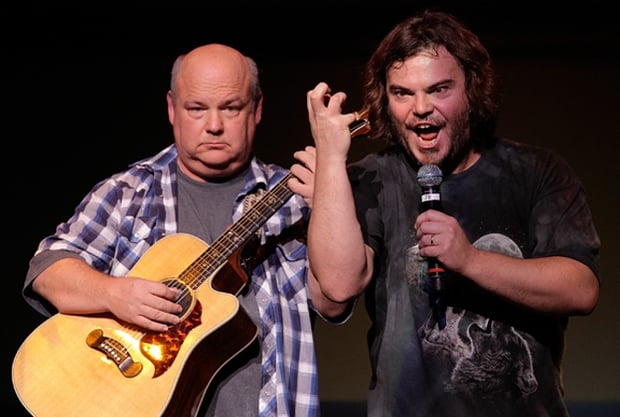 If you can't be Tenacious D, at least be tenacious. (Photo by Noel Vasquez)
Music PR is not easy. It's a lot of work and is usually best left to a professional publicist. But sometimes, due to lack of funds, difficulty finding the right fit in terms of person or firm, or the desire to just get 'er done on your own can dictate your decision to take matters into your own hands and do your own publicity (which can actually help you eventually find that ever-elusive PR rep).
There are many things you can do to be proactive with your band's publicity if you're not yet ready or able to hire someone. And even when you reach the point where you need to hand the reigns over to someone, there are little things you can do to make sure that the transition is smooth.
1. Make friends with local media
Know your market, know your scene, know your media. Make friends with local radio DJs, the music writers, and the music bloggers. Invite them to your shows. Make sure they get a copy of your music with a personal note. Stay in touch with them. Reach out even when you have nothing to promote. Make that relationship rock solid so that the local media can feel like they have ownership. They will stick with you forever.
2. Combine tenacity with creativity
You are the most passionate person about your music. Why not funnel that passion into action, by messaging radio stations, writers, or editors? Come up with an efficient pitch and send it via social media or email. Be nice. Follow up. Come up with an interesting angle and make them an offer (aka, a pitch) that they can't refuse. Be creative. If you're touring cross-country using discarded vegetable oil from restaurants, let news or environmental outlets know as much. There might be a story there. Anything "different" is a possible angle, so explore it.
3. Use the buddy system
If you have a good friend who's gregarious and is enmeshed in your market and scene, ask them to perhaps tackle some PR tasks for you in exchange for a few bucks, lifetime free admission to your shows, a finder's fee, or a delish dinner at the nicest restaurant in town. If said person is hungry like you're hungry, it's a win-win for both of you.
4. Vet, vet, vet
No, I don't mean the animal doctor, either. If you've decided that you can no longer pitch yourself and follow up with the media because you have to tour and write music, you should vet about 10 potential publicists or firms. Look at their client roster. Look at their Facebook updates, where many of them post clips of their work. Look at their testimonials. Look at how what they do meshes with what they do. Reach out.
[10 Things You Need to Do Before Hiring a Music Publicist]
Those are the four easiest things you can do to be proactive with your band's PR when you're doing it on your own. These practices will also help prepare you to hand over the keys when the time is right.
Amy Sciarretto has 20 years of print and online bylines, from Kerrang to Spin.com to Revolver to Bustle, covering music, beauty, and fashion. After 12 years doing radio and publicity at Roadrunner Records, she now fronts Atom Splitter PR, her own boutique PR firm, which has over 30 clients. She also is active in animal charity and rescue.