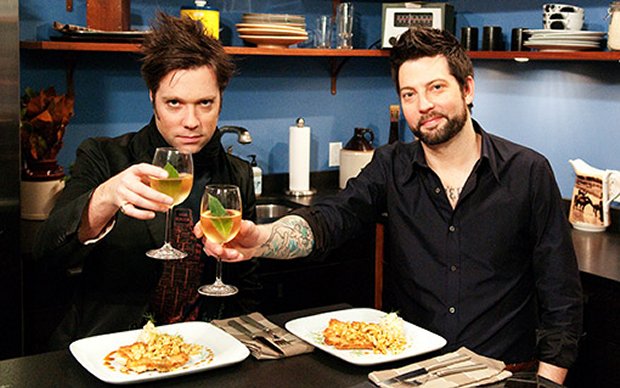 Rufus Wainwright went out-of-the-box by appearing on Dinner With the Band in 2010. (Image via popwatch.ew.com)
Music publicity isn't just about being featured in music magazines or doing music-specific press pieces and features. Yes, those are major parts of it, but there are other out-of-the-box media outlets and publications that can help spread the word about your band to a fresh, new, and different audience. Essentially, it's preaching to the non-converted.
Non-endemic press is tricky. It won't generate a ton of instant fans or even sales, but it does create more impressions in other worlds and allows your PR and marketing team to keep the machine spinning and turning beyond the standard, yet necessary, music media outlets.
No, out-of-the-box press may not move the needle immediately, but it's a much-desired, hotly coveted, and not-easy-to-get platform on which to further fill out your profile. It builds your press kit, and out-of-the box hits create interest among further non-endemic outlets. It's an upwards and outwards effect that allows you to reach potential fans who might not otherwise be exposed to your music.
Say your publicist nabs a feature for you in a tattoo magazine. The piece can be artfully shot and aesthetically directed, and your publicist can use it to make further pitches to other lifestyle outlets with strong visuals. It can be used to further pitch a men's interest magazine. It's all about building upwards. If your PR rep lands a piece in a sporting magazine, since you happen to be an avid MMA practitioner, he or she can use that to gain more mainstream interest in other lifestyle outlets.
So while an out-of-the box press hit may not yield a quick result, it's an impressive clip – some people call it a "sexy" hit since it looks cool and is cool for your press kit, which represents your total media worth. Here are some examples of non-endemic, out-of-the-box press opportunities that you can (and should!) pursue.
Lifestyle
These pieces can be everything from tattoo magazines to food and beverage publications to sports magazines. I've worked with artists who are wine connoisseurs and placed them in columns or sidebars in wine magazines. I've placed my artists who love and practice MMA in Fight!
Men's or women's interest
This spans the spectrum from Men's Health to magazines like Glamour or Allure. Artists with a keen sense of fashion or a stylish look, or those who get modeling endorsements, tend to get looks here. But I've placed some of my artists in these types of outlets simply based on their music as well. It's usually a one-line mention, but it's something – and we all know what that's better than, which is nothing! The main goal when pitching these outlets, though, is to spotlight an artist's interest that falls in line with the mag's skew or type of coverage. So if I had an artist with his or her own fashion line, I'd be more interested in having that featured than a quick mention of the album because that's fleeting and could be skipped over, whereas something more in-depth about the line would get the reader to check out both the fashion line and the music, so it's win-win. It's also very strategic. If the artist doesn't have something that falls in line with the skew, I keep the pitch focused to the mag's music coverage.
Hard news
If an artist is doing something socially or politically motivated, or if he or she is involved in something that's a cultural watershed, I pursue hard news like CNN or Fox – and not for a quick music news package. I've pitched artists doing something socially important (like an artist not using certain types of fuel when traveling on tour, or for his or her Christian beliefs) or newsworthy (fighting with the Westboro Baptist Church). Sometimes the hits come, and sometimes it's just a conversation that doesn't yield a hit, but at least the conversation was had and the band was put on the producer's or writer's radar.
Tech outlets
I have artists who have invested in apps or work with emerging technologies, so pitching them to Mashable, Forbes, or even Business Insider helps generate new looks and perhaps sales of the products they've invested in. In these cases, the music is secondary but still gets a mention, so I'll take it.
Other out-of-the-box press hits could be in religious publications, hobby magazines, cooking media, and more. All in all, out-of-the-box hits are impressive; they're something to talk about to pitch further outlets. They're the gold stars on the press report card, and they're often as fun for the band as they are for the writers, editors, and producers.
Amy Sciarretto has 20 years of print and online bylines, from Kerrang to Spin.com to Revolver to Bustle, covering music, beauty, and fashion. After 12 years doing radio and publicity at Roadrunner Records, she now fronts Atom Splitter PR, her own boutique PR firm, which has over 30 clients. She also is active in animal charity and rescue.