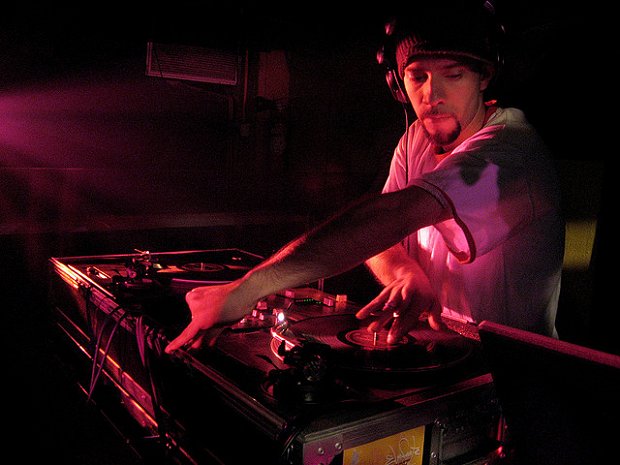 Image via flickr.com
EDM is still taking the music industry by storm. As an industry, EDM is estimated to be worth $6.9 billion and combined, the world's top 10 DJs earned $305 million last year. A lot of musicians and creative people are drawn into this scene by the big gigs, parties, bright lights, festivals, and huge success stories, but as it becomes more and more a part of today's music culture, the competition to get a gig or to get tracks in front of an audience is intense. If you really want to make it as a DJ, you need to know how to take that step from amateur to professional.
You might be surprised to hear this, but what really separates the pros from all the other DJs isn't their skills. It's not their mastery of turntable techniques like scratching or beat matching, or even their ability to build a killer set. It's how they think about their DJing that really sets them apart.
Anyone can practice for hours and hours on end and get their skills really tight, but no matter how good you are, if you're just spinning in your basement, no one will ever know about you. While your talent and creativity are extremely important and nothing could happen without it, if you don't focus on building up your career, you'll have a hard time "making it." You need to get out there and be proactive, treat DJing like a job, and understand everything that goes on behind the scenes in order to get gigs and grow your fanbase.
[Versatility Doesn't Cut It: Why Dance Music Producers Need to Brand Themselves]
I recently had a chance to sit down with DJ Hapa, a successful, LA-based DJ and the executive director of the Scratch DJ Academy. He shared a lot of incredible tips about what it takes to be a professional DJ, but here are some of the points he made that really stood out.
1. Professional DJs find their own path
A big motivator for a lot of DJs just starting their career is the hugely famous DJs spinning in the world's top clubs. Naturally, we all want to be like them. However, the common approach is to try to do exactly what they did - follow their steps exactly – to get to the big stage. If Zedd got to where he is today by winning competitions on Beatport and sending his music to Skrillex, then that must be the way to "make it."
But in reality, this is probably the best way to hold yourself back. Professional DJs know that they forge their own path. Every DJ's career is so unique that there's no one path to success. If you're completely focused on getting Skrillex to play your track, then you're probably going to miss other opportunities that are right in front of you – opportunities that could lead you down your own path as a successful DJ.
2. Professional DJs make a plan
Although a lot of the stories make it seem this way, all your favorite DJs didn't just wake up one day in front of a crowd of thousands of people. They spent years and years practicing, honing their craft, and above all, making a plan for themselves.
['The Big S': Understanding Strategy and Your 5-Step Music Career Road Map]
Set yourself goals to accomplish in one year, six months, one month, and this week. Having something clear and tangible you're working towards will help you focus your efforts. You'll have an easier time knowing which opportunities you should jump on and what gigs you should really push for, because you'll know where you ultimately want to be in the end.
3. Professional DJs understand that collaboration is key
The EDM and DJ world is unique in music. The collaboration culture and community between DJs is very strong. In some ways, DJs are competing against each other – competing for gigs and attention – but the professional DJs always make it a point to teach, learn, collaborate, and give out opportunities when they can.
If you're just focused on you and what you want to accomplish, you're going to miss out on a ton of opportunities that could come to you in the form of your connections with other DJs. Even if you're just starting out, everyone has something to offer. If you always try to contribute to a relationship instead of just taking, those DJs will remember you if they have an opportunity to give.
4. Professional DJs know that this is a people business
As important as social media is, the DJ world is still a people business. You could have thousands of followers on Twitter, but that doesn't always convert into real gigs. For the most part, club owners, brands, and people hosting events hire who they know.
Now, this might seem like a big barrier for DJs just starting out. After all, you probably don't know the guy in charge of booking DJs at Red Bull, or the club owner at your favorite club in New York. But everyone has a network of connections that you can start building off of: your friends and family. Someone you know is probably having a wedding, party, or an event that he or she needs music for. If you play that gig, you're put in front of all that person's friends, family and connections, and when they need a DJ in the future, guess who they're going to call?
Playing one party or event exponentially increases your network and the number of people aware of you and your DJing. Eventually, you'll be able to work your way up to clubs, bigger brand events, and even festivals. If you really want to make DJing happen for you, you need to put yourself in a professional mindset.
In the New Artist Model online music business courses, you'll learn how to turn your music into a successful business – a business where you're the CEO! You'll create an actionable and personalized plan that will help you achieve a career in music, and you'll be able to do it all with the resources you have available right now. If you'd like more strategies like these, you can download this ebook for free. It will take you through some of the best strategies for indie musicians to help you grow your fanbase and your career.
Dave Kusek is the founder of the New Artist Model, an online music business school for independent musicians, performers, recording artists, producers, managers, and songwriters. He is also the founder of Berklee Online, co-author of The Future of Music, and a member of the team who brought MIDI to the market.