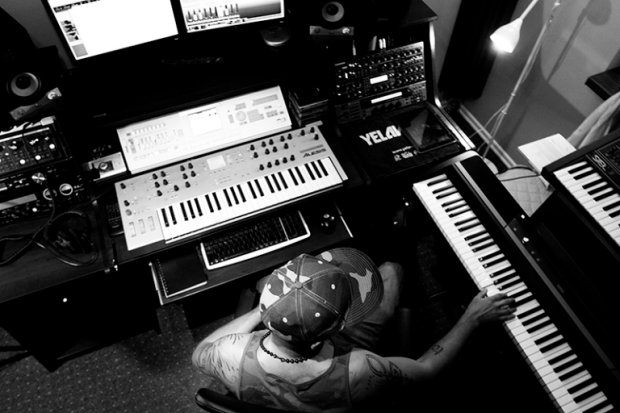 Photo by Tom Teka Kucharski
As of 2014, electronic dance music has turned into a $6.2 billion global industry. Simultaneously, producing and making music have become far easier than when New Order dropped "Blue Monday" in 1983: old, physical, analog equipment has been replaced by easily accessible and affordable software. And with the internet as your audience, bedroom producers have taken the music world by storm.
Anyone with the acumen, then, has potential to become a dance music producer. But the bigger the genre becomes, the more sharp its divisions – even down to the BPM and type of synths used. Your sound is your brand – and thus the most important facet a producer has to establish.
Finding your niche
In the present time, electronic dance music has never been more visible – or divided. The traditional underground scene – one associated with warehouse parties, faceless DJs, and dancing rather than a "hands in the air" rock concert aesthetic – remains, but has turned into a code word for deep house, minimal techno, and nu-disco; anything outside gets shoved into "mainstream" or "indie" fields regardless of a producer's visibility.
"Mainstream" EDM, by contrast, may be inspired by decades of underground dance, but the wording and atmosphere have shifted: think bottle service nightclubs, even in smaller cities like Hartford, CT, or large-scale music festivals, and chord-based, louder, more euphoric trance, progressive house, big room, electro, trap, and dubstep. Frequently, these sounds make their way into Top 40 radio fodder.
Consider these three tips when trying to determine who your fanbase will be, in which clubs you'll be able to DJ, and, ultimately, who will buy your records:
1. Dance music listeners tend to be fickle, often identifying an artist by a particular sound.
For instance, Avicii started with melodic piano lines juxtaposed with the snare-free version of Swedish house, but the introduction of folk elements to his sound, nearly three years into his career, initially polarized fans and other producers. At this point, however, this approach seems to be a new dimension to his sound, rather than a scatterbrained decision that could've alienated his fanbase.
2. DJing still helps you grow your fanbase, so know where you'll fit.
Your local scene's electronic dance music clubs, as this Resident Advisor article details about Chicago, are often split by subgenre. And getting a spot, even at the lowest level, comes down to finding the right club promoter, aligning your setlist, and indicating the type of crowd you'll draw.
3. Subgenre divisions determine how you'll be found and who will find you on social media.
SoundCloud has bypassed Myspace as the site where aspiring and established artists upload their tracks and hope to attract more listeners. With SoundCloud's trending feature, branding yourself as "deep house," "dubstep," or "Melbourne bounce" means you'll connect with the right users seeking out music like yours. But when you add too many contradicting descriptors – say, "disco," "hardstyle," and "psytrance" on one track – listeners won't know what to expect. Because each dance music subgenre is built on a specific beat and set of sounds, something ambiguous means you're straying too far away from the formula and won't find a clear-cut audience.
Branding yourself
Once you've identified your niche, how do you go about branding yourself as a dance producer and getting your name out there?
1. Pick a style, and find a characteristic that makes you stand out.
Timmy Trumpet adds live trumpet to his Melbourne house tracks, Porter Robinson invented Complextro to describe electro with thicker instrumentation, and Skrillex blended heavy metal elements with dubstep. "Formulaic" might have negative connotations, but branding your sound begins with mirroring an established style and injecting it with something memorable and unique.
2. Label your social media presence for your audience.
It's perfectly fine to use multiple keywords on SoundCloud – just as long as they fit together. For instance, users interested in "deep house" may further seek out "future house," "liquid house," "old school house," or anything downtempo. By contrast, "progressive house" is more associated with "big room," "electro house," "trouse," "Dirty Dutch," "Melbourne house," or "Melbourne bounce."
3. Know labels and clubs specific to your style, and start sending out your demos.
This could be a DJing setlist or produced remixes and originals. Once you have a polished product, start seeking out those who would be interested. On the label front, established producers often have their own imprints related to their particular style and will accept demos from up-and-comers. Also, research local club promoters related to your style, and send along your setlist via a SoundCloud link.
4. Keep in touch with others in your field.
Networking is important for any career, and in dance music, having support can mean a collaboration with or mentoring by a better-known producer. While this scenario is far off for most beginners, it helps to interact with other like-minded individuals. Start interacting on forums and in social media groups catering to your style or approach (DJing or producing). While it's never a good idea to start shamelessly promoting in a spammy way, others in your field can serve as an audience for testing out and refining new tracks.
After moving to Hartford to earn a Master of Music degree at the University of Hartford, Irene Test began writing about electronic music for the Hartford Advocate and Connecticut Metromix. This led to more freelance opportunities with Vicious magazine, Performer magazine, Zen Beats, KOVideo.net, and Crossfadr.com. Additionally, she earned a Bachelor of Arts in English from Boston University and currently works as a full-time copywriter for an ecommerce development and management company in Connecticut.