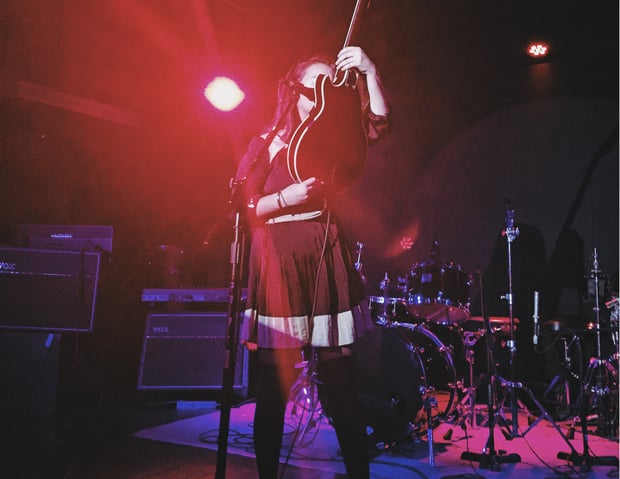 Photo by Sam Friedman
This year's CMJ Music Marathon held countless standout performances, from indie rock to punk to EDM. Spread across New York City's most artistic and creative neighborhoods, musicians from around the world played their hearts out for us, but not every performance stopped us dead in our tracks. At the end of the weekend, we asked ourselves: What was it about the absolute best shows we saw that made them so impactful? Were they all perfect, flawlessly executed performances? Of course not! But they shared a few things in common that made them feel perfect.
Whether you're a festival veteran or looking to break your band into the scene, take a page from this year's CMJ performers on how to create memorable experiences worth talking about even after the fest ends.
1. You can energize the crowd no matter what size the room is
Not every set should be a dance party or a head-bang fest, but there should always be a great sense of energy.
Christopher Paul Stelling performed a captivating set in the intimate setting of Rockwood Stage 3 with just an acoustic guitar. If you're not a fan of skeletal folk music, you might think this kind of show would put you to sleep. On the contrary, Stelling's guitar work was filled with upbeat rhythms, and he also brought out an outstanding fiddle player from Miracles of Modern Science. It turned into a riveting jam session, ending with Stelling standing on a chair in the middle of the room shouting the lyrics.
[9 Tips That Will Make Your Acoustic Show Way Less Boring to Watch]
Neon Indian's showcase wasn't stripped-back folk in a candlelit basement. Rather, it was on Webster Hall's famous stage. His new album just hit the web, and you could feel his excitement. Not only could you feel it, but he told the crowd repeatedly how grateful and happy he was to be back in New York performing his new songs at CMJ. The crowd was hanging onto his every note – because his energy was spilling out into the crowd.
2. You don't need special antics – just put your personal brand of stage presence on display
Catey Shaw is a powerhouse behind the mic. Her voice is elastic like Jeff Buckley's with the ashy tone of Janis Joplin. However, what captivated us most about her set was her presence onstage. Knowing what an important role image plays for artists – especially onstage – she crafted a total rockstar look (a white blazer over a simple tank top with loose white pants), complete with her platinum blond hair that was tousled from performing. When she sang, she put her whole body into it. She was moving with each note, each drum beat, each shout from the crowd.
Kevin Garrett is a minimalistic performer – he wasn't running around, throwing the mic in the air or head-banging until his glasses fell off. He simply stood behind his keyboards and performed. Now, this may seem like bland stage presence, but there's more to it. Garrett looked so intently focused on each note he pressed on his piano. Each time he sang, his eyes would close, and you could feel the soul oozing out of his voice. He wasn't stagnant by any means; he moved around, but it was done with grace. The crowd fell silent in response to his masterful vocals – and his presence was perfectly in sync with the downtempo music. Each facial expression he made when he sang felt like the lyric he was singing – it was almost like you could turn off the sound and still hear what he was singing by his presence.
Both performers proved that if there's one thing we learned from CMJ, it's that you don't need to rely on any special antics to show off your personal brand of stage presence!
3. Remove the wall between you and the audience by just being human
When Jesse Ruben performed at Rockwood Stage 3, he took advantage of the intimate setting by totally rocking the quiet basement room. His set almost felt like a comedy routine, in the best way: his banter in between songs had everyone in stitches, and he turned his less-than-desirable Tuesday 11 p.m. slot into an opportunity to both poke fun at himself and express his gratitude to everyone who showed up. For songwriters with more serious, heavy material, figuring out how to balance that type of lightheartedness between songs is crucial to not drag down the mood of the room.
Mitski played a bare-bones set at Mercury Lounge in front of a very devoted room of fans. Normally backed by a full band, she stood with just her electric guitar (not to mention a kickass dress on). But between her songs, she spoke to the crowd as if they were a friendly stranger on the train or in the park. At one point, she broke her pick, and an audience member gave her a replacement! She proceeded to make several jokes throughout the night, and even bashed on herself for stringing her guitar too soon before the show, which resulted in it going out of tune frequently. No one minded that her guitar kept going out of tune, because she made the audience feel connected. She was a human onstage with the same gear problems anyone has, and she laughed about it.
4. Make mistakes part of the show
Christopher Paul Stelling was a pro onstage as a musician, but more importantly as a performer. During the middle of the set's most intense song, he broke a string. Normally, it wouldn't be a huge deal to break a string, but Stelling's style of music calls for tons of fingerpicking. So when his string broke, he began to restring it – a somewhat daunting process to do onstage. However, he used the time to tell stories about his journeys on tour, all while stringing his guitar and engaging the audience. The crowd was hanging onto his every word, laughing and gasping at each turn his stories took. In the end, the string broke again, but he played on anyway.
[How to Make Mistakes Onstage Like a Pro]
5. Play every show like it's your last (even if you still have three more this weekend)
Car Seat Headrest is one of the greatest examples of grabbing CMJ by the horns and riding it to its fullest potential. After playing eight shows in just under four days, these guys were probably exhausted, but never did it show in their performances. We caught them at Santos on Wednesday and then again at Urban Outfitters on Saturday. Both sets were impressive and drew big crowds. One surefire way to make the most of your CMJ experience is by playing as many shows throughout the week as you can handle – it gives you experience as well as major exposure to press and industry professionals.
Sam Friedman is an electronic music producer and singer-songwriter based in Brooklyn, NY. His music blends experimental ambience with indie-driven dance music. In addition to pursuing his own music, he is a New Music Editor for Unrecorded and is passionate about music journalism. Check out his music and follow him on Twitter @nerveleak.
Lisa Occhino and Britney Fitzgerald also contributed to this article.