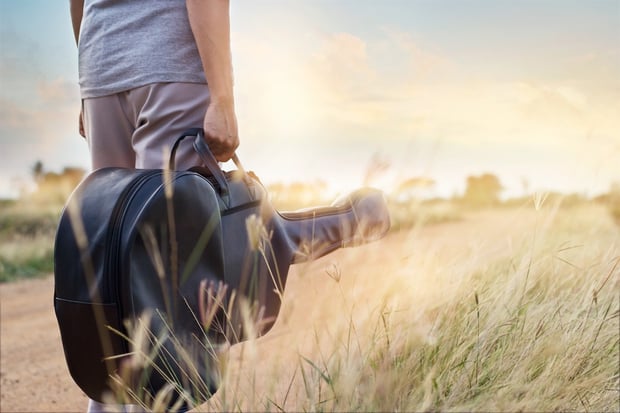 Image via Shutterstock
It can be easy to get stuck in a rut trying to become popular in your local scene. With bands that gain a large amount of success, it's actually fairly common that their initial popularity came from somewhere outside of their hometown. For this reason, I think it's important to start breaking out of your local scene as soon as you feel ready. If you're new to booking and promoting a band, however, this can be very overwhelming. Where do you even start?
To answer this question, I've made a list of some ways to get started and break into markets outside of your hometown. Be aware that this is not a fast process, so try to have patience!
1. Consistent regional activity
While you don't need to go straight on tour after your first gig, you should try to keep a consistent regional presence. By this, I mean playing in your hometown, but also playing in all of the surrounding areas in your state. If you're a Seattle-based band, alternate weekends heading to Portland or Bellingham. If you're based in Boston, try to frequent clubs in New York or Hartford.
Keeping an active regional presence is essential! By doing so, you avoid the dangers of oversaturating your hometown market. The last time I was handling the booking in an original band, I kept a map of Washington handy near my computer. I tried to keep the band booked every weekend, but I would try to play a different area of the state every week. This not only kept the band busy, but helped us to break into all of the state's local markets gradually and prevented any one market from getting tired of us (as it was typically four to six weeks before we played the same area again).
Get active around your state as soon as possible. When you're ready to tour, you'll find that you have a way easier start by doing so. You'll be a familiar face in all of the markets around your hometown, which will make the first few days on the road go much smoother and hopefully set you up for a great tour.
2. Tour
When it comes down to it, touring really is the primary way to expand your band's audience outside your local scene. If you're trying to make it in music, and you're in a group that plays original music, plan on touring and make sure everybody else is on that same page. Plain and simple. I know plenty of independent bands that end up spending 250 to 300 days a year on the road. And you know what? Their social media numbers and engagement rise steadily on a daily basis, and with those numbers, we can assume that their album and merch sales are increasing as well. Of course, there's a lot that goes into touring. If your band is fairly inexperienced, it can take time to get used to booking gigs and performing onstage. There's no rush to jump straight onto the road.
I've observed two camps among artists when it comes to getting on the road. There are those who say you should wait until you've established yourself locally, and those that say you should hop on the road from day one. My best advice would be: get on the road when you feel ready. After you feel comfortable booking, promoting, and playing great gigs, you should think about playing out of state and trying to break into new markets.
[5 Signs You're Not Ready to Go on Tour]
3. Make friends with bands in other states
Even if you aren't ready to get on the road, you should definitely be thinking ahead and trying to network with bands and clubs in other states. This way, when you're ready to tour, you'll ideally have some great bands on most of your stops that will help you play a great show.
[Getting the Gig: The Power of Collaboration]
Having the help of local bands is essential to making your first few tours go smoothly. The local groups will often know the most popular venues in and around town and might even be able to help you get connected with the club owners and booking agents. If you're friendly, many will also be willing to help you physically promote your shows and releases, since you can't be there until you play. (This is especially true if another band is on the same bill!) Finally, having a few great local bands on your bill will help big time when it comes to draw. Plus, they may even let you crash on their couch!
The thing is, this kind of connection is not something that can be made last minute. You've got to take an active interest in making friends with out-of-state bands as soon as you start thinking about being ready to tour. Spend some time every few days on Facebook or Google, and try to keep a database of bands in other states that you think would be a good fit with yours. Introduce yourself, and if they're friendly, try to stay in touch. When you have a decent local draw, offer to trade shows with them (you get them a gig with you in your town, then they do the same for you in their town). Over time, you can really develop some great friends as well as contacts.
4. Radio, press, promo targeting
Like networking, you've got to think ahead when it comes to the press. Even if you aren't thinking about touring yet, as soon as you have an official release, you can start pitching it in other markets through the power of the internet.
Getting press can be very difficult when you're first starting out. The more press you have, however, the easier it is to get, so things should ramp up gradually after a few bloggers or journalists give your album a chance. You should definitely be sending press releases to all of your hometown publications, but don't forget about other towns. If it's something that's relevant anywhere, such as an album release, take some time to research and pitch to small publications in big cities with strong music scenes all over the US. Having a little local press can help you get your foot in the door with the music scene once you're ready to tour.
[Why Small Media Outlets Will Do More for Your Music Career Than Big Ones]
Getting radio airplay is much harder than getting press, but if you can manage it, it's definitely worth the trouble. In the same cities to which you send press releases, try to find some college or small, independent radio stations that you can send your music to. (This is where some of your new friends in out-of-state bands can help!) The earlier they can start your music in their rotation, the more time you have to get into people's ears in that region.
Think of it this way: any big news for your band that you promote in your hometown should be promoted with a similar amount of effort in other towns. This way, you'll have an even smoother time when you go on the road for the first time.
5. Put together a solid plan
This is the most important part of the process. After you've settled into your band and everybody feels comfortable booking, promoting, and playing shows, come up with a short- and long-term plan. Try to get an idea of when you'd like to start touring, and plan how you'll accomplish the things that need to be done beforehand. The key to successful promotion is proper planning and thinking ahead, and this is especially true when you're trying to break out of your local scene. Always try to have an idea of what's next for your group, and you'll find yourself making consistent, steady progress towards your goals.
Before you hit the road, make sure you've conquered your hometown with these tips:
Dylan Welsh is a freelance musician and music journalist, based in Seattle, WA. He currently plays in multiple Seattle bands, interns at Mirror Sound Studio, and writes for the Sonicbids blog. Visit his website for more information.