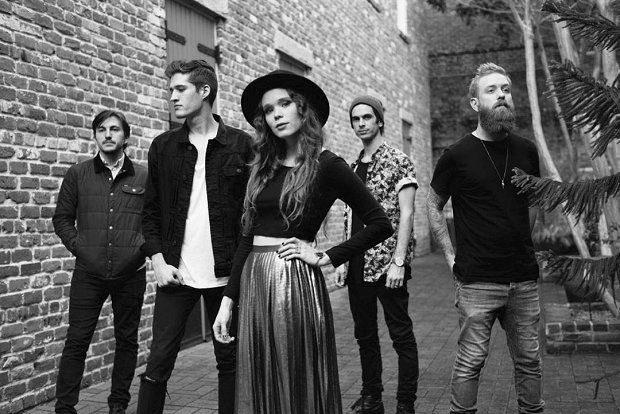 Royal Teeth. (Photo by Wyatt Troll)
It's many a musician's dream to one day be signed to a huge record label. And just being part of any label at all can greatly amplify your music's power and reach. In the massive and competitive microcosm that is the music industry, that dream can seem just about unreachable. However, after inking a deal with Elektra Records just a couple of months ago, Sonicbids indie pop band Royal Teeth has shown that it's far from impossible.
Formed fairly recently in 2010, the group of Louisiana friends whose only original goal was "to have fun, with no master plan for the music at the outset" has come an extraordinarily long way, organically building their fanbase through tight, consistent live shows and capturing that same energy in their recorded music. They credit Sonicbids with helping them lay their foundation and breaking them into the festival circuit, securing bucket list performance slots at major festivals like SXSW, Bonnaroo, and Boston Calling. Last year alone, they performed on American Idol and had their hit song "Wild" featured in a Samsung Galaxy commercial.
So, what does it take nowadays to land a record deal with a major label like Elektra? Royal Teeth shares their journey and advice with us below.
What do you feel was the most important part of your journey to signing with such a reputable label?
We have always believed in working hard and supporting ourselves. We always believed that we could handle anything, and I think that mentality has helped guide us where we are today.
A lot of indie musicians are concerned about signing to a label because of the countless horror stories we all hear. How did you know that Elektra was the right decision for you at this point in your career?
We signed our first record deal with Jeff Castelaz at an indie label. Over the years, we became really close with him, and we know that he really believes in what we are doing. He moved on to become the president of Elektra, and now we are with them. You can find a way to succeed on an indie or a major. You just need to build a team that genuinely cares about the music.
[8 Questions to Ask Yourself Before Signing a Record Deal]
What were some of the standout opportunities you got as Sonicbids members that helped propel your career forward?
From the beginning of our careers, Sonicbids has provided us with amazing opportunities to showcase our music. Getting the chance to play Boston Calling, Bonnaroo, and SXSW really boosted our fanbase and put us in front of a ton of new faces. It laid out a great foundation to build those markets for us.
What's the best advice you could give to an aspiring musician looking to land a major label deal?
When we started, we decided that we would put everything we had into making great recordings, putting on great shows, and showing people that we can support ourselves, with the help of real fans. When you're doing those things right, labels should start to notice.