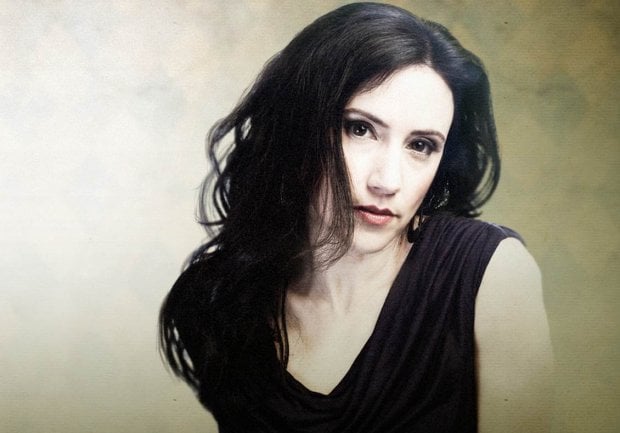 Carla Bianco (Image via carlabianco.com)
It's not easy to navigate a career in the performing arts – let alone three. When you combine careers in both pop music and musical theater, as well as running your own record label, things can start to get hectic with various schedules and demands. Singer-songwriter Carla Bianco has been writing and performing since her youth. Though she writes adult contemporary pop, she has starred in Broadway and off-Broadway productions like Rent and Spring Awakening. So how the heck does she juggle it all? Read on...
You've been performing all your life. Is this something that was encouraged by a musical family or a passion you grew on your own?
It was definitely a combination. My sister was a big music fan. I was always listening to her records when she wasn't home – records like Elton John, Marvin Gaye, Earth Wind & Fire, Chaka Khan, and the Carpenters. But I also was called to the piano and writing at the age of 10. I was watching a Tom & Jerry cartoon and Tom chased Jerry across the keys of an upright piano. And the sound stuck with me. I knew I wanted one. I knew I had to have one. I begged my dad for a year before he got me a $200 piano and put it in the basement. I taught myself to play using my brother's accordion book and proved to my dad I was serious about piano lessons.
While at New York University, you landed a deal with John "Jellybean" Benitez, who produced songs for Madonna and Whitney Houston. Through that relationship, your song "Not This Time" was released through Atlantic Records. What's the story behind how that came about?
I was at NYU for about two months, and it was spring break. I remembered somebody telling me that Jellybean Benitez was always looking for new talent. He produced Madonna's first single, "Holiday," and she was definitely an inspiration, being an Italian girl like myself coming from nothing and making it. So I decided to wait for Jellybean outside his office to speak with him. I waited for three days. On the third day, I stopped him and asked him if I could have 10 minutes of his time so I could show him what I could do. He called me up to his office and I played a song I wrote on his piano. Later that day, he invited me to the Hit Factory where he was recording. A few weeks before I met him, I was at a talent show and met a songwriter. He had a drum beat and a bass line and needed a melody and lyric, so I wrote it. It was the song "Not This Time." When I went to the Hit Factory later that day to meet with Jellybean, I went into the vocal booth and sang the song for him. A week later, he called me into his office and offered me a production deal, a publishing deal, a management deal, and to put "Not This Time" on his next record.
Aside from your own music, you're also pretty accomplished in the musical theater world. What are the main differences (or similarities) you've noticed between musical theater and pop music? What advice do you have for fellow performers who are trying to balance two passions?
As far as the songs themselves, there are a lot of similarities, especially nowadays with musicals being so contemporary written by composers like Billie Joe Armstrong, Sting, Carole King, Elton John, and Billy Joel. But I think the biggest difference is that a pop song is usually just one emotional mood, while a musical theater song tells a story that grows in emotion and tone. That is what makes it theatrical. Pop songs are crossing over more and more into musicals and vice versa. They're both very collaborative processes. But coming from being a self-contained artist that does everything from writing, arranging, producing the music, and then publicizing and getting people down to the shows, it's definitely nice to show up to the theater on opening night, know the house is sold out, and all you had to do was learn your part!
As far as advice for artists out there with two different passions: go with your gut in the moment. The road may be windy, but it will come together in unexpected ways. And you'll be pleasantly surprised at how it all weaves to make a beautiful, unique life and career.
You got to be on the Real Radio Show through Sonicbids. What was your favorite part of that opportunity, and in what ways did it impact your music career?
My favorite part of that opportunity was performing in a tattoo shop on Long Island, NY, and meeting Mark Mendoza from Twisted Sister. It was a ball. They were cracking jokes and busting my chops through the entire interview, and I was meeting them head to head. It was funny, because when we were setting up for my live in-studio performance, Frankie Dee was saying that a lot of artists landed distribution deals after being on their show. And wouldn't you know it, a month later I landed a distribution deal with BFD/Sony RED! I don't know if it's directly linked to that opportunity, but it sure seemed like it. They told me they usually have harder rock artists on their show, but after listening to my pop single "Words Are in the Way," they liked it so much they went for it. I'm glad they did.
Ivory Note Records is your very own record label, which signed a distribution deal with BFD/Sony Red earlier this year. What made you want to start your own label rather than sign with an existing label? What are some of the biggest challenges you faced with that, and how did you overcome them?
Well, I had done so much to self-release my record All This Time in 2012, from funding the record production, to hiring a great producer, to producing two full-scale videos, to hiring a big New York lawyer to help get the project heard, to booking all the showcases and venues, to running my own PR that all led up to the big release show at Stage AE. I was already really running my own label. So when I got offered a distribution deal from BFD/Sony RED to re-release my record in 2014, I decided to make it official and create Ivory Note Records. If you can fund your own label (which takes some creativity and persistence), it's to your advantage to have that creative control as an artist. So I have the best of both worlds; I can create my own vision but also have the support of a label. I don't think I'd want it any other way... but on second thought, free funding falling out of the skies would be nice, too!
What's the number one most important lesson you've learned so far being in the music business?
Perseverance is everything. You've got to be in it for the long haul. You can take a break if you need. You can take a sharp left or a sharp right. But if it's who you are at your core, don't give it up for anything or anyone. And don't let the disappointments get to you. Keep going. Let it roll right off. You'll be surprised when you least expect it by something amazing happening at the right place at the right time.
Are you juggling multiple passions? How are you handling it? Share your story with us in the comments below!
Kathleen Parrish is an award-nominated Seattle-based singer and songwriter. Her music, touched with hints of R&B, rock, and jazz, is both versatile and unique. Aside from her music, Kathleen is a freelance journalist. For more info, please visit www.kathleenparrish.com.