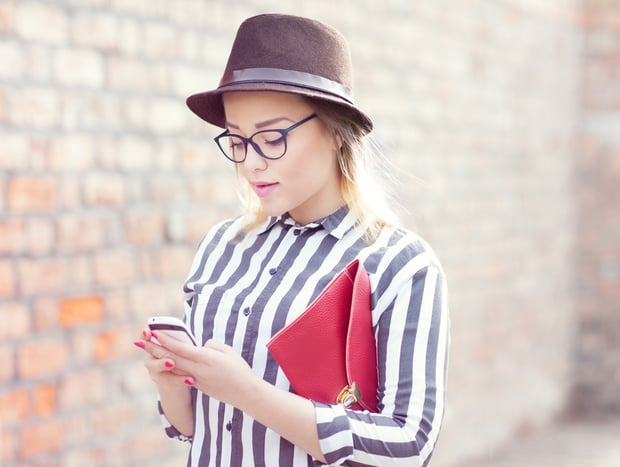 Image via Shutterstock
Believe it or not, there's some science behind writing on the internet, even if it seems to just be a huge mess most of the time. There's data to support specific numbers that point to certain character lengths for everything from tweets to the subject lines of emails that are the most successful. You don't have to always stick to these suggestions, but if you're going to spend time and effort putting things out there, you may as well try to follow some best practices. Here are some suggestions about how long your... pretty much everything should be.
Twitter
Everybody knows that Twitter limits its users to just 140 characters on every message, but does that mean you should be using all of them with every tweet? According to the company itself, it's best to keep your tweets at 100 characters. This isn't always possible, as that's not really a lot of space. If you're trying to share the details of a show or even just a few words and a link, those characters can get used up pretty quickly. Don't worry too much about making your message longer (because it can't get that much longer), but keep this suggestion in mind as you tweet from now on.
Facebook
It may shock you to learn this, but apparently the ideal length of a Facebook post is even shorter than on Twitter. According to Fast Company's research, the posts that received the most engagement were just 40 characters long! It's not easy to say much in 40 characters, and oftentimes, it's really not appropriate to keep things so short. Looking at other suggestions, it appears that basically anything under 100 characters (which seems to be something of a magic number) is a good bet for social media.
Blog posts
Blogs are a bit trickier, as they can be very different things for different people. In the end, you need to get your point across and share the info you need to share, and sometimes that requires more words. Blogging platform Medium looked at not only which posts were the most read, but which ones actually held people's attention the longest, and the numbers that came out were 1,600 words, which takes about seven minutes to read.
I personally think that number is specific to Medium, and unless you're writing something very meaningful that is truly worthy of being a longer read, try to cut that number in half. I write for many publications, and I have found that those pieces that are around 500 words do the best. People sometimes look at how long something is before they begin, because they don't want to get into an article or a blog post if it's going to take too long. If they look and your writing is a reasonable length, more often than not, people will keep going.
It's important to remember that while this format may seem a lot longer than the others I've mentioned, people often go into reading it knowing that. We despise super lengthy Facebook posts, as it isn't the proper platform for such an expression. Blogs were made as a space where people can write well-thought-out pieces and provide a lot of information, whereas social media is intended for extremely short missives.
Hashtags
Using a hashtag in your post is a great way to be a part of a larger conversation that many people may be having or to add something to your message, but be careful when inserting one. Longer hashtags are often ignored, and they take up too much valuable space in your tweet or Facebook status. SocialTimes says that a six-character-long hashtag will statistically perform the best, but that's pretty short. Aim for six to 10 letters, and if it goes a bit beyond that, don't freak out... but think about perhaps finding a more succinct way to get your message across.
Email subject lines
You may not want to hear this, but apparently length isn't everything when it comes to your email's subject line. MailChimp, a popular email newsletter service provider, did a study in which the company found that it wasn't the length of the sentence, but rather the words used that had people opening or ignoring a message.
That being said, another firm found slight disparities between the open and click-through rates of emails depending on the character length of the subject line. Those messages with the greatest number of people opening them had between four and 15 characters, while ones with 28-39 characters had the highest click-through rate. So, would you rather people open your email and read what it contains, or click whatever link you have featured and visit your social channels, website, or perhaps a streaming service to hear your new song? Your goals can change based on the email, but whatever you do, don't make your subject too long. It shouldn't get cut off or truncated. That's really the only restriction you should adhere to.
Get more social media tips:
Hugh McIntyre is a freelance pop music journalist in NYC by way of Boston. He has written for Billboard, The Hollywood Reporter, and MTV, as well as various magazines and blogs around the world. He is also the founder and editor-in-chief of the blog Pop! Bang! Boom! which is dedicated to the genre of pop in all of its glory.