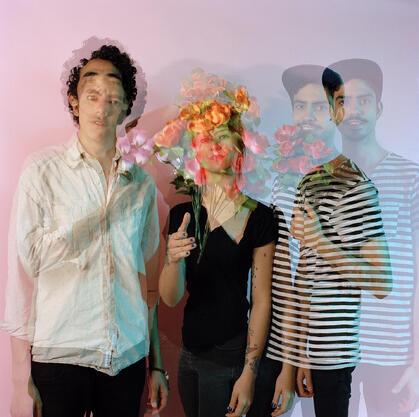 Photo by Yael Malka
Though at first reluctant to begin a musical venture together, New York psychedelic rock trio Balancer melded influences from Puerto Rico to Columbia, generating a sound that combines "electronic music, psychedelic music, pop, alternative rock, and coffee." Francisco Valentin (keys, synths), Felipe Piedrahita (guitar), and Gabriela Jimeno (drums) met in Boston, MA, in 2012, and released their debut EP, House In the Clouds, later that year. Their full-length debut, Tipsoo, followed in February 2014, after a successful Kickstarter campaign to fund the album. We spoke with the band about their recording process and and the inspiration behind Tipsoo.
You started making music together in 2012. How have you grown as a band over these two years?
What a big question. We have grown so much in every imaginable way. We feel like we are unrecognizable from who we were two years ago. Never have we felt so much change in such a short period of time. Even if you look at one of our pictures from a year ago, we look very different from how we look now. We are all very close, and that makes the band very solid in many ways. We don't feel insecure or scared about the future, and we're not waiting for anything. We are excited and trying to figure it out like everybody else, but we waste less time with little things now, and don't stress about things we can't control. We spend more time doing what we really want: making music and being there for each other.
When did you start using Sonicbids? What have been some of your favorite gigs you've gotten from using the site?
We started using the platform a while ago, just as one of those things you had to have as a band – especially because we wanted to apply to SXSW – and have been using it ever since.
What's your advice for other artists using Sonicbids to get the most out of the platform?
Be patient. Sonicbids is great for independent artists – it gets you playing where you wouldn't otherwise.
Your debut album, Tipsoo, was recorded over the span of two months. What was this experience like for you as a group?
It was incredible – being in a studio in a beautiful place surrounded by nature, with nothing else on our minds but creating the most honest music we could. I mean, what else could we ask for? It has definitely been one of the best times of our lives, but also one of the most intense. We wanted to make the best [music] that we could, and it was very personal for all of us. It was a learning experience. We got to know ourselves and each other, and that is all in the music. You can hear the work, struggle, joy, nature, and the spirit of freedom that was awarded to us by the circumstances. That was exactly what we where looking for and what we wanted our music to sound like. Freedom.
How does Tipsoo differ from your previous work?
It's really our first work as a band. We weren't thinking about anything with the EPs we did before. We liked playing with each other, and we recorded some songs just because. With Tipsoo, it was different. We realized that we had something special that we wanted to pursue. For us, it is the first glimpse into our search for a sound that is truly ours. We are far from finding it, and the music we are making now already sounds far away from Tipsoo, but Tipsoo is the starting point.
How did you manage to record your album for free?
We have a fourth member in our band – our producer and engineer, GG Reynolds. He has been with us since our start in Boston. He moved back to his hometown of Seattle, WA, when he finished school, and really wanted us to record an album over the summer with him. He spent a couple of summers putting together a tracking room in a very old abandoned barn in his friend's backyard. He had the idea of us coming there and spending two months with him, writing and recording the album.
Your recent Kickstarter campaign was very successful. Where did the majority of the funding go?
It was incredibly humbling and exciting. All the funds were spent on the making of the album, the mixing (which we did with tape), time spent in another studio in Seattle (Electrokitty), recording guitars, mastering, pressing vinyl, and the band's living expenses for the two months we were there.
Why did you decide to start a Kickstarter campaign in the first place?
We were very honest about the reasons we wanted to raise money via crowdfunding, as opposed to looking for a record label or an independent investor. We believed people would relate to honesty, and they did. We had faith that the audience really does know what it wants, contrary to what everybody in the music industry tells you. In this day and age, we have to have faith in each other and build communities around the arts. We can all support each other and completely erase the middle man from the equation – artists and audiences creating together, just the way it was intended.
When's your next show?
We're playing a couple of shows in Bogotá, Colombia, and when we get back to NYC, we play Rockwood Music Hall on October 3. We're good at keeping our website updated with dates, so feel free to check it regularly. You can also find us on Facebook.