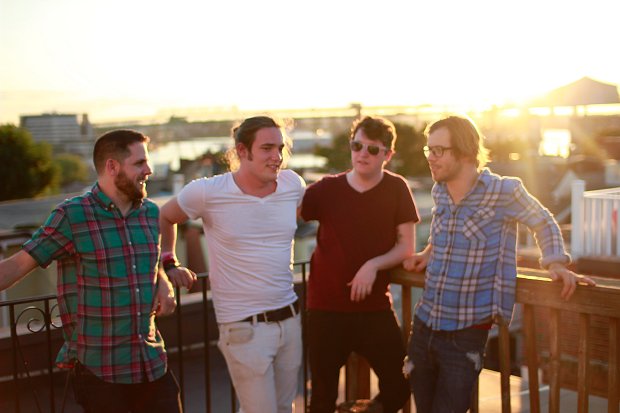 Photo courtesy of Nemes
For Boston-based rock band Nemes, music runs in the family: the drummer and guitarist are brothers. The quartet has ripped up the New England scene with their upbeat, violin-driven rock 'n' roll, resulting in a sound that's high energy and a hell of a lot of fun to dance to. After being honored by Alternative Press as one of the top five unsigned bands of 2010, the quartet has since embarked on several eastern US tours, and most recently was selected through Sonicbids to play one of the Boston Calling Block Parties, a highly attended summer series at Dewey Square.
Alex Glover, the band's bassist and back-up singer, let us in on what the experience was like and what's on the horizon for the group:
Congrats on being selected to play the Boston Calling Block Party in August! What was that experience like?
We had a good experience with the Boston Calling Block Party. Crashline Productions, which put the whole thing on, was a great connection to make and made sure we knew to email them in the future regarding upcoming events. This was a great opportunity for us to get more hooked in with the Boston music scene.
Your music video for "Butterfly" was self-produced, taped, animated, and released – a huge undertaking. How did you take that on all by yourselves?
"
Butterfly
" came together pretty naturally. Our guitarist/vocalist Dave [Anthony], who wrote the song, has an affinity for sign language and loves translating different parts of our music into it. With that idea in place, we realized it would probably come across best as a homegrown project where we all contributed a bit. Our drummer Chris [Anthony] had some experience with lyric animation, and I had some experience in
video editing
, so we pretty much just decided to see what we could do collectively. Josh [Knowles] (violin/vocals) kind of oversaw the whole thing and made sure the decisions we made didn't suck. This was the first time we've all come together to make a song and accompanying video, and based on the feedback, we'll definitely be doing more of it.
You've been working on a new record that's due this fall. Can you tell us a bit about the album?
The album is called I Carry Your Heart and comes out October 28. We couldn't be more proud of the 11 songs on it. Each one is completely different from the next, but the four of us feel like the consistent, caring approach that we took with each track ties them all together. Each track is pretty much its own story, but they all link together thematically. My favorite song is called "White Dress," and I'm really excited for people to hear it.
We have a preorder running on our website until the album's release date. We're offering some great deals on merchandise that might not be available down the road. We're also putting out the record on vinyl! This is super exciting, as we wanted to do this but didn't think we were going to be able to.
How would you describe the album's sound?
There are a lot of different influences on the record. We tend to describe ourselves as some sort of weird threesome between Mumford & Sons, the Black Keys, and the Foo Fighters, but we were listening to tons of different stuff while writing and arranging these songs. Also, a lot of people tell us that description is off, so we've started calling ourselves "normal" music. Take it as you will.
Why did you decide to start using Sonicbids?
Lots of well-known
festivals
, events, and agencies use Sonicbids as a platform to get in touch with up-and-coming artists. As an aspiring band, we felt like it made the most sense to
meet these people where they were and provide them with easy access to our material
.
And finally, any advice for musicians who want to use Sonicbids to further their careers, like you guys have?
Make sure your profile has anything and everything that you'd want people to see, don't get discouraged if you don't get selected, and keep everything up-to-date.
Catch Nemes on November 7 at the Middle East in Cambridge, MA, for their CD release party, along with friends and fellow Sonicbids artists Sarah Borrello, Grey Season, Arms and Ears, and Damn Tall Buildings.