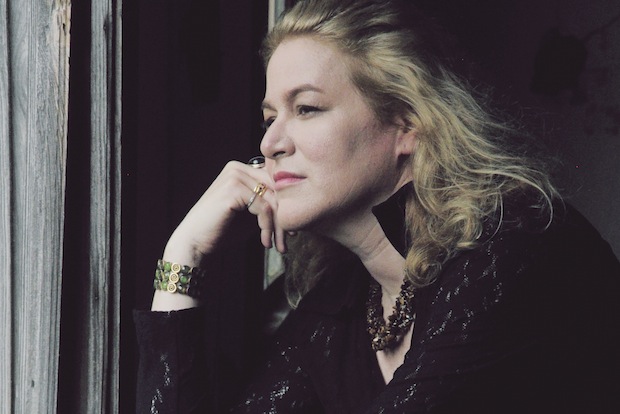 Photo by Jyoti Sackett
Between her own music, the music she writes for other artists, and her teaching position at Berklee College of Music, Susan Cattaneo stays busy. The Boston-based singer/songwriter has built an impressive resume for herself as a Nashville songwriter, along with her three solo releases and tours of the US and Italy.
Her newest solo pursuit, Haunted Heart, displays a darker side of Susan's writing. Inspired by a tragedy in her own kitchen that left her with PTSD, it is the first of her releases to feature songs written entirely for herself, rather than for other artists. Susan is an avid user of Sonicbids, and we jumped at the chance to talk to her about how she made the leap from senior television producer to musician, her new record, and what advice she has to offer other songwriters.
When you were first getting started, you made music alongside your career as a television producer and writer. How did you get into television?
I graduated from college with a degree in English Literature and moved to NYC. I could write a great poem or short story, but I had no practical job skills! My sister, who was an actress, had worked temp jobs through an agency that hired for radio, TV stations, and ad agencies. I joined them and was assigned a four-month position as the receptionist at WPIX, Channel 11. After my four months were up, I had two jobs (each four months long) in advertising agencies where I did everything from making coffee, to filing, to writing copy for department store commercials. I was fired from the first agency because I missed a deadline, and the second agency ran out of money and let me go. So here I was, 22 years old, out of work and starting to think I would never hold down a job longer than four months!
One day, I called my friend in HR at Channel 11, and she told me about a job in the Creative Services department, which is responsible for writing and creating all the commercials for the station – everything from news promotion to movie trailers. They were looking for someone to write the copy that runs between the shows that says, "Coming up next…." I interviewed and got the job. More hard work, late hours, and lots of writing followed as I worked my way up to Director of On Air Promotions. I went on to be a senior writer/producer at a cutting edge agency in Boston. It was a great profession, and even now, I find myself judging (and sometimes making imaginary revisions on) commercials I see on television!
What was the driving force behind your decision to put all of your energy into music?
I come from a musical family, and singing has always been an important part of my life. When I was in New York, I produced commercials by day and sang in a band at night. But I never thought I could do it full-time. My brother-in-law had moved to the States from Italy to attend Berklee. When my husband and I made the move to Boston, I started to learn more about this wonderful school that taught contemporary music. But I was incredibly scared to give up my paying job and go back to school. Music had been a really important side career for so long. I just felt it was time to make it a priority in my life.
The pivotal moment came when I was walking through Cambridge and wrestling with the thought of changing my life so drastically. I'm not a religious person, but I asked the big unknown for a sign, any sign, to tell me what to do. Looking down, I saw something shining in between two slabs of pavement. I reached down and pulled out a silver earring in the shape of a treble clef! How strange is that? It felt like destiny, and was just the push I needed to make the move to music.
Your material has taken a darker turn over the years. Do you think that is a trend that will continue? Where do you see the tone of your material going next?
Three years ago, I was going along my merry way songwriting and collaborating with others in Nashville and here in Boston when an incident happened that changed me profoundly. There was a medical emergency in my kitchen, and I had to step in and save someone's life. While this was the best of all possible outcomes, the accident was very graphic and difficult for me to process. Eight months of PTSD left me with a feeling that death could be around every corner. It was a difficult time for me, and Haunted Heart came out of that experience. I felt like I had been marked by a darkness that wasn't really part of my make-up before this incident. Now, three years later, I am finding the light in my music again. And while I'm not shying away from writing the hard stuff, I'm also seeing the sun again. And I'm incredibly grateful for the opportunity that music has given me to express whatever I'm feeling, whether it's dark or light. So where will I go next in my music? I've got lots of ideas about it.
Your new album, Haunted Heart, was the first where you wrote all of the songs with yourself in mind. Could you describe that experience and how it felt?
On one hand, it was amazing to put into song what felt to me like the truth without having to make any concessions musically or lyrically. When you write for a specific music market or with a specific artist, sometimes you have to change or alter a song to fit that genre/artist. With Haunted Heart, I didn't give myself any restrictions. I just let the songs unfold. And I think that's why the album is Americana in its truest form. It's a blend of many roots-based musical styles including folk, blues, pop, country, alt country, and even classic rock with my lyrics (and the fabulous musicians on the album) tying the whole thing together.
On the other hand, writing for myself was scary, because I've never been so personal and revealing in my work. Knowing that my skeletons were out and walking around in my songs was a pretty wild (but liberating) experience.
How did you get involved with Berklee?
As the front-woman in a band in New York, I was your typical "chick singer." I started writing songs when I was 17, but I didn't know anything about music theory, so it was a little bit like wandering through the dark. I played the piano but was mainly ear trained, and I couldn't really communicate with the musicians I was working with, because I didn't speak the language. My brother-in-law is a talented jazz pianist, and watching him go through Berklee made me want to become a musician, not just a singer. (Songwriting wasn't even on my radar. I went to Berklee on a vocal scholarship.)
Once I got to school, I dove into music theory and all things chord and melody related. Then I took my first songwriting class, and I was a goner. Here was a discipline that combined my favorite things: singing, music, and writing. I took all the classes I could in songwriting, and felt like I'd found my heart. Being a writer for so many years, I guess I was pretty vocal when I was commenting on other people's songs. Luckily, my dear friend and mentor, Pat Pattison, thought I was talented rather than obnoxious and hired me after I graduated. I've been teaching there for 15 years now, and it's been an amazing ride so far!
How has working with Sonicbids helped you as an artist? What was your experience like playing the Sonicbids showcase at the Folk Alliance International Conference earlier this year?
Sonicbids has been invaluable to me as an artist. Just having a site where I can look specifically for the types of performance opportunities that would be right for my music saves me a great deal of legwork when I'm trying to book gigs or radio placements. I've gotten a bunch of festivals and some radio placements from Sonicbids, and I've been able to make and maintain these contacts that I wouldn't have had access to otherwise.
I was delighted to be a part of the Sonicbids showcase at Folk Alliance this year. It was my first one, and while it was a huge, crazy music scene, I found that I met some wonderful people and heard some great music.
Do you have any advice to offer up-and-coming artists who want to break away from their day jobs and go into music full-time?
For an up-and-coming artist, my advice is to write and practice your instrument – and then write and practice your instrument more! And listen to others. And go out and hear live music. Become part of a scene. These days, you have to think of yourself as a musical entrepreneur. You've got to master many elements of your career if you want to succeed, and that includes more than just writing songs and recording a good album. You've got to engage your fans in real life and in social media. You have to market yourself and come up with interesting and creative solutions to get your music heard.
These days, there are a million things you need to do to have a successful career in music. It's a lot of work, but it's also rewarding on a deep soul-searching level, and therefore, it's worth it. Financially, the income stream is tricky for a new artist to maintain a career in music. A friend of mine calls it a "river of nickels." But there is money to be made in live performances. You can't duplicate the live experience, and people will still pay to take part in that despite all the technology we have at our fingertips.