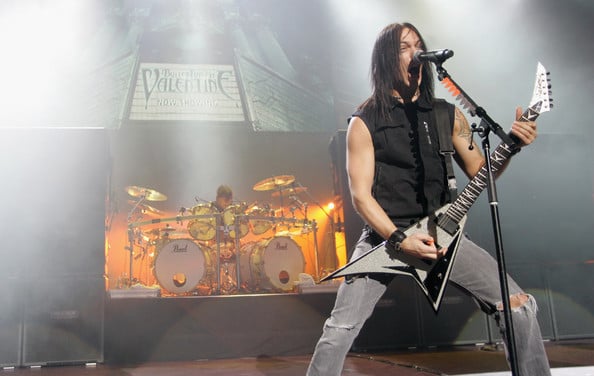 Image via zimbio.com
There are about 50 core online publications for metal bands. Alternative Press, Decibel, New Noise, Revolver, and Substream have their accompanying sites. Then there are online-only outlets, like About's metal page, Blabbermouth, Lambgoat, Loudwire, Metal Sucks, Metal Injection, and beyond. There are tons of metal outlets that assert themselves, thanks to their unique voices and tones, which range from snarky to all-encompassing, and their scope of coverage from wide-ranging to super-specific.
As a rock and metal publicist, I read, pitch, and enjoy them daily. But there are a handful of metal blogs you may not know about that have become a part of this core because of the niches that they do adeptly cover. Check them out below, then read up on how to craft the perfect email pitch!
Why we love it: The staff knows what's cool before it's cool. Their endorsement can make a band blow up. Their name refers to the clutching gesture you make when the mighty force of metal flows through you. When they're not too busy throwing the metal horns or making said clutching gesture, the team has their fingers on the pulse of the underground, all the while covering important and established acts, too. They lean extreme, but never with that pretentious, too-cool-for-the-room vibe. One nod from IO can put an up-and-coming metal band on the map.
How to get featured: They prefer digital submissions. Scan the site, enjoy the content, and see if you fit. If so, reach out.
Why we love it: Metal Riot covers a wide range of bands, including news, interviews, and reviews. The staff personally curates the content – you cannot create or upload a profile page yourself – and that means that the team believed in the band enough to get behind it, create the profile, and offer coverage. It's a true labor of love performed by informed people.
How to get featured: The submissions page is super detailed, but the staff effectively breaks the process down for bands seeking coverage.
Why we love it: Because it mixes horror film/TV coverage and rock music. Duh. The site is becoming more and more all-encompassing, and has expanded to feature more mainstream-leaning acts. There's really a wide-reaching, yet well-managed depth of content on the site. The Cryptic Rock crew is pretty comprehensive with its coverage and interviews, and prides itself on getting behind an act early; they really do give liftoff to a lot of bands and are there from day one. They're also stellar at sharing and promoting their content!
How to get featured: They're friendly about accepting submissions. Give it a try. You might get a reply, even though they're super busy pumping out tons of great content.
Why we love it: Both of these sites have a narrow but critical focus – they each specialize in coverage on women in hard rock and heavy metal. They're covering the niche of a niche, beautifully so; Sonic Cathedral takes it a step further, as it focuses on the vocalists. These sites spotlight the females who make this genre great. Who runs the world? Girls, of course.
How to get featured: Hit their contact pages if you are a girl or have a girl in your ranks. Sonic Cathedral is here and Femme Metal is here.
Why we love it: DTB has cornered a market and filled the white space with their skew: band tour vehicles and tour life. They do amazing Tour Bus Invaders segments so fans can see how the bands they love live while out on the road. It's a keyhole view into tour life and the home-on-wheels, and the pieces are always really fun and entertaining. You can't get this type of "inside" look anywhere else.
How to get featured: If you're on the road and doing tour press, you likely have a publicist who can get you covered here. But DTB's Josh is super awesome and proactive. Drop him a line.
Why we love it: It's a digital zine and it looks absolutely amazing, rivaling some print publications with its layout and look. Sailor's Talk is very artfully designed, and while it does focus on the metalcore scene, it also covers all sorts of indie bands.The photos are original, as is the content. The staff is working overtime to make this online mag stand out with form and content!
How to get featured: Jacob founded and runs the zine and is reachable via the contact page. He's a super talented and passionate dude.
This is just a smattering of some of the niche blogs operating in the metal world. If they cover a band, it's for all the right reasons!
Looking for the best niche blogs in another genre? Check these out:
Amy Sciarretto has 20 years of print and online bylines, from Kerrang to Spin.com to Revolver to Bustle, covering music, beauty, and fashion. After 12 years doing radio and publicity at Roadrunner Records, she now fronts Atom Splitter PR, her own boutique PR firm, which has over 30 clients. She also is active in animal charity and rescue.