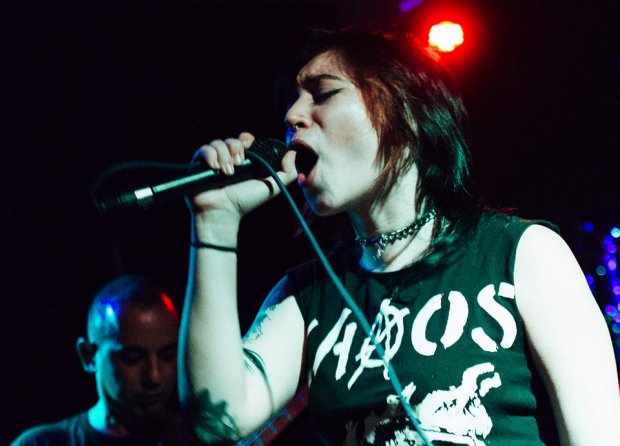 Punk outfit Ultraje at Club 77 in San Juan, Puerto Rico. (Photo by Elías C. Quintana Matias)
Friday and Saturday nights are traditionally expected to be the busiest nights for music venues, and as such are typically reserved for touring or local acts with reliably strong draws. Every band and musician's ideal gig, then, is a weekend headlining spot, right? That makes sense, sure. But if you're still growing your fanbase or scheduling a tour, those coveted nights aren't always a possibility. So what's the next best thing?
The answer: it depends. That wasn't meant to be a trick question, really. What we're getting at here is that the best or worst night is circumstantial – it varies depending on who your crowd is, what your band sounds like, and other factors. There's plenty of reasons why you might not land that coveted weekend gig – you could be just starting out or maybe you happen to be touring through a particular city on a weeknight. We've highlighted three levels here – new bands, local staples, and first-time touring acts – to help you figure out what to expect and how to make the most of any given night.
1. Debut performances for brand new artists
Sunday to Wednesday: These are commonly seen as slow nights, but that's not always true. If you're debuting at a weekly showcase – a recurring open mic or jam, for example – you could actually see a bigger crowd than if you'd arranged your own show.
Thursday: Sometimes booking agents and venue owners won't give Fridays or Saturdays to completely unknown names because there's no guarantee they'll bring a crowd. Fair enough. But if you can round up a few familiar local acts, you might persuade them to let you book a Thursday – closer to the weekend, so it's easier to convince the nine-to-five crowd to come out than it would be earlier in the week.
Friday and Saturday: If you're known from a former project or have an in with headlining locals or touring acts, definitely try for a weekend night. Deceiving the promoter by promising 250 people so he or she will hand over a headlining spot, however, is probably a bad idea. (Unless you really think you can swing it, of course!)
2. Local bands with an existing fanbase
Sunday to Wednesday: Anyone with a strong local following has probably already played plenty early-in-the-week shows. If you've proved your draw, it's probably time for you to try moving toward a weekend opening spot. That doesn't mean you should quit playing on Tuesdays, period. But if you're playing every Tuesday and have been for some time, start working toward bigger nights.
Thursday: It's a segue into the weekends, for sure. If you can't get a headlining gig, try for an opening spot with a well-known touring band – they don't always roll through town on the weekends, you know.
Friday and Saturday: The question isn't if you're ready to headline, it's where. Begin with a smaller venue, maybe even an unconventional party at a bar that doesn't always host shows. Consider your draw, and try to match that number to the venue's capacity.
3. Touring independent acts
Sunday to Wednesday: It'd be incredibly inefficient to book a tour of only weekend shows, so it's normal for touring acts to perform during the week, too. To ensure the biggest crowd possible, try booking venues that regularly schedule on the night you're considering. If their patrons are accustomed to seeing bands on Tuesdays, then they're already primed to check out yours.
Thursday: Again, this is almost the weekend, so anyone with an early schedule is probably more willing to get out this night than earlier in the week. Sharing the stage with better known locals, especially if it's your first visit to their city, will help boost attendance.
Friday and Saturday: Ah, the ideal situation. Still, like with any band, researching venues to make informed inquiries instead of blindly hitting them up will serve you well.
Now that you know the best days to play, here's how to have your best show ever:
Jhoni Jackson is an Atlanta-bred music journalist currently based in San Juan, Puerto Rico, where she juggles owning a venue called Club 77, freelance writing and, of course, going to the beach as often as possible.