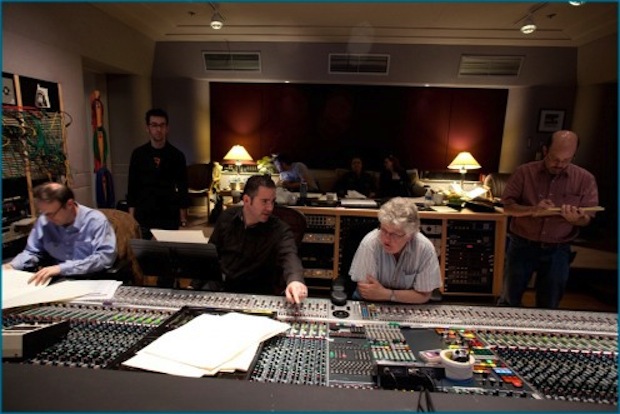 Image via musicclout.com
As we've learned, talent alone simply isn't enough to be successful in the music industry. There's a whole business side of things that needs strength and momentum to power the machine in order to drive growth and get you to the next level. Obviously, there are plenty of important people on the forefront of all of our favorite major artists' careers, but many of those moving parts came much later on after years and years of development.
For example, to get a great manager, you need to have some real value brought to the table in the first place to catch that person's interest, among other things. And then, of course, you have your entertainment lawyer, publicist, tour manager… the list goes on. But what is an artist to do when he or she is just getting started, has limited funds, but still needs to put a basic team together? Here are the first three behind-the-scenes people you need on your team for success.
1. Marketing manager
Got a friend or bandmate that knows a bit about marketing? Get them on board! Every artist needs good marketing. That is the way fans consume your material and how the movers and shakers will be able to identify you on your rise to greatness! Branding is extremely important, and marketing is not the area to breeze over early on in your career. You can be thrifty, but make sure you get your marketing materials right! Merch, photos, web graphics, business cards – they all need to be consistent, clear, and identifiable.
[Learn how to create a professional EPK that you can send out to industry people.]
Take an afternoon and work with a buddy who has some of the "missing pieces" that you need to put together some basic things that you can use at your next show and online. Design a logo that you know you can rock with long term, and that fans will be able to associate you with. Smart marketing is what gets you noticed and helps you grow so you can start putting more of the green back in your pocket!
2. Booking agent
As a new artist trying to really break into the next level of the live music scene, it's imperative that you have someone you can trust to represent you in order to get you booked for shows. At the beginning, it might make sense to try to do it all yourself, but the most important thing we can do for ourselves as musicians is accept what we're good at and where we're lacking. Creativity and music making is where I think we can all agree that we excel without a doubt, but that doesn't necessarily mean that it makes the most sense for us to be our own salespeople as well.
Think about real estate, for example. When a family wants to sell their home, they usually find a good real estate agent to represent the property and try to find the right buyer. That same agent can be honest about the value of the home, even pump it up a bit to persuade potential buyers that this is a special opportunity that they don't want to miss out on. Then a good real estate agent uses that leverage to command the highest payout possible. The other side of this is that a good agent is savvy about negotiating against any negatives potential buyers might see. These are the types of moments where it's best that the owners aren't involved in the process, as they have much too much invested in the home and often have strong emotional attachment that clouds their decision making.
The same goes for why it's important to have a good booking agent. Find a friend or even a longtime fan of yours who really knows your music and believes in it. Then add in some charisma and natural talent for business acumen, and you've got yourself a recipe for a kick-ass team member with the potential to get you headlining the best stages around, once they start making the proper industry connections!
3. Social media/web manager
It's 2015, people, and whether you like it or not, social media is a must. But keeping up with all of the hot new sites and trends can be a full-time job in and of itself. Sure, you'll always be able to do some of it (I mean, you are the definition of hip, right?), but keeping your fans satisfied and always hungry for more is another thing entirely. This is a great job for the friend that would kill to be a musician him- or herself, but just doesn't have the tools for it, but would love to get involved any other way he or she can. In a matter of minutes, that person should be able to create artist pages for you on different platforms. Then, simply pass along your marketing materials (as discussed in point one above), so he or she can get crackin'!
Create a basic schedule for how your fans will consume your material on a consistent basis. For example:
Mondays: Upcoming show promotions
Tuesdays: Photos of merch and weekly deal for purchase off the website
Wednesdays: Updates on current music writing/recording, pictures of you in studio or on the road
Thursdays: #TBT – put up an old-school photo of you early on in your music making, ideally with some humor integrated
Fridays: Promote currently released music on iTunes, Spotify, etc.
Saturdays: Post video of you creating music, backstage at the show, getting ready for a photo or video shoot, during rehearsal, etc.
Sundays: #SundayFunday – post a personal (not necessarily music-related) pic of what you're doing in your free time on the weekends, so fans can get to know you better
You get the idea. It seems so simple, but this basic process with someone that can commit to helping you keep your content updated and fresh will undoubtedly help you gain and maintain a solid fanbase. Then just make sure to have your social media/web manager communicate with your booking agent to make sure they're both working to push your upcoming live shows with all of the great marketing materials from your marketing manager, and – voila! – you're well on your way to being #toolegittoquit. Which I think is the ultimate goal for all of us deep down, right?
You'll also look super professional and become highly valued by the big industry players who are ultimately the gatekeepers between you and that very special place that we all dream of where our musical fantasies and financial ambitions collide. Whoa! Yes. This is good. You should do this. Get started now. Why are you still here reading this? Go! Go! Go!
Christine Occhino is the founder and artistic director of The Pop Music Academy and has experience working at Columbia Records/Sony Music Entertainment, in addition to working as a performing artist for over a decade. She has a bachelors degree in music business and management with a concentration in entrepreneurship and vocal performance from Berklee College of Music, where she was a vocal scholarship recipient and former editor-in-chief of the Berklee Groove.