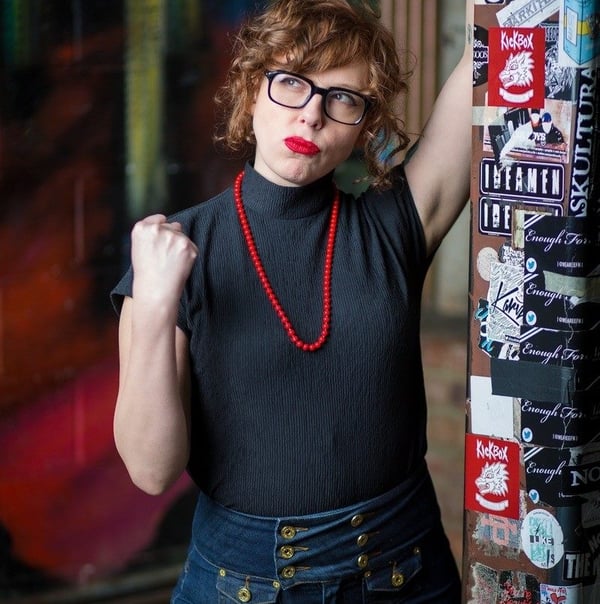 Elle Quintana, talent buyer at Reggies Live in Chicago. (Image courtesy of Elle Quintana)
Chicago's clubs are a must on any touring band's checklist, obviously. A preeminent city in the development of the blues, it was also largely responsible for the ascent of rock 'n' roll and, in the '80s, was the hub in which house music first emerged. It's dotted with so many historically significant venues, it's hard to even know where to start, much less how to earn your band a spot on one of its stages.
There's the Metro, having hosted the Ramones, Sonic Youth, New Order, Depeche Mode, and more in the '80s, and below it Smart Bar, the early training ground for now-famous DJs like Frankie Knuckles and industrial pioneers Ministry. Later, in the late '90s, the Hideout, formerly a Prohibition-era bar, was souped up to host the White Stripes, then still a fledgling act.
Around the same time, Double Door opened and hosted a secret Rolling Stones show. On top of all that, there's a slew of spots that opened in the 2000s to equal fanfare and have established themselves alongside the rest of the city's live music strongholds.
One of those clubs is Reggies, which opened in 2007 as one room that could fit about 100 people. A few years after, they added a 400-capacity space (and a rooftop bar, too). The calendar features everything from hip-hop to jazz to punk to soul to electronic and, since day one, it's been Elle Quintana serving as talent buyer. A renaissance vet of Chicago's music scene, she also held court as sound engineer and bartender at two beloved now-shuttered spots, the Mutiny and Big Horse Lounge.
We asked Quintana for insight that might help startup bands, both local and touring, better their chances of landing gigs at Reggies and throughout the rest of the city's venues. Read – and heed – her advice below.
Compared to other cities, what's unique about Chicago's music scene?
Chicago has a lot of venues, and there's always something going on somewhere. Fans can be cliquish.
What venues in Chicago are best for up-and-coming, independent bands based in the city?
Hmm... well, the Hideout is a great place. Schubas. Empty Bottle. Reggies.
What's the best way for an out-of-town band to break into the Chicago market?
For me to book an out-of-town band, it's based solely on whether I like them or not. If I do and the routing works out, I strive to set up a cohesive lineup of like-minded bands with the touring act as direct support to a local headliner. My goal is to get the patrons to enjoy the whole lineup, stay and drink and spend money, and hopefully gain the touring band and locals some new fans.
I don't like booking touring packages. It may make sense for the band to split costs, but it doesn't make sense for two or three touring bands to come to a city and play with a single local. You need the locals to bring the people. I generally avoid booking touring packages, unless they're national, of course.
What's the most common payment structure for venues booking independent bands in Chicago?
Most venues take production costs out of the door right off the top. Then they split the door between bands. You're lucky if you get free drinks. Some venues, like Reggies Music Joint, tries to be a little more supportive of touring acts by giving 100 percent of the door to the bands, and we cover all in-house costs. Plus, we give the touring acts free food and free booze.
What qualities do you look for in bands when considering them for shows?
It depends on the situation. If I have a big guarantee on a national act but I worry about meeting that guarantee, then I look for locals that will support that actually take the time to promote and who have a fanbase. Maybe I'll book an older local and a younger local to try to get fans from both the older/younger demographic.
If I'm not worried about an opener's draw, then I have the luxury of booking a band that might not have a big fanbase yet, but are an awesome fit with the show.
If I have a corporate event [e.g., a sponsored show or private rental] with a huge budget, I might reach out to a band who we've had a good experience with in the past. Or I'll reach out to an agent who goes out of their way to get us good shows. It's kind of a way of saying "thanks" and hooking up one of their artists.
I also won't book bands who have shitty attitudes with me or my staff. Or bands who don't show respect to touring acts. Bands who whine and complain incessantly about ridiculous shit don't get a lot of shows with me.
What's the one thing you want new bands looking to book in Chicago to understand?
One thing? Oh, I don't know... don't pass up a Chicago gig because you think you deserve a certain guarantee. A good compromise is to play a suburban gig where they often tend to pay more than the city and then fit in a city date around that. You may not make big bucks but... you're a touring musician. Not many do.
Don't just jump on any old lineup or into any venue. I'm always wary of venues who book touring acts and then tell them that they have to find local support. That's just insane. How is a touring band supposed to know who to book? I also don't respect promoters that just throw any old lineup of bands together. A metal act, folk act, hip-hop act. What? That makes no sense! Go with a venue that takes some pride in their shows.
If you've actually got local ideas, feel free to share them with the venue. I know I appreciate it, but I certainly don't expect it.
Read more expert advice on booking gigs:
Jhoni Jackson is an Atlanta-bred music journalist currently based in San Juan, Puerto Rico, where she juggles owning a venue called Club 77, freelance writing and, of course, going to the beach as often as possible.