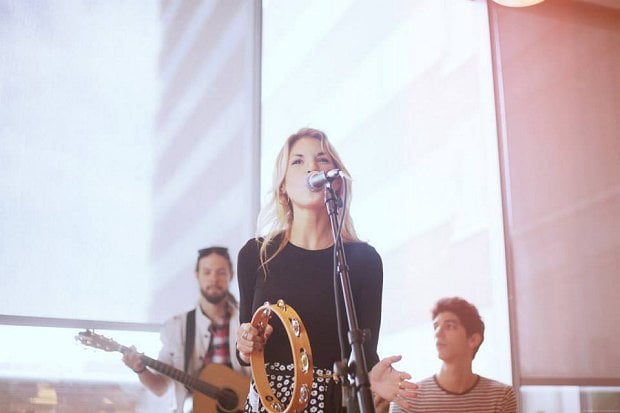 Image via amyandtheengine.com
Obtaining a great amount of press isn't something that comes without hard work. Indie rock band Amy & the Engine has proven that with lots of dedication and an amazing team, securing press as an independent artist is entirely attainable. In less than a year of playing together, the group has scored features in magazines like Teen Vogue and performances at major events like CMJ Music Marathon. In this interview, singer, guitarist, and namesake Amy Allen shares her musical journey and offers advice to other Sonicbids artists seeking press, what to consider when looking for a publicist, and her thoughts on what makes an EPK the most appealing.
Amy & the Engine is a relatively new band, yet you've already managed to secure exclusive features in publications like Teen Vogue and Entertainment Weekly. Do you have a publicist working on your behalf, or are you scoring this press on your own?
We actually just started working with a publicist in January to help push the band's first music video for our single, "Last Forever," and to help us get it onto new platforms and in front of new audiences. Because we're such a new band (still less than a year old), I really wanted to do our first music video right and make sure it felt like a complete synthesis of myself and the band. Everyone involved in the video was part of my life back home in Maine, from the dancers to the videographers, so I wanted to put all my energy and efforts into supporting the video once it was finished. To do that, it only felt right to pair up with a publicist to give the video the proper push we thought it deserved, so we brought on the lovely ladies at Golightly Media.
What were the biggest factors you took into consideration when deciding which publicist would be best for you?
As an artist, I've always worked hard on my own to get my music heard and seen by different audiences, so the thought of adding someone new to the team to help with that responsibility was a little scary at first. That being said, I knew a publicist would lead to new opportunities and relationships for the band that I didn't have on my own, so I went with it. I knew I wanted someone that understood my musical inspirations, my songwriting, and my vision for the band. Lily Golighty, founder of Golightly Media, checked all of those boxed and then some. She knew different outlets we should push and audiences we should target. She also personally connected with my music right off the bat and believed in the project, so I couldn't be happier to have her on board!
[Learn more: Which Type of Music PR Firm is Best for You?]
Was there any sort of big moment or turning point for you that led to all this momentum, or is this something you've been steadily working towards and growing organically for a long time?
Even though the band is so young, it's definitely something I've been working at for a long time. Years before I even knew about Berklee College of Music, I was playing shows around southern Maine and pushing my singles to local Portland radio stations as a solo artist. After a few years of slowly expanding the Amy Allen Band in Maine, I felt I had a pretty solid foundation to build upon, hence the addition of the "Engine." When I returned to Maine this past summer to debut Amy & the Engine, I was nervous because one, we were opening for Vance Joy, who I love, and two, it's nerve-racking to debut a new sound and look. The music scene in Portland is so loyal, loving, and composed of genuine music lovers, so it was an amazing homecoming to say the least. Since then, the band has been working hard, playing as many shows as possible to build a following of "engineers" in Boston and surrounding areas. Now, we're finally recording the EP, so I really look forward to sharing that with everyone!
What do you think is most important to show on your EPK in terms of getting press?
I think the band, collectively, has a pretty cool story. We're essentially from every corner of the globe and met by chance in college at Berklee College of Music in Boston. It's just been a hell of a year getting to know these guys and to see our music blend into something so special and unique. It's something I've been looking for my whole life.
Obviously, your EPK has done more than just get you press, since you've also used it to get on the bill for major events like VH1's Save The Music Foundation concert and CMJ Music Marathon 2014. How do you make it appealing to both press and promoters alike?
It helps to have a management team to bounce ideas off of, but I think it's important to focus on the highlights and make it easy for people to see what you have accomplished and what you're doing. I make sure that our newest songs go on our EPK in the order of importance. I upload new photos and new press every time something comes through the pipeline. I also have a highlights section in my bio in case no one wants to read through the paragraphs.
[Learn more: 5 Ways to Make Your Sonicbids EPK Stand Out From the Crowd]
What's the next big milestone you're hoping to achieve?
Releasing an EP that I love every moment of. It's such an amazing feeling to be working on this record with two of my incredibly talented friends, Griffin Emerson and Andrew Seltzer, who are helping to produce the band's next release. They understand my inspirations, my vision, and songwriting, and each of us brings something different to the table. Everything is starting to align right now, and I'm surrounded by the best people I could ever ask for, so I'm trying to take each moment as it comes.
What advice do you have for indie artists who aren't quite where they want to be yet, but are serious about pursuing a career in music?
Surround yourself by creative people who believe in you as much, if not more, than you believe in yourself. If you're hardworking and have a hardworking, close-knit team who truly believes in the project, you can only move up and onward.
Kathleen Parrish is an award-nominated Seattle-based singer and songwriter. Her music, touched with hints of R&B, rock, and jazz, is both versatile and unique. Aside from her music, Kathleen is a freelance journalist. For more info, please visit www.kathleenparrish.com.