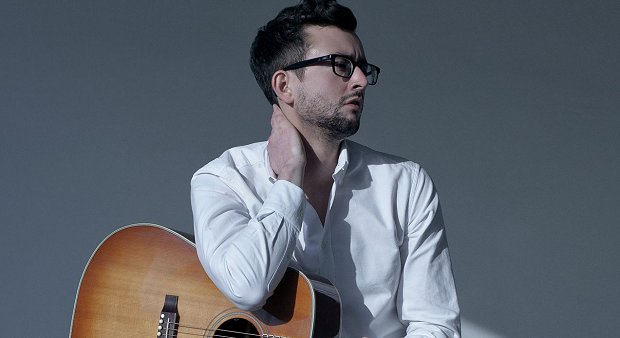 Image via laurentborque.com
Has your band been on the road recently? Do you have a tour in the works? Well, folk singer-songwriter Laurent Bourque thinks you should, and he's got the experience to back up his opinion. Hailing from Ottawa, Canada, Laurent has used Sonicbids to play prominent festivals all over, from Canadian Music Week to NXNE, and he plots his tours accordingly. While he understands the importance of having good, high-quality recordings, he credits touring with being the forward momentum of his music career – although he admits that it doesn't come without its challenges.
Still, his successes and connections are impressive, with international tours planned DIY style by him and him alone. We spoke with Laurent to find out why he believes musicians should always be on tour (or planning their next one), how he deals with the more difficult aspects of being on the road so much, and his best experiences yet.
Out of everything independent musicians have to dedicate time to in order to have a shot at success, what do you think is most important?
Great question. The most important thing to dedicate your time to is playing live. I believe this is true no matter what genre of music you make: electronic, acoustic, soul. The most important thing is to play. Once you do that, the songs will come, and the people will come as well. That and, of course, wearing a cool jacket – can be denim or leather, depending on your preference. But it must be cool.
How often do you tour, and where? Do you book your own tours, or do you have help from a booking agent?
I tour as much as I possibly can whenever and wherever it makes sense. Since the release of my latest album, Pieces of Your Past, last year, I will have toured all over eastern Canada, the United States, and a bit in Europe as well. I book everything myself most of the time, too. It can be quite a challenge, honestly. What makes it even more difficult is that I have two cats and a girlfriend at home.
What kind of work goes into booking a successful tour that most people probably don't realize?
Booking a successful tour is very difficult, and every time I book one, I make lots of mistakes and have to learn from them. It's so much work to plan and book a tour that you end up spending more time on your laptop than actually playing music.
[How to Book a DIY Tour Like a Pro]
One thing people should always remember to do when booking a tour is find good places to eat. This is probably the most important part of touring. Forget the shows, the money, and the girls – I need to eat a decent meal before a show, you know?
What's the greatest benefit of being on the road? What about the hardest part?
Well, the greatest benefit is the fun. Being away from home, your responsibilities, your cats, and your girlfriend can feel exhilarating sometimes. The hardest part is once that feeling is gone, the pure and utter loneliness that creeps into your spirit can be overbearing. That's when you message your girlfriend from Europe in the middle of the night using your terribly overpriced Canadian cell phone plan and say, "Hey baby, can you send me a picture of your face? I miss you!" Even though you know it will cost you about $48 for that text, you still do it.
What have you learned that you wish you knew before you set out on your first tour?
You know, you learn something new on every tour. I'd say the first thing you learn is that the driving is a pain. After that, you learn that you tend to convince your unemployed friend to join you on your journey and hand him an egg shaker on stage so that he doesn't feel completely useless the whole time. Well, that and make him sell your merch and offer him eight percent of all sales.
Through Sonicbids, you were given the opportunity to play Canadian Music Week in Toronto the last three years in a row – that's incredible! What did you learn from and get out of each experience? What kind of doors opened for you as a result?
Canadian Music Week is awesome. It's a great opportunity for artists of all genres to be in the same city for a week, play a bunch of shows, and meet a bunch of new people. A lot of different doors can open up, too, as a result. I would say meeting people in the industry is the best benefit. It's a great way to learn new things about everything from booking to promotion and everything label-related.
Any other big career highlights or opportunities that happened as a result of being an active Sonicbids member?
Absolutely! Sonicbids has led me to lots of other great career opportunities, such as NXNE, which I've played for the past few years, the COCA conference, as well as some online blog features and licensing opportunities.
[5 Steps to Music Licensing Success]
Honestly – and I'm not just saying this because you guys were sweet enough to ask me to do this interview – I really think Sonicbids is a great service to the industry. From my experience, it has opened my eyes to some awesome opportunities that I may not have heard of otherwise, and has kept me connected to what's going on in the world of music.
If you could give your best advice to an independent musician looking to go on tour for the first time, what would it be?
My advice would be to play wherever you can, and play hard. Ask your peers for suggestions and make friends in different cities so you can have a comfy place to sleep. Most importantly though, don't forgot to locate every nearby Starbucks in every city you're playing. The coffee may be terrible, but the WiFi is delicious.