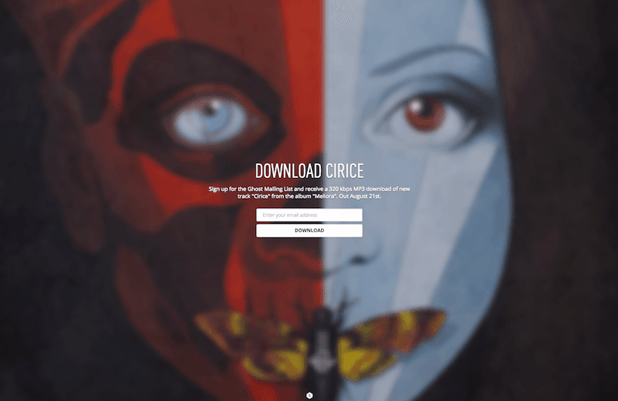 Implementing an email for download campaign on Show.co is a great way to build your mailing list while rewarding fans. (Image via show.co)
Mailing lists are the golden goose of digital marketing. While they may seem obsolete in the age of social media, they remain one of most powerful tools to engage with and sell to your fans online! Fun fact: according to Convince and Convert, consumers spend 138 percent more when they receive email offers. Who knew a little extra effort could pay off so much?! Email marketing is an especially important tool for artists. It's a great way to connect directly with your fanbase without worrying that your message gets lost in the haze that is social media.
All this being said, your mailing list will be a huge waste if you don't take care in growing and engaging your list. So, how can you implement a mailing list into your overall marketing strategy? What are the best ways to keep your fans engaged? Here are 10 tips on how to rake in email signups for your newsletter, and keep them coming back for more!
1. Make the most out of data you already have
Chances are, you're already using a platform that collects valuable fan data for you. Whether it's your merchandise company, online ticketing outlets, or music sales platforms, many platforms that you work with may be able to send you a list of customers who have interacted with you, or have this information readily available for you to export yourself. Go through all platforms you have an account on and find out if they allow access to your fans' contact information. Ensure these are added to your list. Easy peasy!
Note: Anti-spam laws are enforced, so make sure you have the right to add these emails to your mailing list before doing so.
2. Reward fans online with a free track or stream
If you aren't collecting at least an email address when giving away music for free, you're missing out on key signups! Incentivize your fans to sign up for your mailing list by offering a free track or stream when they submit their email.
Show.co offers beautifully designed, easy-to-use integrations for just that. The platform allows you to grow your mailing list (or social media followers, for that matter) in exchange for a download, or even access to exclusive content. These campaigns can be used as standalone mini-sites as well as seamlessly integrated into your website through an embeddable widget.
Don't forget to switch up the music you're giving away every few months – that way you're continuing to incentivize new signups and constantly engaging with fans.
3. Embed the signup on your Facebook page
Leverage your social media platforms to help you grow your list. Most email list clients (MailChimp, AWeber, etc.) offer integrated signup widgets to help you grow your mailing list right on your key webpages. Make sure to create a custom design, though; the better the form looks, the more likely your fans will sign up. Be sure to post on your social platforms to encourage signups!
4. Reward fans with something tangible at the merch table
Gaining new signups for your mailing list should not only be a digital endeavor. After you play your next show, ask people to sign up at your merch table! Fans are more likely to sign up in person if you're right there in front of them. Further incentivize signups by giving away pins or stickers in exchange for their email addresses.
At the end of each night, make sure to input all new emails manually into your email client, and send them a quick thank-you note for coming to the show – it's a personal touch that will surely go a long way!
5. Hit the streets (aka, get off your butt!)
Produce and distribute download cards to fans that include all of your relevant links (website, social media). These are a cheap promo material, and you should always have some on you. Partner with your local coffee shops or record stores and ask them to keep a stack of your download cards at their register or promo area, and plant a few at each concert you go to. All new signups they generate should funnel into your mailing list.
If you use show.co, you can include a link to your campaign that will collect email addresses in exchange for a download. Look at you go, picking up new fans left and right!
6. Network (aka, get off your butt, part two)
Yes, your mailing list will be fan focused, but it will also help get your music in the ears of industry professionals. Use the download cards mentioned above, and make sure you give them to every person you meet at shows, conferences, or other industry events. Typically, members of the industry are less likely to manually sign up for your list, so make sure you get their card, too, and ask if you can add them to your list.
7. Take care of your existing subscribers
Only your most loyal fans will subscribe to your newsletter and read every word you write. If you play your cards right, they might even forward it to their homies, and then they, too, will sign up! Make sure they have a reason to do this each and every time you send an email blast. Offer exclusive content, special discounts, sneak peeks, and presales to your mailing list. Use this tactic with presale codes and monitor where purchases are coming from – chances are, you'll see a large portion coming directly from your mailing list.
8. Tease content on your social feeds
This is a no-brainer, but you must use your social media accounts to drive fans to your mailing list. The way you speak about your mailing list, your followers should feel like they have to sign up if they want full access to your content. These fans have already committed to connecting with you online, so why not engage them further by suggesting they join your mailing list?
As mentioned above, properly communicating the perks of subscribing to your mailing list will result in a larger, more engaged audience. You should be scheduling semi-regular content-driving signups. Get creative with posts, and create contesting surrounding content and tour dates to increase traction on a case-by-case basis.
9. Plan your email blasts strategically
Your email blasts should be both consistent and of substance. This means you should try to have some sort of consistent scheduling, but make sure there's a clear message or call to action in each blast you send. Look at your analytics, and understand when the best time of day to send is for your subscribers.
10. Be on brand
The biggest mistake you can make with your email marketing is to not be authentic. Understand that your image, sound, and social media networks have created an aura/character about you. Use this to structure your written tone. Your fans are much more likely to engage with your emails when it's clear that you wrote them.
Happy newsletter-ing, friends!
Get more newsletter tips:
Jørn Haanæs is the CEO of Soundrop, the fifth largest playlisting presence on Spotify. He is also the founder of Show.co, an innovative platform that assists artists in creating simple, elegant, and effective camp to market their music, engage new fans, and reach untapped audiences.