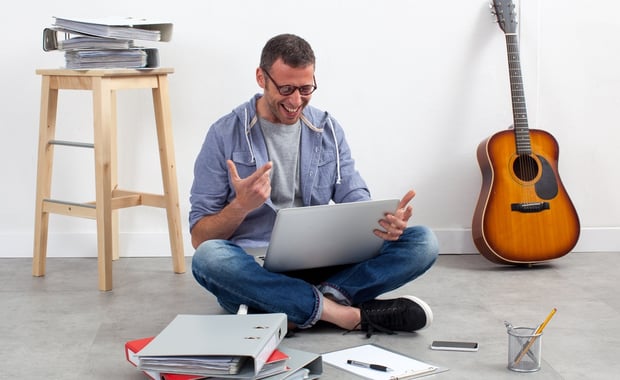 Image via Shutterstock
You can do plenty of things to further your media profile and your PR campaign without spending a ton of money. In fact, there are some methods that won't cost you a cent. Some are no-brainers, and others are may be services you didn't even know existed. You can be economical when it comes to your music PR before you hire an actual PR agent to do all the heavy lifting. Here are a few ideas to get you started.
1. Call in some favors
Use these sparingly, but by all means, use them. These days, you have to intimately know at least one or six people who do graphic design. Ask them to help you with artwork or layouts for your logo, website, social media, or merch. Return the favor with a nice dinner, or recommend them for a paid gig when you are able.
Always remember anyone who did you a solid and helped you out gratis "back in the day." Pay them back doubly when you have the facilities or the funds to do so.
2. Use a freemium email marketing service
So many email marketing programs are free to a certain point. You don't get charged if you have only a certain number of contacts or send a limited number of emails each month. Use a service like MailChimp to make beautiful, clickable emails for your mailing list of fans. That's worth its weight in gold.
Send your subscribers monthly emails with tour dates, music links, and other content. Having that monthly email with familiar graphics will make you recognizable and keeps the conversation with fans going. It also keeps you visible and top of mind.
[5 Reasons Why Email Newsletters Are Stil a Vital Marketing Tool for Musicians]
3. Use a free press release distribution service
There are free press release distribution services that you can use to blast out news to the media. Services like PRLog will help you do this, and there are many others.
While they don't cost anything, keep in mind that there's no one doing the following up or the "hands on" legwork, so it can sometimes be like sending emails out into a black hole. It might not help much, but it still can't hurt. At the very least, you should be able to get a little SEO juice from it. Consider trying it out and see what sort of results you get.
4. Don't neglect social media
Call me "Captain Obvious" with this one, but it's the truth. Social media is the most direct connection to fans and the fastest, easiest way to foster your buzz. You can't and shouldn't be that band that "doesn't do social media." It's free, it's easy, and it lays a foundation. It can also help give you that visibility and imaging boost until you are able to bring a publicist on board to do the rest.
[The Top 8 Social Media Outlets to Promote Your Music (And How to Best Use Them)]
5. Create a free electronic press kit
In this day and age, having an electronic press kit (EPK) is essential to your music career. It's a powerful tool to share your music, videos, bio, photos, tour dates, and more with the press, promoters, talent buyers, and other industry folks. Your EPK essentially acts as your professional music resume. You can think of it like a website for a specific set of people other than your fans that's meant to help advance your career on the industry side. Sonicbids offers the industry-leading EPK platform, and it's completely free to create one.
Further reading:
Amy Sciarretto has 20 years of print and online bylines, from Kerrang to Spin.com to Revolver to Bustle, covering music, beauty, and fashion. After 12 years doing radio and publicity at Roadrunner Records, she now fronts Atom Splitter PR, her own boutique PR firm, which has over 30 clients. She also is active in animal charity and rescue.