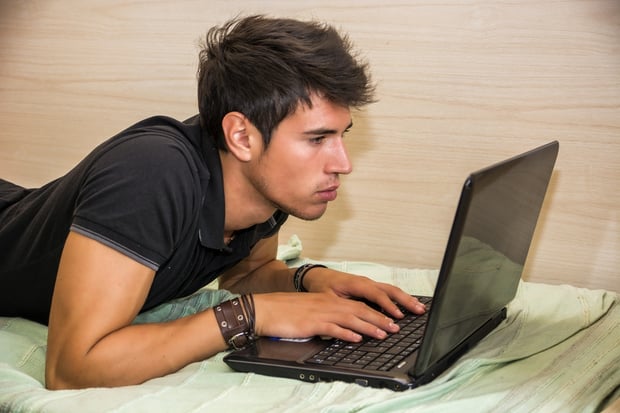 Image via Shutterstock
There's no question that social media is the best way to communicate directly with fans, and it's not going away anytime soon. There are tons of different platforms and apps out there, and it's virtually impossible to keep up with all of them. It seems like "the kids" are into something new every day.
Though I certainly don't expect you to be down with all of them, it is important that you understand them all and the value they have for promoting your music and connecting you with the people who support it. Here are eight social media sites that can provide great exposure for your music and how to best take advantage of them.
Though the glory days of Myspace have come and gone, Facebook is here to stay. If you don't have a fan page yet, then you better get to it. With over 1.65 billion active users, you've got to take advantage of this vast network. Create your profile, add some music apps, create performance events, and start curating engaging content.
On Facebook, people love looking through photos, sharing posts they like, and discovering great new artists and brands. Create a timeline that tells a story of all the latest and greatest happenings, things you enjoy, and start a conversation. Every interaction counts.
Too busy to post? Don't fret – Facebook pages allows you to schedule out your content, too!
Bonus tip: The best days to post are Thursdays and Fridays, with the most shares happening around 1:00 p.m., and the most likes happening around 3:00 p.m.
Get more Facebook tips:
Twitter has been around for quite a while now. There are really only a few simple rules for becoming a master at this for your music: set up your Twitter page, start following relevant users that can help advance your career (think other musicians, labels, fellow music fans, journalists, blogs, and big industry names), Tweet thoughtfully and make it count, engage other users, and share content that encourages retweets.
Bonus tip: To encourage more sharing, @mention any individuals or companies mentioned in your posts, and try including "please RT" at the beginning of your posts; studies show this generates as many as four times more retweets!
Make the most of Twitter:
Instagram has quickly risen to become one of the most relevant social media tools for artists simply by being a vehicle for photos and videos with statistically more hits and reach over text posts on Facebook and Twitter. Use this app to capture engaging still images and intimate video footage of you living the musician life while also showing a personal side of the day-to-day grind.
Make sure to learn how to hashtag your content well, too, as that's one of the best parts of the app that allows for new fan discovery and increased likes, comments, and follows. Instagram also seamlessly allows you to connect your other social media pages like Facebook, Twitter, Tumblr, and Flickr, which makes easy and consistent content sharing a breeze!
Bonus tip: Instagram is one of the only social media platforms that stays very active seven days a week, with the highest post activity happening between the hours of 3:00 and 4:00 p.m. on average.
Strengthen your Instagram game:
Though Snapchat used to have a primarily different purpose for the youngins, it has now grown to over 400 million "snaps" a day, with 77 percent of college students using the app daily. In a nutshell, Snapchat is a messaging app where the messages self-destruct after a certain pre-determined period of time. Users can take photos, record videos, add text and drawings, and send them to a controlled list of recipients that can view them for anywhere between 1-10 seconds before they disappear forever.
Snapchat is all about honest, fast content that feels personal. That's what makes it such a great app for musicians, because it can be used as a marketing tool without making users feel like they're being hit with obvious advertising. One study even showed that nearly half the users surveyed would open a snap from a brand they hadn't heard of before, which is a great way to attract new fans!
Bonus tip: If you don't want your content to completely disappear after 24 hours, you can save your story to your phone to upload to a different social media platform later.
Get more Snapchat tips:
Vine is an app that allows users to share snippets of video in a super-digestible format. The video can be up to six seconds long and instantly plays on a loop once it's landed on or scrolled across. The main difference between this and Instagram is that Vine is for only videos, and it's mainly used to share life experiences with friends as they happen since all Vine videos can only be recorded in-app at that very moment.
It's also worth mentioning that as of the top of this year, Vine hit a record 1.5 billion loops per day with over 40 million users! Most users of this app also share interchangeably with other social media apps, specifically Instagram. Some great ways that musicians and bands utilize this quick video app are by capturing memorable studio moments, glossing over show marketing materials, shooting soundcheck or load-in video before a performance, showing off awesome gear, and sharing cool views from the stage.
Bonus tip: You can embed your Vine into pretty much any website; just check out these helpful directions here.
Learn how to get the most out of Vine:
This is a resource most musicians already take advantage of, so this point will be more about making sure you're taking full advantage of all YouTube has to offer to artists and bands. Branding your channel well is very important, and consistently uploading interesting content is equally important for continued viewership and subscriber growth.
Musicians should consider uploading different types of content such as professional music videos, interviews, and behind-the-scenes rehearsals. YouTube annotations also hold heavy value, as they provide "call to action" options to viewers, which can be linked directly to music purchases, your website, etc. It's also worth looking into YouTube's Partner Program and learning how to start monetizing your content to the highest capacity possible.
Bonus tip: The highest levels of engagement activity start on Thursday and continue through Sunday.
Get YouTubing:
Recently purchased by Twitter, Periscope basically enables users to create a live audio and video broadcast from their mobile device anytime and anywhere. It also incorporates notifications and location features along with social sharing, live discussions, and feedback. It's a truly interactive experience, gaining a lot of traction with musicians, celebrities, and businesses alike looking to give fans an inside look into their world.
Bonus tip: Make sure to come up with a catchy title. This is key since unlike other similar live broadcast platforms, Periscope hosts the stream for 24 hours, so you'll want the title to draw as much attention as possible to result in the most shares for the stream.
Start streaming with Periscope:
Similar to the lip sync video app Dubsmash, Musical.ly is a creative tool that allows users to deliver an instant video experience. Users can not only make music videos with a variety of effects and lip sync voiceovers, but they can also take part in contests within the app, share to other social media sites, and are part of a full social network where they follow power users, musicians, and celebrities. It's a free download with 60 million regular users and counting.
Bonus tip: Use a combination of hand gestures, good lighting, and movement of the camera to create visually appealing videos that get you more follows!
Get more social media tips:
Christine Occhino is the founder and artistic director of The Pop Music Academy and has experience working at Columbia Records/Sony Music Entertainment, in addition to working as a performing artist for over a decade. She has a bachelor's degree in music business & management with a concentration in entrepreneurship and vocal performance from Berklee College of Music, where she was a vocal scholarship recipient and former editor-in-chief of The Berklee Groove. She is also the proud founder and CEO of Hope In Harmony, a 501(c)(3) nonprofit organization that brings music to those in need.