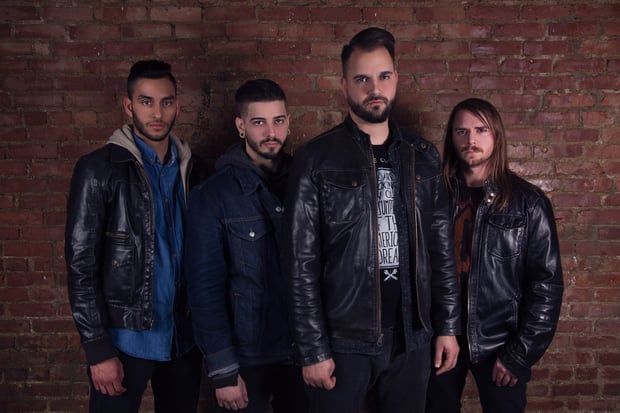 Image via atomsplitterpr.com
So many bands rely on crowdfunding campaigns these days. It really does attest to the diehard, dedicated nature of a fanbase when people donate money in order to help a band create new music. While you might wonder why a band would have the audacity to ask fans to help fund a release, fans already do that when they purchase the finished product, buy tickets to a show, or purchase merch; this method is just more direct.
Crowdfunding campaigns are a more special, unique, and backend way to support a band and be more intimately involved in the process. That's what makes it such a beautiful thing. Crowdfunding also offers fans cool perks, like rare or signed material, or even a "thank you" or a production credit in the album's official liner notes. Those aren't things an "average" fan can get any other way, so crowdfunding as a concept really does serve as another way in which to connect a passionate fan with the band and bridge the divide. Plus, the fan will also get something even more valuable in return.
I work with Affiance, a metalcore band that was previously signed to a label, who built a super-involved fanbase organically and who toured nationally. They purposefully opted to crowdfund their new GAIA EP between now and their next full-length. They reached (and exceeded) their campaign goal quickly.
With GAIA having just been released on March 11, I figured that now was as good a time as any to pick the band's brain for crowdfunding secrets. Here are Affiance's tips for successful crowdfunding!
1. Be unique with the rewards you offer
"Offer unique perks. T-shirt and CD packages are great, but they're very common. Think outside of the box about what your band can offer that's different. For example, our band is known for our love of coffee. It made perfect sense to offer an 'Early Riser Package' with coffee beans roasted by our singer and an Affiance mug to go with it." You can't go wrong with good ideas, better music, and caffeine!
2. Offer a wide range of price points
"Be diverse in pricing. Some of your fans will want to contribute $10, while others will want to contribute $1,500. Try to tier your perks so people have the opportunity to give as much as they want."
3. Promote the campaign in a direct, personal way
"Promote the crap out of it. Post about it frequently and try to think of different ways to reach your fanbase. Don't be afraid to direct message your fans and ask them to give. People respond to that kind of personal connection." Indeed, your fans need to know they can be involved. Because that is what crowdfunding is – a direct involvement in the process.

Since Affiance enjoyed a super successful crowdfunding campaign, putting the power in the hands of fans and directly connecting with them, it further deepened the band and fan bond. Affiance wisely used this period in their career to work directly with fans. And that is a beautiful thing.

Try these crowdfunding tips to reach your goal:

Amy Sciarretto has 20 years of print and online bylines, from Kerrang to Spin.com to Revolver to Bustle, covering music, beauty, and fashion. After 12 years doing radio and publicity at Roadrunner Records, she now fronts Atom Splitter PR, her own boutique PR firm, which has over 30 clients. She also is active in animal charity and rescue.