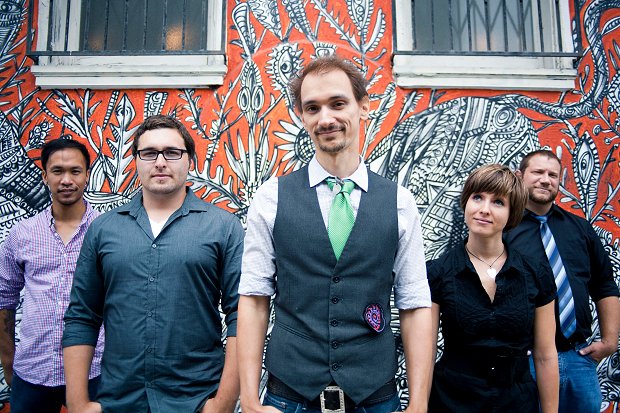 Image via curiousquail.com
The evolution of Curious Quail from a one-man act to five-piece alternative rock band has been an interesting journey. From humble beginnings to opening for Silversun Pickups and Of Monsters and Men, the group has risen to heights that allowed them to meet their Kickstarter goal of $6,000 in just one week. In fact, the campaign, which funded their last album, After The Lights Failed, surpassed its goal with over $10,000 raised.
So what was their secret to accomplishing that – and would they crowdfund again for a future project? We caught up with Curious Quail's lead singer and founder, Mike Shirley-Donnelly, to find out.
How did your transition to a five-piece band come about? What were some of the biggest challenges you faced while you were growing the band?
Man, we had a problem for a while with just adding people at random. We were a seven-piece with guest vocalists, sometimes putting up to nine people onstage throughout 2011. There was this joke about me collecting band members like Pokemon. Quail started as just me with a laptop, loop pedal, guitar, and an Atari 800 sound chip, but as I started to perform live more often, people offered to jump in. I distinctly remember Joey [Guthrie, drums], then the drummer of another band, telling me, "You need drums," and sitting in for a few shows before he became a permanent fixture. We met Alan [Chen, violin] through a mutual friend and had him play some of the string parts that I'd written or sampled for the studio recordings, and it just ballooned from there. The biggest challenge was that we quickly went from having problems getting booked at the right kind of venues for a solo act to problems getting booked at venues that can support six to seven people on a stage.
In just four years, you went from playing coffee shops to opening festivals with Of Monsters and Men and Silversun Pickups. What are the top three most important things you did during that time to work your way up?
One: treating our fans with respect and dignity. Anyone who liked us, bought our music, or followed us on social media, we made a point to interact with and let them know how much they were appreciated. This heavily played into our crowdfunding.
Two: putting my everything into it. Curious Quail has been my life pretty much since it started. Almost anyone that knows me personally knows me as "the quail guy" at the very least. This rubbed off on the others as we became an official band, and the five of us have been relentless about pushing it forward.
Three: Twitter. People think I'm kidding, but our presence on Twitter has been a huge part of connecting with the right people and building the relationships needed to establish [ourselves] as a band to watch. Do not underestimate how replying to one tweet can seriously change your life for the better.
I'll also say this – the furthest we've ever been from our Bay Area home is Los Angeles. That's not to say touring isn't important, but I'm saying everything we've achieved has been without setting foot too far outside of home. Building your local base is incredibly key, and now we feel we can go out on tour with more confidence that home is rooting for us.
Tell us about the awesome licensing and PR opportunities you got through Sonicbids. After dipping your toes in those aspects of the industry, what advice could you offer fellow musicians who are looking to pursue similar opportunities?
One of the first things we got was a licensing opportunity for a TV show called "Bring Your Own Board" about surf culture in Orange County that will be airing later this year. Four of our songs were placed in it and we're excited to see what happens with that! This led to other companies contacting us about music licensing and through Sonicbids, we've ended up in several license libraries with our songs being opted for short films and even video games.
The second major opportunity we were awarded was through the New York Rock Exchange, a really interesting experiment in song ownership that placed one of our songs into a marketplace where you can buy a share of the song and get exclusive benefits like interviews with the bands and such. This raised our exposure to groups that likely never would have heard of us otherwise.
My advice to bands would be to constantly update your materials and remember that this is like your business card. It has to make one hell of an impression against a sea of EPKs.
For your last album, After The Lights Failed, you used crowdfunding and actually exceeded your goal of $6,000 with over $10,000 raised. What was the "secret sauce" behind that campaign? How the heck did you hit your goal in just one week?
When we started the campaign, we thought even asking for $6,000 was a bit much, and we were really unsure if we'd hit our goal. Then the posts about our Kickstarter campaign went viral within our own networks. Bands that we've played with and worked with shared it like crazy, and friends and family who'd never shown any interest in our music suddenly started supporting us and becoming avid fans. The video and photo we added to our campaign impressed the Kickstarter staff so much that they put it on their "Staff Picks" for almost the entire 30 days the campaign was active, which lead to making fans as a result of them discovering us on Kickstarter's "browse" feature. We launched the campaign the day of a pretty big show we were playing in San Francisco, and by the time we were offstage that night, we'd broken $1,000 already. It blew our minds. I remember waking up the day we'd hit $6,000 and staring at the email on my phone for, like, two minutes straight before it registered.
Do you plan on using a crowdfunding platform again for future projects?
Crowdfunding was an amazing experience, but I don't think we'd do it again – not in the traditional sense anyway – because it would kind of ruin the magic for us. I'd like us to be able to fund recordings from our own sales and become a sustainable project. I've seen a few bands crowdfund album after album, and I seriously wonder if they've been handling their money wisely. I also see these same bands hit huge goals the first time and then less each consecutive campaign.
It's worth noting that running the Kickstarter was like a full-time job, keeping track of the rewards, backers, who pledged for what, etc. There are also plenty of tax implications that are kind of unspoken, and both Kickstarter and Amazon Payments (which handles the money) take five percent each, so at the end of the day, there's a lot of money going to places that aren't the music. I'd rather come up with our own pre-order system with special time-sensitive perks or something that allows us to run this in the background while we focus on the music.
What's your number one goal as a band for 2015? Anything exciting already in the works?
We're calling 2015 the "year of the quail." In 2013, we organized into an official band and built some traction, 2014 saw the release of a record that has been universally praised and made several "best album of 2014" lists, and we just kicked off 2015 with two amazing festivals: 8BitLA's Frequency in downtown Los Angeles and MAGFest's new West Coast event ROCKAGE in the Bay Area. We've got a new music video coming soon and a documentary about to be released about the recording process of After The Lights Failed from the end of the Kickstarter campaign until the album's release, complete with interviews with the project's backers and the studio staff. We're super excited to get these out to people!
Kathleen Parrish is an award-nominated Seattle-based singer and songwriter. Her music, touched with hints of R&B, rock, and jazz, is both versatile and unique. Aside from her music, Kathleen is a freelance journalist. For more info, please visit www.kathleenparrish.com.