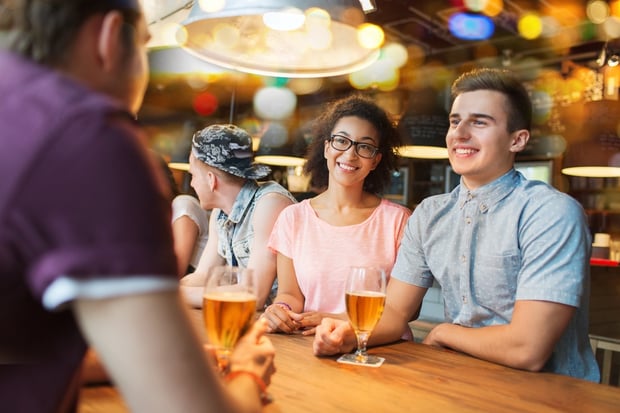 Image via Shutterstock
Spamming people on social media with song links or requests for contact info is the last way you want to promote your music. Believe it or not, there are still plenty of viable methods of respectfully networking with people both digitally and face-to-face! With proper communication etiquette always in mind, here are four ways to grow your music industry contact list.
1. Research existing lists
As always, Google is your friend! There are all kinds of existing lists online you can leverage to help build out your contact list, especially from a blog perspective. Simply type in your genre along with "blog list" or "blog contact info" and you're bound to find a few comprehensive lists that will be very helpful in getting you started. Be sure to focus on smaller, indie-focused websites (along with their contributors) that are more likely to cover your music.
By allocating your resources, you should be able to build out a substantial spreadsheet of emails that you can organize and contact when the time is right.
[Start Getting Press: Top 5 Niche Blogs for Rising Rock 'n' Roll Bands]
2. Use social media to your advantage
If there's a particular blog or writer you want to connect with, social media should provide you with all the answers you need. Many professionals in the industry have their email in their bio, so be sure to review profiles before asking a stranger for their personal information.
Another way of leveraging social media is to search comparable artists, research what blogs they're getting on, and add them to your own blog list. Ultimately, common courtesy and taking the time dig deep with your research are the keys to success when using social media to increase your contact list.
3. Meet people via networking events
It's easy to get caught up in the digital world behind the screen, but one of the best ways to naturally build out a contact list is by physically meeting people at events. This is why attending networking events (both music and non-music related) is so important.
People are much more comfortable exchanging personal information after having a real-life discussion. Look up the networking events in your area, attend the ones you think will be the most beneficial, and maybe even try to throw your own if you have proper resources at your disposal. The value of a great face-to-face meeting will never go out of style!
[4 Ways to Network in the Music Industry That Won't Cost You a Cent]
4. Use the right digital tools
There are a plethora of digital tools that allow you to build an ever-growing contact list. If you're organizing your own show with a potentially secretive location, you can use SplashThat and have attendees enter their email address to get the venue information.
After releasing a new album, use Dropcards as a way of handing out your project at events. When people go home and provide their unique code to access your music, you turn on "email collection," which prompts users to enter their email address.
As long as you stay organized and are consistent with your ideas, your contact list will grow over time, and you'll effectively be able to market your music to the right people!
Get more networking tips and tricks:
Eric Bernsen is a marketing/public relations professional and music journalist who specializes in the genre of hip-hop. You can find more of his work at HITPmusic.com (where he is an editor/writer) as well as HipHop-N-More.com, where he contributes album reviews. Follow Eric on Twitter @ebernsen.