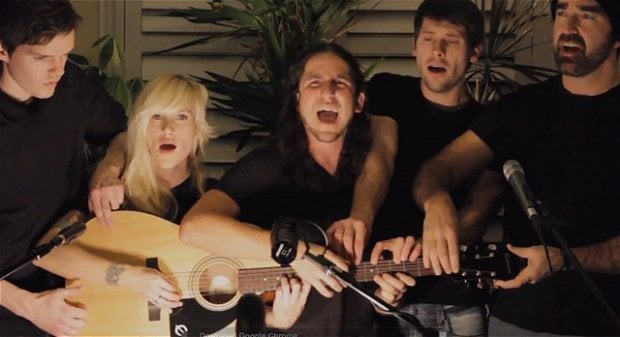 If you're getting as many hits as Canadian band Walk Off the Earth (60 million on one video!), or even if you're not, you should look into YouTube advertising. (Image via hlntv.com)
Today's society loves a good visual, so music videos, live performances, and even lyric videos are becoming huge components in a musician's tool kit. Plenty of fans stumble upon new music from YouTube – in fact, it's the number one way that teens today discover music – and many artists use the platform for bonus content, sneak peeks, and much more.
YouTube becomes an even more effective platform for artists when paired with its simple-to-use TrueView advertising feature. Most artists shy away from advertising because it conjures up images of dollar signs flying out the window, but YouTube (as well as many social platforms) easily works with a budget, and can go as low as $1 to $5 a day for a campaign. Here are some quick ins and outs of YouTube's native advertising feature (as well as organic tips) that can help your next music video, vlog, or any other content get that needed boost.
1. Is your video worth advertising?
Before we go any further, let's first address the kinds of projects that typically will and will not benefit from advertising. The following are probably worth throwing some advertising bucks behind:
New music video: This will draw fans to your work, as well as bring attention to an album.
A "making of" video: This may be best targeted at your existing fans, but a "making of" video can build a lot of buzz for a future release.
An "out now" ad: This is really what YouTube ads are for: brief clips that lead viewers to an iTunes store or website.
Well-shot acoustic video or live performance: It could build buzz for your future work and get new fans interested in your music.
These videos either may not be worth the advertising investment or may be worth a smaller budget:
A lyric or audio-only video: Typically, a lyric video or audio-only video is supplemental content that goes along with a song release, right? It's something that ties in with a single or album. It's an extra that can be thrown on YouTube for fans to view, but it's not the key product – it's not the single itself, it's a bonus. Therefore, most folks may rather invest in an "out now" video ad or pay for Facebook and/or Twitter advertising to boost their single. By putting dollars into YouTube advertising for a lyric or audio track, it just might not be the best use of funds.

Confession: I've put advertising bucks behind these and I don't regret doing so. I was able to get great numbers behind an audio-only video, which made it look very pretty for radio program directors, press, and media. You may just opt for a low budget or shorter campaign for this.
A cover video: YouTube is a great outlet for cover songs, and cover songs are a great way to garner fans' attention. With YouTube's strict copyright policies, however, you might not want to risk putting money into a campaign only to have the video later pulled for copyright issues.
A vlog (if you're a new artist): Vlogs are tricky, and newer artists may want to get their music heard a bit before putting bucks behind a vlog. Generally, you're going to want to get people to hear your music first.
If you're confident that the type of video you have in mind is worth advertising, the next step would be to make sure that it's naturally well put together and shareable. Your videos should be professionally shot and have a decent runtime. Typically, an effective YouTube video is less than five minutes. I don't know about you, but even if I'm an artist's biggest superfan, anything longer than eight minutes is just going to have me open a new tab to browse around a bit.
[Learn more: 5 Reasons Why People Aren't Watching Your YouTube Videos]
2. Choose your angle
YouTube ads should act in a similar fashion as TV commercials. They should serve as a way to entice viewers to click the little "view more" button. So if you're promoting your music video, for example, you may want to make a teaser ad for it unless the first 30 seconds or so are really captivating and enticing.
Your teaser ad may be a highlight video of good scenes from your music video with captions along the lines of "out now" and "click to view the entire video." Now, success can certainly be had from just using your video as an ad, but it's always great to be creative with ads to stand out from the static.
Another advertising idea could be to have a clip of you or your band speaking to YouTube viewers asking them to click more to see your video, download your project, or whatever it is you're promoting. Have fun and be creative!
3. Choose your budget and execute
Folks shy away from advertising because of two reasons: money and confusion. Luckily, YouTube's advertising feature makes it all very simple. Here's how to get started:
Go to YouTube's TrueView feature. As you'll see, it's a very simplistic process. So, did you decide to do a teaser video for your ad? Or did you opt to just throw your whole video in there? Whatever you're choosing as your advertisement, throw the link to it in the first column as directed – again, it's a very user-friendly program.
Add where you want the video to lead, like your YouTube channel or maybe your iTunes page.
Enter your budget. You'll notice that even with $10 you can get up to 1,000 viewers a day. You can also target these ads to specific interests, areas, and age groups.
And there you have it! You now have an ad that will be placed in front of many new eyes. Also, don't forget to share your project on your other social media outlets for maximum potential.
Learn more about getting your videos watched on YouTube:
As a music marketing strategist, Tyler Allen works with an extensive array of artists, labels, music tech, and music retail entities. Tyler began his music industry career with Sony Music Entertainment and RED Distribution, as well as the advertising industry. He is dedicated to giving veteran artists the tools to preserve their legacy, and new artists the tools to begin theirs (as well as everything in between). Learn more at wtylerconsulting.com.