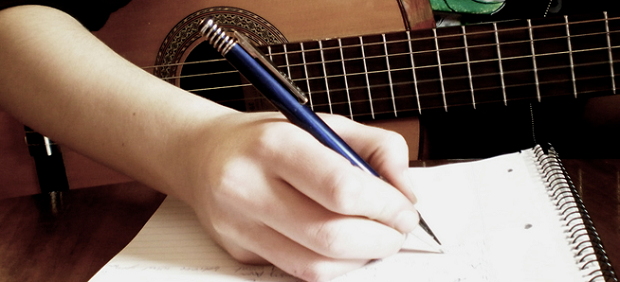 Image via awesomesongwritingtips.com
Most songwriters and musicians rely on talent alone, or the knowledge of their managers and attorneys, to help them navigate an industry known for leaving the large majority of its constituents financially and emotionally destitute. Whether or not you have a manager or talent rep handling the business side of your career, there's no excuse for ignoring songwriting income basics.
All you have to do is Google "artist sues manager" to discover countless instances where top recording artists have been taken advantage of because they put their financial future solely into the hands of their reps. So, to help you avoid this kind of drama, here's a crash course in the first step to making a living through your creative works – the publishing split sheet.
What's a publishing split sheet?
A publishing split sheet (often simply referred to as a split sheet) is a document that states who wrote what percentage of the song(s) recorded by a band or artist. A split sheet should be created for each and every song you write, before ever shopping it to a third party to be published commercially.
If you've been in the music industry long enough, you've likely heard someone say, "I don't like the business stuff because it gets in the way of my creativity." Unfortunately, every day around the world, songwriters sit and collaborate on songs and never clarify who wrote what. As a matter of fact, they're generally more concerned with copyrights than they are with song publishing, which baffles me because publishing is how they get paid. When it comes time for your songs to be licensed, you'll be fighting over who owns what percentage of the revenues generated from your intellectual property if you don't have it down on paper.

Do I really have to worry about the business stuff right now?
I'll be the first to admit that I was notorious for handling the "business stuff" last. All I wanted to do was create great music, but I wound up paying dearly for it. It took me losing Grammys – along with other coveted music awards – and millions of dollars in publishing to understand that the fun stuff has to come after the practical stuff. I know it's an uncomfortable feeling to break out a split sheet and start dividing up shares of publishing when you're trying to be creative, but it's a necessary part of the songwriting process.
So take it from me – don't let your discomfort cause you to lose millions of dollars and major music awards down the road. Have a meeting about split sheets prior to hitting the studio. This way everyone understands that it's not personal; it's just business. Doing this makes everyone feel as though their interests are protected, and allows the creativity to flow without any inhibitions.
How to complete a split sheet
Split sheets should contain the following information:
The name of each writer as it will appear on the credits and PRO registrations
Physical mailing address of each writer, so that a copy can be mailed to everyone by the person who brought the writers together
Capacity in which the writers are working (e.g. producer or writer)
Percentage of the song written or composed by each person involved. Producers will have a 100 percent pie, and so will songwriters. For example, if there are two producers, then each one gets 50 percent of the producer's share, and the same goes for songwriters. I've found that dividing everything evenly between writers and producers greatly reduces the chances for arguments to erupt before the song is even registered with the PROs.
List of each person's respective PRO (ASCAP, BMI, SESAC)
Publishing company (if none, just leave it blank)
Birthdate and signature of each writer
Social security number or EIN (an EIN requires you to register your name or company as a sole proprietorship with the IRS)

Everyone's signature
Once the split sheet is completed, the designated registrant – the person who brought the writers together – must print up a copy and mail it to each writer's physical address. This should be done prior to registering the song on the PRO website(s). The designated registrant is also responsible for filling out the publishing splits (percentages) on the PRO websites. Once this is done, every writer must be contacted to notify him or her of the song's registration.
It is my hope that every songwriter will take responsibility for his or her ownership in a creative work. It should never be an afterthought when you're relying on publishing income to put food on the table.

Shaine Freeman is the co-founder and music editor of the award-winning I Am Entertainment magazine, as well as the host of the highly talked about music podcast, The Miews. Although he studied construction engineering at Bradley University, Shaine has worked with major music publishers, licensing companies, and even spent five years as a talent manager guiding the careers of top film and TV actors and indie recording artists. Today, he resides in Atlanta, GA, with his family where he's leading his editorial team into their fifth year of circulation.