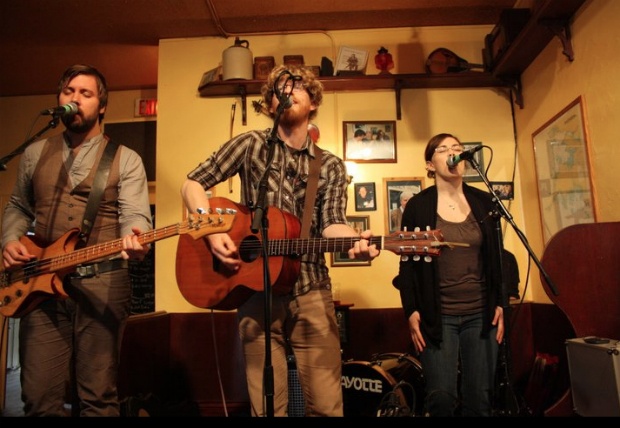 Image courtesy of the Young Novelists
Your band has outgrown your local scene. You've played all the local bars, befriended every person behind the soundboard, and all of your friends have a copy of your latest record – now it's time to get the hell out of Dodge. You need to expand into new markets, make new contacts, and play to new people. The only way to do that is by touring, but that's often an expensive undertaking. You can always save money by sleeping on people's floors instead of in hotels, by buying food at grocery stores instead of fast food restaurants, or by looking at alternative modes of getting around, but you should also take a long, hard look at the size of your operation and whether it makes sense to bring everything on the road.
Graydon James is the main songwriter for the Young Novelists, and along with his wife, Laura, fronts the hard-touring, award-winning Canadian folk band. The Young Novelists have traveled across Canada, been all around the United States, and recently completed a tour of Europe. On record, the band is six pieces with a full setup of drums, amps, and bearded men, but if you catch them live, you'll often find Graydon and Laura taking the stage as a duo, stripped of all the accoutrements that make their recordings sound so vast and diverse. Luckily for audiences everywhere, Graydon and Laura are masters at reimagining their compositions and never disappoint onstage, but the decision is less artistic than economic.
"We thought we would always play and tour as a full band – five piece, six piece, or whatever," says Graydon. "There started to be a few one-off shows here and there that people were requesting a smaller group, either a duo or trio. Usually because they had too little space for a full band, or thought a band would be too loud. I will say, we have actually played many venues that thought they could only hold a trio as a full-on, six-person band and kept ourselves in the space and easily within the volume; we're not a loud band. But those duo-style show requests came in more and more often as we did more and more of them."
1. Become more versatile
Versatility goes a long way in the live music game. If you can rock a venue with a full sound system one night and then play an intimate house show the next evening, you'll find for more opportunities to play and fill in those gaping holes in your touring schedule. It can be hard to let go of the songs you've spent months, even years, painstakingly putting together in your jam space, but it can also be an opportunity to find new depths to your compositions.
"I'm learning how to do that more and more as we go," says Graydon of his own songs. "It's not so difficult for the vast majority of the songs, because they were all written on acoustic guitar or piano by myself in a lonely room with my tears and so forth. A lot of the dynamic comes from what Laura does, because she plays melodica, glockenspiel, and tambourine, sometimes all in the same song. There's also a lot of weight to harmonies, and they can easily carry a dynamic if they are managed properly. It's sometimes very different and sometimes very close to the same song, but it does keep things interesting for me."
2. Increase your legroom
Taking fewer members on the road has the added benefit of cutting down on the room you need in your vehicle. Where it might take a 12-seater Econoline to carry an average five-piece rock band, if you're traveling as a duo or trio, you can easily do it in a minivan or less. Still, it can get a little lonely without the normal cast of characters you're used to having around in the van with you.
"I recall every tour having different 'inside jokes' that made that tour such a good time in the van," says Graydon. "I love Laura – I'm married to her! – but we mainly listen to NPR and chat and sometimes work on the laptop while we're in the van. It's less about a hootenanny road trip feel, and more a contemplative drive."
According to Graydon, there's also something to be said for the amount of time spent getting between gigs. "There's a great touring artist named Jonathan Byrd who has a rule of thumb when traveling/touring with others: add 30 minutes to your ETA per person. That seems to be about right – it can take a lot longer to go the same distance with six people."
3. View it as a creative challenge
Hitting the road doesn't have to mean leaving your bandmates behind, though. Look at it as a creative challenge to pare down your songs with your full lineup. A cajon is a versatile alternative to a full drum kit, and trying to translate dynamics created by distortion and effects to an acoustic guitar will make you a better musician and performer. If you've got the money and don't mind "cheating" a little, there's a ton of technology that allows you to replicate the sound of your full-band experience, too. For instance, you could try loading up the drums, bass tracks, and/or backup vocals onto your laptop or iPod, and plug straight into the PA system. Or, if it makes sense for your sound, you could use a loop pedal to gradually build up guitar or vocal parts, allowing you to create a huge sound that fills the stage, even if you have a small group.
"Musically, there can be a benefit, in that I think we push ourselves more and have definitely grown more quickly as performers because we have no one else to rely on. It is a different kind of intimacy that you generate," says Graydon.
4. Find the right vibe
Unfortunately, money will always be a concern for bands. Keeping good books and being mindful of what you're spending as early as possible just makes good business sense. And being conscientious from the beginning can open more opportunities while on the road.
For Graydon, the diversity of experiences his band can offer is a selling point, not a hindrance. "I honestly think even when the band can come on tour that we'll still have evenings where there are duo-only shows," he admits. "Some house concerts, some concert series, they still prefer to have a duo instead of a band, even if either one could work. I hope for a day when we can tour regularly without having to worry about money, and every once in a while the band has a night off and we play a good old duo show because it fits the vibe of what people want."
Graydon says the thing that bands need to worry most about, especially at the beginning, is to have a good time and realize that it's not going to be a lucrative experience from the outside. "You have to expect to lose money the first few times, usually, and budget accordingly," he says.
[The Hidden Benefits of Going Broke on Tour]
He also says you should allow yourself the chance to rest and see some sights, no matter how many members you're bringing with you. But ultimately, no matter what gear you bring or how many people are with you onstage, you need to be professional.
"The essence is that you're there to give a great performance for people, and if you do that properly, then you will eventually be able to tour regularly and, hopefully, not worry any more about the money stuff," says Graydon.
Next up:
Ty Trumbull is a Canadian musician and writer living in Mexico City. He's played banjo and guitar with a bunch of bands you've probably never heard of.