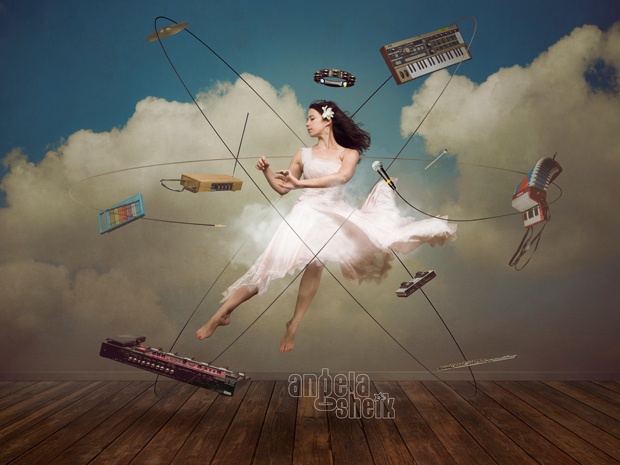 Photo by Sunny Miller
Being a relatively new independent musician often means playing for free. Promoters will reassure you that you're performing for exposure, and sometimes that's the case, but musicians deserve to be paid for their gigs. Singer and multi-instrumentalist Angela Sheik knows what it's like to play for free, and after she punched the clock for nearly a year of play-for-exposure shows, she's finally making a living off of her music. Now with a long resume of awards and impressive performances to her name, Sheik has successfully learned how to negotiate and find gigs that pay well. Even more importantly, she knows how to properly spend the money that she earns from her music. We spoke with this Delaware-based artist to learn more about how to land lucrative gigs and the financial arrangement she has with herself.
Does most of your income come from gigging and touring?
Yes, that and CD sales are my main income. Licensing and royalties are a distant third.
[Here's What Most Musicians Don't Understand About Selling Music]
At what point do you stop performing for free? How are you able to draw that line between playing for exposure and playing for profit?
My first year was full of free shows. Some of them were great; some really sucked. I'm grateful for those shows now. They helped me cut my teeth and become more comfortable on the stage. Now, I have a list of criteria that a gig must meet before I say yes: financial compensation, exposure/draw building, resume material, collaboration and artist connection, venue connection, fan engagement/excitement, or helping a good cause that I care about. These are all on the criteria list. If a gig doesn't hit at least one or two on the list, I don't play.
When I go to book gigs on Sonicbids, I check out the festival or venue's promotional efforts, additional lineup, and social media following. Does it look like someone cares about this? Are they working to make it great? I also look for YouTube videos from the event or venue. These are a great tell. I email the contact and pay attention to their professionalism and general vibe. Do they respond in a respectful tone and timely manner? In my mind, Sonicbids is an audition. A gig isn't a go until both parties agree on details and confirm.
As an independent artist, how has Sonicbids been able to help you earn revenue through your gigging?
I've booked a number of paying gigs and festivals over the years through Sonicbids. I've also been able to secure anchor dates for tours and help fund additional travel through Sonicbids gigs. I check Sonicbids every few days/weeks to see what festival submissions are coming up. It's a great resource and, for me, it has paid for itself.
Through Sonicbids, you were selected to play at Musikfest and Celebrate Fairfax – those are two awesome festivals! Tell us about what it was like to perform at each of those.
These were excellent festivals! I was thrilled to play. Not only was I fairly compensated, I sold a good amount of merch, made new fans, and it was great resume-building material. Not to mention these were fun events with lots of great acts. Festivals like these have also lead to additional connections and future gigs that I couldn't have planned if I tried.
[3 Things Every Band Should Know for Festival Season]
When you're compensated for your performances, how do you decide what to do with your pay? Do you tend to invest it back into your music?
I pay myself a set monthly wage. The rest goes back into the business. That set wage is very motivating. It makes me feel like I actually get a paycheck (albeit small), and it sets a bar for how much I need to make each month at a minimum. I really recommend it. Even if it's $50 a month, pay yourself! Granted, I may take that money and buy an instrument, or it may go toward a cell phone bill, but it's mine to spend.
What's your best piece of advice for aspiring musicians who are ready finally start making serious revenue from their performances like you do?
Work with artists you know, reach for artists who are doing a little better than you, keep practicing, keep engaging with your fans, keep making art that you're proud of, and don't give up!
Get more tips on making money from your music: