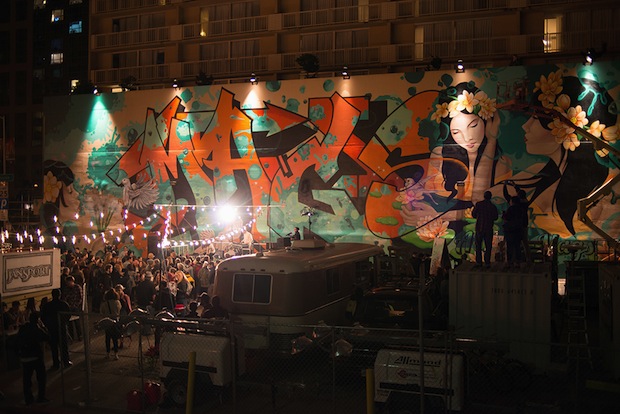 JanSport's Live Outside campaign (photo courtesy of Matt Schory)
Sometimes, you've got to look outside the confines of the music industry to find the career boost your band needs.
For instance, an apparel company like JanSport isn't exactly the first place you'd look for a music career opportunity, but they've sent bands to SXSW, given artists unique performance opportunities, and have licensed music for their campaigns.
We've gone straight to the source by talking with Matt Schory, the man who's been behind all of those music partnerships for JanSport, to explore why it's mutually beneficial for brands to work with bands, how they choose talent, and how much the landscape of using music for marketing has evolved over the years.

How do both bands and brands benefit from working together? What are the drawbacks?
I see two major benefits in well thought out, strategic band/brand partnerships: reach and associations. The first is pretty simple: A good partnership program exposes both partners to the other's audience – the brand to the band's audiences, and the band to the brand's audience. The second benefit is a little more abstract. Positive associations, especially ones that clearly support the messaging of both parties, can go a long way to help define and strengthen the voice for both brands and bands. A very, very simplified example would be a band that identifies as "eco-friendly" and partners with an organic energy bar company. Another one would be a rowdy, party rock 'n' roll band that partners with a liquor or beer company to help support their identity as a bunch of party animals. These relationships have a mutually beneficial effect for both parties.
The drawbacks only really show themselves when partnerships are ill-conceived or don't read as authentic, either from the audience of the brand or of the artist. It can be damaging to associate with a musical culture that the consumer doesn't necessarily identify as being inherent to the existing brand voice. An example of this would be if Vans all of a sudden started partnering with Jay-Z, or if Phish launched a partnership with Ford for their next tour.
JanSport could easily hire some hip music writer or another industry professional to find talent. Why do you choose to work with Sonicbids instead?
Sonicbids has an existing network that makes it easy. It goes back to my comment about partnerships needing to be authentic – in order for the Sonicbids platform to work, artists have to want to work with the brand (and that want is communicated by the artists submitting to the opportunity), and then we have the opportunity to go and select the artists we feel most organically tie back to the brand.
Which bands that you found through Sonicbids have really stood out, and why?
The two most recent were White Like Fire from Pittsburgh and Walking Shapes from New York. The first was the winner of our annual Battle of the Bands contest in which the band was selected from a pool of over 600 artists. They ended up being totally awesome people and a really great, hardworking young band, which is exactly the kind of group brands want to work with.
Walking Shapes was a group we found recently via a call for tracks to be synced with our Live Outside ad campaign. JanSport is producing a video series that follows visual artists in both San Francisco and in Brooklyn, and that series calls for a ton of music to be synced with the content. Walking Shapes had a sound that the editors and I really liked when we were cutting the footage together: pop rock, but with enough grit to still keep it interesting.
When looking for talent to work with, what helps a band stand out to you?
It really depends on the context. When it comes to licensing, it really just comes down to sound, and that will depend on the specific piece. Genre isn't really even a consideration for us. If it's good, and if it works for the content, then genre is arbitrary.
More and more brands are tossing out the old rules of 30-second TV spots meant to appeal to the widest possible demographic and trying to create highly targeted content for a digital world – and for JanSport and youth lifestyle brands like us, that means we're focusing on creating marketing that appeals to a young and largely progressive-minded audience. The artistry in creating content for marketing gets to shine through a lot more now, and part of that is the freedom to work with more cutting edge music that wouldn't traditionally be considered "licensable."
When it comes to bigger programs like our Battle of the Bands, the JanSport Bonfire Sessions, or the bands that performed as part of our Live Outside campaign (Painted Palms and Rubblebucket), it's a combination of a lot of factors. Obviously, the sound is important. We like stuff that is unique and pushing some boundaries. If it's been done a thousand times, it doesn't really help a music-based campaign. The idea in marketing is to create something memorable, and if you're working with music that is overdone or bland, there's nothing memorable about that.
The other important factor is where a band is in their career. We like to work with bands that are gaining steam. They don't need to be selling out 600-capacity clubs and theaters nationwide, but they need to be at a point in their career where they are touring nationally a bit, getting some decent press, probably have a label helping support them, etc. It goes back to the first question: As a brand, we want the benefit of the band's reach and also the association with an up-and-coming artist. Likewise, that band benefits from the reach we can provide through our advertising budget, which puts their image and music in front of millions of people they're probably not reaching through their own marketing.
Can you share any success stories about how these partnerships have resulted in either sales or new fans for the bands involved?
The first example that comes to mind is the case of our 2013 Battle of the Bands winners, Cold Fronts. Now, it would be completely unfair to say that JanSport caused this, but right after SXSW that year in which the band won the contest and played our day party, the band was signed to Sire Records. We like to think we at least helped.
Aside from that specific case of helping a band, I know that music has definitely helped JanSport. We're proud of the bands that we've curated to work with over the years. It's a huge list of artists, some of which have gone on to do big things, some that are still doing the exact same things, and some that don't even exist anymore. The sum of all of these partnerships, though, is a brand voice for JanSport that has aligned us squarely with emerging music and the lifestyle that supports it: an open mind, an adventurous spirit, and a taste for thinking outside the box.