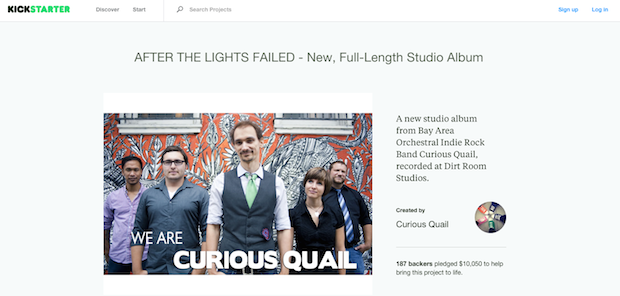 Curious Quail's Kickstarter campaign garnered 187 backers and $10,050.
Here's the truth: A lot of you are going to attempt to use Kickstarter, Indiegogo, or PledgeMusic to fund your next major project, and for some of you, it's going to be a roaring success. You're going to feel really, really good about yourself and what you're doing, and your supporters are going to be intrinsically involved in the process, making the whole thing that much cooler.
But then some of you – most of you – are going to hit a brick wall. You're going to spend hours upon hours promoting your campaign, personally messaging your dedicated followers and friends, begging people for money in the best possible way. You'll pour so much time and devotion into it only to not meet your goal and likely feel dejected and discouraged. And frankly, that's just not fair. Not with all the love you've poured into it.
So I'd like to skip the second scenario and zip straight to the first: meeting your goal, bonding with fans, and putting out a killer product that you can be proud of. I spoke to several artists and industry professionals to find out their most trusted go-to tactics to ensure a successful finish to your crowdfunding campaign.