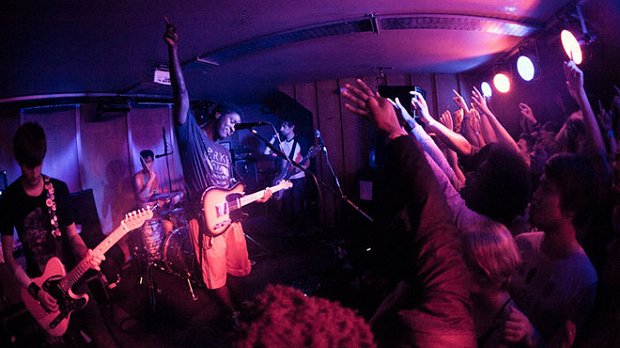 Image via sarahcarolinepadgett.com

Do you have trouble booking shows? Are you playing for the wrong crowds? Do you send email after email with no response? It's tough being an independent musician – booking your own gigs, doing your own promotion, all while focusing on the growth of your music. It's important to understand how bands successfully book good shows with good turnouts. There are several key components that go into it – here are the essentials.
Explore your local music scene
The number-one way to find out where you want to gig and whom you want to gig with is to simply go out and see shows. See as many shows as you can in your local area. If you see a band that you really like and feel meshes with your sound, go up to them after the show, compliment their sound and performance, and introduce yourself. It's rare that someone will reject a compliment and blow you off after a performance. So, be brave and approach new people you admire and would like to work with. What's important is that you follow up after the initial introduction. Send an email the following day refreshing your brief conversation, and include links to your music.
This same process applies to venues. Explore all of the bars, theaters, concert halls, etc. that your city has to offer. If you find a venue that you're particularly attracted to, talk to the employees there. Ask them how musicians usually book gigs there, and see if you can talk with or get a contact for their booking manager. Establish a connection and present yourself professionally. Let them know you love their venue with specific examples of shows you have enjoyed and what you actually like about the place. Don't go on a long suck-up rant about how amazing they are, but be genuine.
It's incredibly important for any musician to explore his or her local music scene and see shows often. If you don't go out to support your music scene, how can you expect others to support you?
Have an electronic press kit ready
Once you've established connections with venues and bands in your area that you would like to work with, have your electronic press kit (EPK) ready to send them. It should be as professional as possible – though we understand bands starting out may not have the best recordings just yet. The point is to have a representation of your sound and talent. While you may be able to talk your way into a gig without a demo of your music, it's not likely.
If you don't yet have press quotes, do your best to sum up your sound and the draw of your music. If you have photos, quotes, numbers, etc. to present to a venue, however, you'll be much more likely to get your foot in the door.
Did you know? Sonicbids members can email their electronic press kits in a professional, seamless package to any industry contact. With the click of a button, you can follow up with your contacts, manage your own booking outreach, and gauge interest in your EPK. Click here to learn more, or go ahead and create your EPK now.
Promote smart and document your numbers
When you do get a gig, promote it as best as you can. If you're skilled in design, create a web flyer to post on social media as well as a print version to hang around your city. Lead a smart and effective social media campaign to bring out your fans to your gigs. Document your marketing – if you can send past flyer designs or creative promotion strategies to venues, they'll be more confident in your ability to draw out your fans. Have examples of how you can help fill up their venue.
Always document your headcount. All venues ask the same question: "What is your draw?" Be prepared to give them a number! Once you know your headcount, be realistic with where you book. If you draw an average of 25 to 50 fans, you might not want to attempt to headline a show at your city's 2,500-capacity theater. Playing an empty show never looks good for your band, and if the venue loses money, they will likely never book you again and may drag your name through the mud to other venue owners.
Understand your market
You don't want to sell apples to a person with no teeth, just like you don't want to sell explicit, sex-themed rap to a toddler's birthday party. Understand who comes to your shows. How old are they? Where do they live? What other bands do they like? How do they find out about your shows? If your answer for who listens to your music is everyone, then you need to re-evaluate. Sure, you may feel that everyone should come see your show and that you make your music for everyone, but it's not realistic. Eminem is one of the best-selling artists in the world, but not everyone likes him. Understand your audience and your market and cater to them.
If you're a John Mayer-influenced singer-songwriter with soft acoustic music, book a show in a coffee shop in a suburban town. If you're an experimental guitarist with weird beats, book a late-night show in a grungy, artsy gallery. It's important that you're bringing your music to places where it fits. Just as it doesn't look good to play to an empty room, it doesn't look good to play to the wrong room.
Network, research, and swap gigs
Networking in your local music scene is integral, but it doesn't end there. Find out what bands are doing in the cities and states close to you. Swapping gigs is the best way to play out of your city. The formula is quite simple: you bring an out-of-town band to play with you at your local venue. They play their music to your fans and expand their audience. Then, they return the favor and bring you to your town. Swapping gigs establishes strong connections and builds your fanbase.
[Learn more: Getting the Gig: The Power of Collaboration]
Keep in mind – you don't want to invite a band two states over to play an empty show. Make sure you have enough of a built-in following to make their trip worth it. And when payout is due, give them whatever extra money you can for their travel expenses, because they're likely losing money to play in your town.
Any serious musician considering taking their music to the next level needs to invest in their career. Sonicbids gives you the opportunity to play some of the best shows and festivals around the world, and DIY bands have expressed time and again how integral the platform is to their gig-booking process, exposing them to performance opportunities they never would've gotten otherwise. If you invest in your live show and try to play to audiences who are going to love your music, you'll be putting yourself in a great position for success!
Read more expert advice on booking gigs:
Sam Friedman is an electronic music producer and singer-songwriter based in Brooklyn, NY. His music blends experimental ambience with indie-driven dance music. In addition to pursuing his own music, he is a New Music Editor for Unrecorded and is passionate about music journalism. Check out his music and follow him on Twitter @nerveleak.