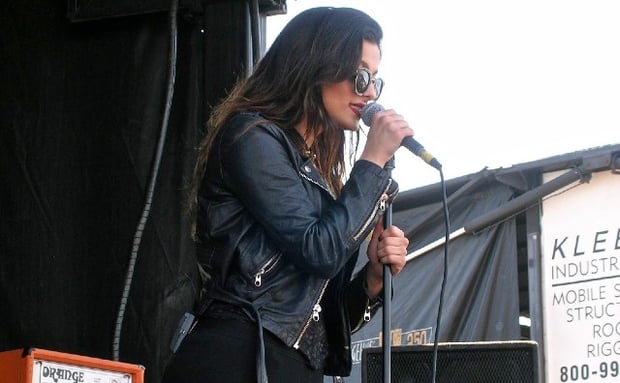 Bebe Rexha trusted her sound person at Warped Tour last year and had a fantastic set. (Photo by Adam Bernard; used with permission)
It's officially summer, and that means festival dates and performances at outdoor venues.
Unlike traditional music venues, outdoor venues have a ton of outside stimuli for concertgoers. Whether it's food trucks, merch tents, or a hot girl or guy who's showing a little extra skin, even though everyone's technically there for the music, you're still vying for people's attention. Weather, of course, is another potential issue. You can hit the stage in a rainstorm, or be performing in 100-plus degree heat.
How should artists deal with these things, and what else should they prepare for before hitting the stage for an outdoor performance? For the answers to those questions, we asked two outdoor venue experts: Kevin Lyman, founder of Warped Tour, and Lynne Colatrella, Vice President of Events and Marketing for Stamford Downtown, which puts on the annual Alive@Five series of outdoor concerts each summer in Stamford, CT. Here's their advice.
1. Wow 'em fast
If you're performing at a festival, there are plenty of other bands people can listen to, and even if you're the only performer, that food truck could be mighty appetizing to some folks. This is why Lyman says, "In the ADD society we live in, you have about three minutes to capture the people.... Be so good that when they are walking over for another fried tofu-kabob, they can't help but be sucked in."
2. Trust the sound person and production director
The people who work the sound at outdoor venues and festivals have done this for a lot of bands. They know what they're doing. "Let your sound person control the levels, turn everything down onstage, and let him roll with the elements and not overpower the noise from the stage," Lyman advises.
Colatrella seconds this, adding, "Listen to the production director of the venue. That person knows what equipment they are using, and will hear what it sounds like in the [outdoor] venue better than the musician on the stage. Some talent will say, 'We want to increase our bass line more,' or, '[We want to increase] our drum line more,' [but] the truth is you can't hear it from your vantage point, so keep that in mind, and let the pros do the mixing."
3. Weather the weather
Regardless if it's 110 degrees out or if it's raining so hard you question if building an ark and gathering two of every animal might be a good idea, you're going to have to weather the weather. Lyman says there's one surefire way to make your crowd happy in even the worst conditions: "Play your ass off so they forget about it."
Colatrella remembers a 2015 Alive@Five show with Andy Grammer that involved especially inclement weather. "As if it was planned, exactly at 5:00 p.m., we got torrential rain. He came onstage and had the best time. The audience, soaking wet, stayed with him, singing and dancing the whole show."
She says the lesson learned that afternoon that can be passed along to all artists is, "Find the joy. The audience will stay with you through rain or heat."
4. Dress appropriately
The clothing you wear for your shows in climate-controlled music venues might not be the best items to wear when you're going to be performing outdoors.
Colatrella recalls a show where this almost became a major issue. "Wynonna [Judd] performed for us a few years back, and it was 110 out," she remembers. "She was dressed in heavy black leather. I thought for sure she was going to drop from the heat. To her credit, she put on a fabulous show."
5. Avoid pre-show alcoholic beverages
Your pre-show shot or beer is perfectly fine when you're indoors, but in the summer when it's hot out, and you're going to be performing outside, you're going to want to stay sober and well hydrated before you hit the stage. According to Colatrella, "Yes, it's rock 'n' roll, but if you are drinking in 110-degree heat, there is no way you are giving your best show."
6. Don't let your profits literally blow away
When dealing with cash while in a venue, the worst that can happen is your money could get stolen. When dealing with cash while outdoors, it can literally blow away in the wind. This is why Colatrella advises all artists find a money box that is sturdy and stays closed. What's the point of selling all that merch if you end up with nothing to show for it?
7. Get your merch off the ground
When you're outdoors, if your merch boxes are on the ground, they can get soaked through if there's rain, bugs can crawl in, and you can end up with a coating of dirt on the bottom that will end up in your van. According to Lyman, a good rule is to "keep your merchandise boxes off the ground minimally with a tarp, but use a pallet whenever possible."
8. Make a pit stop before you hit the stage
In a traditional music venue, you can easily find your way to a bathroom just minutes before you're going to perform. At a festival or an outdoor venue, however, a bathroom might not be all that close. This is why Lyman says it's a good idea for artists to use the facilities before making their way to the stage. He once witnessed a band neglect to do this and have to relieve themselves in their pants during their set. You want to be remembered, but you don't want to be remembered for something like that!
Now that you have these tips in hand, you should be ready to rock your festival dates and all your other outdoor shows. Click here to find promoters currently booking bands for events like MidPoint Music Festival, the Rehoboth Beach Bandstand Summer Concert Series, and UTOPiAfest.

Get more tips for playing festivals:
Adam Bernard is a music industry veteran who has been working in media since 2000. If you live in the NYC area, you've probably seen him at a show. He prefers his venues intimate, his whiskey on the rocks, and his baseball played without the DH. Follow him at @adamsworldblog.