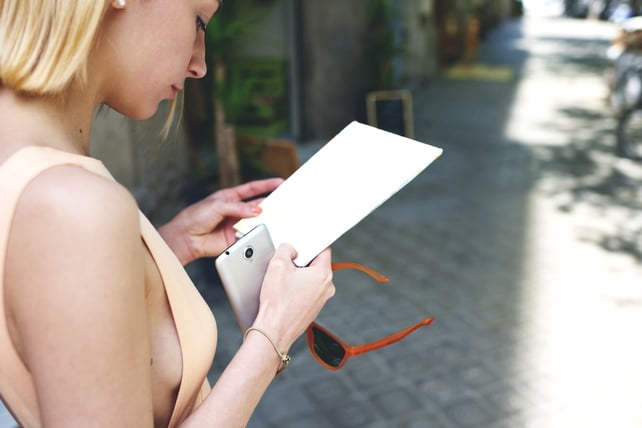 Image via Shutterstock
Read part one of this series: Be Your Own Record Label: Everything You Need to Know About Distribution
Pressing a record is one thing; distributing it is another. PR and promotion are the last part of this holy trinity and, like distribution, it takes a ton of time and effort.
The following tips are based on my personal experience running a label and being in bands, trying to get the word out about music I put money and time into. Feel free to tell me your methods that have worked better in the comments below! Maybe we can help each other out.
Don't worry about writing fancy press releases
I personally don't send press releases anymore. While people have always told me to do it, the times I've tried haven't resulted in much. I've even done internships and jobs where I more or less learned a proper way to write one, and I've based mine off professional agency examples. But it never worked like I was told it would.
So, that said, please know that this is not an article about how to write a good press release. If you want to write them, do it. If you have a more guaranteed method of grabbing people's attention with a press release, please let me know.
Establish what you need
First of all, establish where you want your releases to be seen. I think it's useful to get your stuff anywhere you can, as it's a method of spreading awareness for your label and/or band.
Ideally, the more people see a band name or record title pop up, the more they'll feel inclined to check it out. I narrow possible PR avenues down to a few types:
News and features
Reviews
Interviews
Forums
Podcasts or radio
Print
Make a list of media outlets with all the different contact info you need for each. Use Google to your advantage and make that thing 100+ rows long. Take note of what genres they cover, who to contact for what kind of press you want, and any other notes about the submission. Then, go to town.
[Musicians: Here's a Cheat Sheet to Target the Right Contact at a Media Outlet]
Writing your message
Okay, so this is where my method differs from what I've seen other labels and friends' PR agents do. Press releases, at least the way I was taught, are too long and have too much information in them. They're basically an album bio with information on the release. This is more so what I write nowadays, and people seem to respond better to it:
Hello!

Would it be possible for you to review my label's new release?

The record in question is by the [genre] band [band name] and is called [probably a terrible pun] from [city, state]. It comes out on [date]. Would you let me know what you can do?

Free download [for reviewers]: [link]

Social media:
[Facebook]
[Twitter]

Thanks!

Rob Lanterman
Hidden Home Records [I always link to my Facebook here]
Make it your own, of course, and include any extra information they want from you. Adjust your message according to whether you're asking for a review or a news piece or an interview or whatever else.
[Ask a Publicist: 4 Elements of a Great Music Blog Pitch]
Forums
While it was tempting to just name this section "Spam Reddit," I feel like that would imply that I'm not active in the places I post this to. Reddit has a lot of great music subreddits and, as anyone who uses the site knows, the community is very active and actually looks at what you post.
One example is the release I most recently put out by the Boise, ID, band SKiTTiSH iTZ. A person commented saying their girlfriend was in a band from Denver that had played with them quite a while. She apparently wore a SKiTTiSH shirt all the time, but my post was the redditor's first time actually hearing the band. It was such a cool networking experience – and it's only one case of many.
Magazines and radio stations
College radio, local radio, magazines, and local news publications are still important and regarded highly. I used to get copies of Alternative Press (before they stopped reporting on any band I listen to), and you bet I would read the mini album reviews in the back!
While I have less experience with this, I'll tell you a few things I do know. College radio stations love getting physical copies of a record with a gift basket or personalized letter. I think it's definitely worth your time to print separate, less expensive CDs that act specifically as promo copies for this reason! Don't just send burned CDs – definitely get them pressed, but make them less expensive (for instance: don't print the whole digipack, just do a cheap sleeve).
[The Biggest Mistake People Make When Reaching Out to Radio Stations for Airplay]
A lot of magazines take online submissions nowadays, but some still appreciate the physical mail as well. Know who you're trying to reach, and don't waste the money sending copies to anyone who isn't typically interested in the kind of thing you do.
Once again, I'm very much learning as I go. If you think I'm way off on anything, or have advice about how I can do this whole label thing better, please let me know on Twitter.
Rob Lanterman is a writer and musician currently living in Boise, ID. He also runs Hidden Home Records, which is the love of his life but also a gigantic money sucker. Hit him up on Twitter @Robolitious if you'd like to send him free beverages, candy, or music.