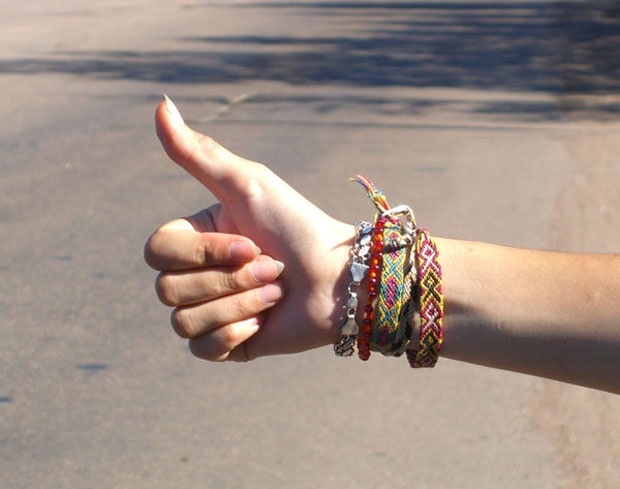 Thumbs up! (Image via Wikimedia Commons)
For many people, the allure of fortune and fame is enough to draw them to the life of a musician. Even if the reality is more likely to involve credit card debt and concerned parents, there's still enough appeal to make them risk it all for a chance at the big time.
One of the biggest hurdles to overcome for most bands is their first tour. Touring is expensive. Gas costs a lot these days, GPS devices aren't infallible, and of course, there are the inevitable breakdowns that cut into the 25 bucks you got at last night's gig. But the biggest and most daunting investment is definitely the touring van. Fronting the money for such a large purchase before you've even played your first show can seem like a bad investment. Many bands will opt for a cheap used model that ends up costing them more in repairs than if they'd just paid for the newer model from the get-go. Other bands go the route of renting a van, but if you plan on touring more than once, this will cost you more in the long run (and if you have any dreams of being a rock star, you're going to have to tour more than once).
Lucky for you, touring in a van isn't the only option. If you've got the stomach for it and the willingness to think outside the box, there are a number of options that allow you to ditch the van while still hitting the road. Some of these options become less practical for larger groups, but if you're a solo folk singer or duo, they can be great alternatives.
1. A different kind of tour bus
Greyhound used to offer something called a Discovery Pass. It was a magical thing that let you hop on and off buses at your leisure all around North America within a fixed period (a seven-day pass cost $289, 15 days cost $433, 30 days was $577, and 60 days $722). Alas, the Discovery Pass is no more. In 2012 the company discontinued the offer in favor of reserved seating, much to the chagrin of traveling troubadours everywhere.
But that doesn't mean fulfilling your lifelong dream of traveling the continent's interstates with the added bonus of cramped legroom, smelly seatmates, and a lack of horizontal positioning in which to catch some rest is dead. If you figure out the route you want to take, it's still possible to buy individual tickets between each city, and it actually doesn't cost you very much.
Doing a quick check of the Greyhound website, I've put together an imaginary tour. The first show is in Toronto, then you'll travel to Montreal, Boston, New York City, Philadelphia, Cincinnati, Detroit, and back to Toronto. I'm looking four months in advance. To hit up all of those cities over the period of seven to 10 days will cost one person approximately $249.50 (if you buy your tickets in advance online). That's significantly cheaper than you would pay in gas and insurance or van rental fees. So if you pack reasonably light, bring one bag for clothes, one for merch, and your guitar, it's a feasible alternative for a solo artist or duo.
If you're a full four-piece rock band and you can line up borrowing drums and amps at each show, it's not outside the realm of possibilities to take the whole band on the road for a measly $998 in transportation costs.
Outside of Canada and the US, there are other options. Eurolines offers a 30-day pass with unlimited travel between 53 cities across Europe. It costs between 340 and 425 euros, depending on the season. And if you're heading Down Under, Greyhound Australia offers a number of passes that could be conducive to budget touring.
Regardless of where you're heading, though, keep in mind that you'll need to pack light and give yourself enough time between each gig.
2. This train is bound for glory
There really is something romantic about taking a train across the country. If you've ever felt the desire to travel in the footsteps of greats like Woody Guthrie, maybe taking the train between gigs is the better option for you.
In North America, there are a number of options for musicians. Amtrak offers 30-day passes for $689. You still need to make reservations, but if you know where and when you're playing (which you should, if you're heading out on tour) then that won't be a problem.
If your eyes are set north of the 49th parallel and touring across Canada is what you desire, there are options for that as well. VIA Rail offers a System Pass that allows you to travel anywhere in Canada that VIA goes. The pass costs $1,299 per person, but that's spread out over 60 days, so if you're planning a longer tour around the Great White North, this makes for a great option.
If you're a Canadian citizen, VIA also offers the "Artists on Board" program, which gives complimentary or reduced fair to approved musicians in exchange for performing on board the Montreal-Halifax and/or Toronto-Vancouver trains.
3. A big thumbs up
Finally, when in doubt, just stick out your thumb. Hitchhiking with all your clothes on your back and your guitar in your hand has been the modus transportation for guitar pickers and songsters since time immemorial. It has the added bonus of helping you make friends and fans while you travel. Of course, it's a little less reliable, but some pretty notable acts first carved their way across the touring circuit by hitchhiking. Old Crow Medicine Show's "Wagon Wheel" is all about hitching around the country, for example. Even millionaires like Dave Matthews have found it necessary to hitch a ride to gigs from time to time.
The key here, again, is packing light. It's hard to carry your two Rubbermaids of merchandise, all your clothes, and your instrument while walking down the road. So pair down, keep your own clothes to the bare minimum to prevent you from smelling so bad you scare away any potential paramours, and use the rest of the room in your bag for whatever merch you can squeeze in. For all those electric bands out there, you'll need to ensure you can borrow gear from the local act at the gig, so make sure you set that up before you head out. You're also at the mercy of the elements with this option, so bring a rain poncho and sleeping bag.
This is by no means a definitive list, but the point is that thinking outside of the box can help you drastically cut costs while still allowing you to get out into the world and share your music, build a fanbase, and make friends. All that money you save on gas and rentals could also go towards buying a vehicle of your very own one day.
Next up:

Ty Trumbull is a Canadian musician and writer living in Mexico City. He's played banjo and guitar with a bunch of bands you've probably never heard of.