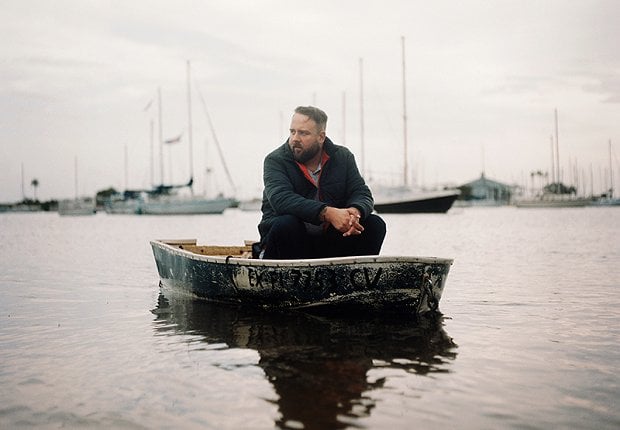 Photo by Michelle Fader
Singer-songwriter Nate Currin understands the importance of networking and maintaining connections. As a result of his contact-building, he's played over 500 shows nationally. This past year, Currin won three IMEA Awards and released his newest album, You and I Are Ghosts. As he continues to navigate his journey as a DIY artist, Currin took the time to offer us great insight on how he overcomes challenges, understanding when it's time to incorporate a team, and career-changing gigs he booked through Sonicbids.
As we all know, being a DIY artist doesn't mean you literally do everything yourself – having a team is super important! At what point in your career did you hire a manager and a publicist? How did you know the timing was right?
A solid question, yet a question that I think is different for everyone. In the early days, I thought if you landed a "record deal" then you had made it. And boy, was I wrong. I looked and looked to connect with record labels, management, and agents, but what I failed to realize is, first of all, no one is ever going to work as hard for you and your music as you. Therefore, hang onto that as long as you possibly can.
That being said, I knew I needed management and a publicist when I just got too busy and overwhelmed to do those things myself. I've gone back to managing myself (as of about three years ago) because I realized that I could do that work better and faster. But now I'm at the point where I'm looking for solid management again. As for PR and booking, I think the determining factor really is when you just get too busy to do it yourself, then you know that the time has come. But don't spend your days looking or seeking out all these things. Just make good, quality music, bust your butt touring, and if you do a good job at those things, then they're going to come to you!
What advice would you give to other DIY artists on building the right team?
Make good music and tour nonstop. If you do those things, then the right team will fall into place. However, be careful. When you begin to have management, agents, and labels interested, do the research. Don't jump at the first person who smiles at you. Do the background checks on them, and make sure they work hard for their artists and that their reputation is one of quality and honesty.
You've done an insane amount of touring in the last couple of years! How did you manage to get on the bill with Jars of Clay?
My philosophy has been: tour, tour, and then tour. After the first few years of doing this, I began to realize that sitting around waiting on something magical to happen is a waste of time. Get out there and make it happen! And so that's what I've done. I've taken some stretches off to rest and do some extensive writing, but over the last six to seven years, I've played well over 500 shows. I got hooked up with Jars of Clay about a year ago at a venue in Atlanta. One of the biggest things that I've learned is that the music industry is about relationships, and I've built some solid relationships over the years. One of those is with a venue promoter and booker at a fairly large and reputable venue in Atlanta, and so he set up the bill with me opening as support for Jars of Clay. We played that night, really hit it off, and I've had the privilege to play various shows with them now in different cities.

Much of my touring across the US is just small venues, but I've developed a large enough following to book those venues by just keeping my nose to the grind. I started in Atlanta/North Georgia about seven years ago and really began touring the Southeast two to three times a year, then eventually spread to the East Coast, West Coast, and Midwest, and now I try to cover most of the country at least once a year. But it's come in small steps by continuous touring and grassroots marketing and word of mouth.
What's the biggest obstacle you've had to overcome as an independent musician? How did you work through it?
Myself. That's the biggest enemy night in and night out. We all have those nights where we play to a seemingly empty room or where we feel like our music just doesn't measure up. And it's those days or nights where we tend to get down on ourselves and question what we're doing and why we're doing it. That's when determination has to kick in. I have those nights, but I can't dwell on them. It's all about perseverance!
Out of the dozens of gigs you've booked through Sonicbids, which have you found to be the most beneficial for your music career and why?
Oftentimes, success is hard to quantify. So, to decide which gig or gigs I've booked through Sonicbids have been the most beneficial or successful is tough. But the ones that immediately come to mind are the Real Radio Show in New York City and the Bluebird Cafe in Nashville. I played the Real Radio Show for the first time three or four years ago now, and have been on three or four times. Just really built a good relationship with those dudes, and love their show. My first contact with the Bluebird Cafe was through Sonicbids, and now I've played several of their songwriters' nights and continue to build on that relationship!
Final words of wisdom for Sonicbids artists on how they can open new doors for themselves and their careers?
On Sonicbids, definitely keep your profile updated with new music, current tour dates, a solid bio, and a good photo. And don't be afraid to fail and get turned down. It's happened over and over again, but like I said before, just keep persevering! Success is literally just around the corner.


Kathleen Parrish is an award-nominated Seattle-based singer and songwriter. Her music, touched with hints of R&B, rock, and jazz, is both versatile and unique. Aside from her music, Kathleen is a freelance journalist. For more info, please visit www.kathleenparrish.com.