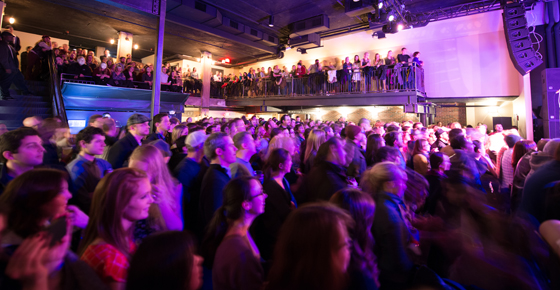 A crowd at the Sinclar, one of several Boston venues that works with Bowery Boston. (Image via sinclaircambridge.com)
If you're trying to land a gig in Boston, it's likely you'll be sending an inquiry to a Bowery Boston venue. The New York-based booking agency works with a motley slew of area staples: the 775-person capacity Royale, the 240-cap Great Scott, T.T. the Bear's Place, and the Middle East, which boasts three rooms of varying sizes, among several others.
Josh Bhatti is a talent buyer for Bowery Boston, and he's provided some insight that could help boost the success of your inquiries. Check out his tips and other helpful specifics below. Good luck!
How is a band's "level" defined? What kind of qualifications are you really looking for when deciding whether a band, either local or touring, will work for you?
​There are a number of factors that go into this, and it's a mix of past performance [and] where they are in their cycle of releasing new music, but quite honestly, there really is no perfect science to it. Sometimes a band's trajectory is above or below where we all think it's going. Luckily for us, we have so many talented people booking all of our venues (not just in Boston, but in the other cities we have venues), and we are constantly in touch and talking and sharing information. There is really no set criteria for what we look for in booking. We hope to be fans of the music, think that they can do the business to fill the venue enough, and hopefully the band is great to work with, too.
For artists and bands who aren't yet ready to work with a Bowery Boston venue, can you recommend ways to advance to that level? ​
We start working with bands very early in their careers, and it's something we love doing. Great Scott, our smallest room, is just over 200 capacity, so even if headlining that room is big, there are usually support options where if you can get 20 to 30 people out to see you play, it makes a difference. I think for a band, playing the right shows at the right venues, not playing too much but playing enough to build up a following, is good. You have to be persistent and willing to work for it, and above all, write great songs regardless of what genre you are in.
[The Best and Worst Days of the Week to Play a Show]
What about those coveted opening slots for touring, headlining acts? A lot of tours come as packages, but every once in a while there's an opportunity, right?
It's tough, and it's probably the number one thing a band reaches out on. I think the best thing a band can do is play as many shows with us [as possible] and show that you'll work at it and your chance will come. Sometimes bands will reach out to support a touring act at the Sinclair, but then pass on the opportunity to open up for a touring band at Great Scott because it may not be a high-profile gig. You need to take the good with the bad, and sometimes that lower profile gig may pay more dividends in the long run. That said, yes, usually touring bands put together the support bands themselves, but the opportunities for bands in town to open up for them do pop up.
Are there any absolute deal-breakers that bands sending booking inquiries to Boston venues should know about?
Send recorded music, but please send a link, not actual files. Luckily with SoundCloud, Bandcamp, and most bands having their music on Spotify now, we aren't getting as many files emailed to us. I think the best thing to do is keep the email concise. We don't need your whole resume – a few key points, a link to music, and anything else we should know, and that's perfect for us.
[The Most Important Thing You Need to Understand About Booking Shows]
Do you have any other advice for bands looking to land a Bowery Boston show?
Stay in touch, jump on shows when they come about, work at it, write good songs, and you'll get booked!
Click here to start booking gigs in Boston, or find out how to book shows in other major markets:
Jhoni Jackson is an Atlanta-bred music journalist currently based in San Juan, Puerto Rico, where she juggles owning a venue called Club 77, freelance writing and, of course, going to the beach as often as possible.