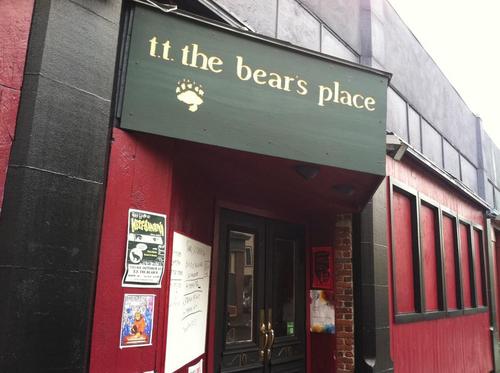 Don't get shut out by a talent buyer before they can even hear your music by failing to send a proper booking inquiry. (Image via twitter.com)
When sending a booking inquiry to a venue or booking agent who's never heard of your band, that first impression might be your last. A truly terrible email has the potential to permanently turn off the attention of those in charge straight away, rendering the awesomeness of your music pretty useless.
The most important thing to understand about booking, then, is that you've got to hit every mark at that first gateway. Warranting their attention from the start is the first and most important step in landing a gig.
We've gone over booking mistakes before, as well as general tips for booking success, but it's always extra insightful to hear from a specific venue about what its bookers are looking for from interested bands and artists. Check out what David Virr, a talent buyer at T.T. the Bear's in Boston, has to say below. We've condensed his input into two crucial tips, both of which are applicable in any booking inquiry.
1. Leave out the fluff
"What I like best is when a band gives me all of the pertinent information up front, without any unnecessary stuff. I don't care if your guitarist has been playing since age six or that you heard the venue is a nice place to play," Virr says.
He adds, "Feel free to mention your sub-genres, local bands you're friendly with, relevant press coverage (i.e., press in Boston area or national media), information relevant to your draw (i.e., drummer grew up locally, guitarist formerly of this once-popular band). Make communicating with your band as easy as possible, and you might just get a gig over an equally qualified band that either tried to give their life story, or didn't give enough information."
Also on his list of pertinent details to include:
Website (if you have one)
Facebook (to gauge your fanbase size)
Bandcamp (quick access to music)
Where you've played locally before (venue, other bands, date, draw)
2. Never request a date without looking at the venue's calendar first
"Look at our calendar first," says Virr. "If you ask for Saturdays, that means you didn't look at our calendar and see that we have a weekly residency that night. Don't ask for dates that are already booked."
And make sure you ask for a date that makes sense. "Don't ask for weekends if you can't sell the room out," he adds.
Additionally, Virr asks that bands get specific about dates. "When the band is looking to play, don't say 'this summer.' Say 'second week of May, preferably around the 10th.' Also helps to mention if you're looking to jump on a bill already in the works, or if you have an idea for a full bill."
It sounds simple enough, but you'd be shocked by how many musicians don't do these basic things and lose out on gigs because of it. Now that you know, don't let it happen to your band!
Learn more about booking gigs:
Jhoni Jackson is an Atlanta-bred music journalist currently based in San Juan, Puerto Rico, where she juggles owning a venue called Club 77, freelance writing and, of course, going to the beach as often as possible.