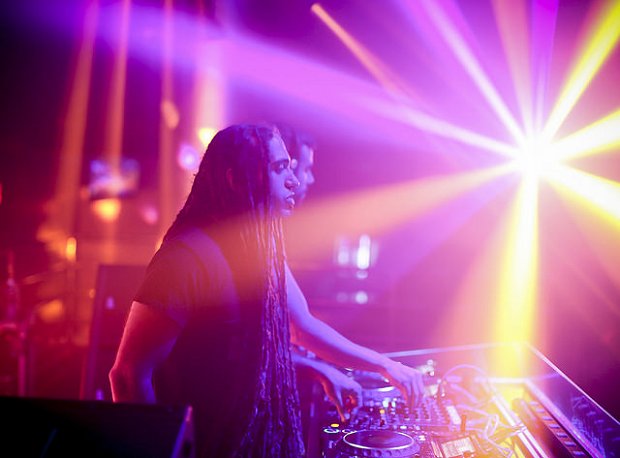 Image via flickr.com
The DJ world is very competitive. Everyone wants to get behind the decks in a cool club or venue, and as a result, there are usually a lot of DJs competing for the slots. It can be pretty overwhelming, but there are some methods you can use to help you get more gigs.
1. Get to know the venue on a deeper level than other DJs
A common mistake that DJs and musicians make is thinking of all venues, theaters, and clubs the same – they're all just venues. But that couldn't be farther from the truth. Each and every venue has its own unique vibe. Some attract college kids and others bring in young working professionals; some are more bustling on Fridays, others on Saturdays; and some have a more classic vibe while others favor newer, more experimental tracks.
There are probably other DJs looking to play that club as well, and if you approach the venue's decision maker and tell him or her to book you because you're a good DJ, you're not making the most compelling argument.
If you want to stand out from the crowd of DJs all competing for that slot, you need to show that you're the best fit for the venue and its clientele. Think about it like this: if you were interviewing for a job, would you walk in with absolutely no knowledge of what the company does? You should treat potential gigs the same way you would treat potential jobs.
There's an easy want to get to know the venues and clubs you're interested in playing. Go there. Become a part of that club's scene, listen to the other DJs that play there, take note of the tracks that get people going, discover the club's busiest days and times, and figure out how you can contribute to all of that.
2. Make an effort to meet everyone who works at the venue, not just the owner
The venue owner or music director is often thought of as the only person who has a say in which DJs get the gigs, and as a result, most DJs spend all their energy trying to get into contact with that person. In some clubs, this is the case, but in others, it's more of a collective decision.
There are a lot of people whose hard work makes the club successful. You have the bartenders, the bouncers, the light techs, the sound techs, the club owner, and sometimes more. All of these people know the venue better than anyone, and all of them either are or are connected to the decision maker when it comes to music.
If you really want to make an impression, get to know these people. And I mean really get to know them – just shaking hands and exchanging a business card isn't networking. You want to have real conversations with them as you're scoping out the scene.
[How to Nail Your Networking and Have Genuine Interactions]
In the music world, people tend to hire people they know. So if you take the time to get to know the people who make the club, you're more likely to get the gig than a random name they don't recognize.
3. Work your connections with fellow DJs who already have regular gigs
Sometimes clubs already have DJs working regular gigs or a residency with them. As a new DJ on the block, you need to be respectful of that. Yes, there's a lot of competition, but it's not about going in with the intent to take other DJs' jobs. Instead, you want to go in thinking about what you can do to contribute to their sets. The DJ world has a strong culture of collaboration, so many DJs will be willing to give you an opening slot earlier in the night if they see you're talented and have what it takes.
If you've ever had a residency yourself, you know that while it's great to have a regular, reliable gig, it can also get pretty monotonous. Over the weeks, playing the same club for a similar crowd can get old. A new DJ in the mix can help spice things up and bring a new creative spark to the resident DJ – and that's where you come in.
Connect with the resident DJ and tell him or her that you think you could do a lot to really build the crowd up for his or her set. On that end, he or she can probably share some great tips and techniques learned through years of experience. It's about coming to the table with a mutually beneficial relationship in mind, not just going up and asking for a gig.
As you can see, getting gigs as a DJ is not just luck. If you really want to make DJing happen for you, you need to put yourself in a professional mindset. If you'd like to learn even more great tips to take your DJing to the next level, check out these interviews with two successful DJs from NYC and LA. They share even more tips to get gigs, grow your fanbase, and promote your tracks and your gigs online.
You may also be interested in:
Dave Kusek is the founder of the New Artist Model, an online music business school for independent musicians, performers, recording artists, producers, managers, and songwriters. He is also the founder of Berklee Online, co-author of The Future of Music, and a member of the team who brought midi to the market.