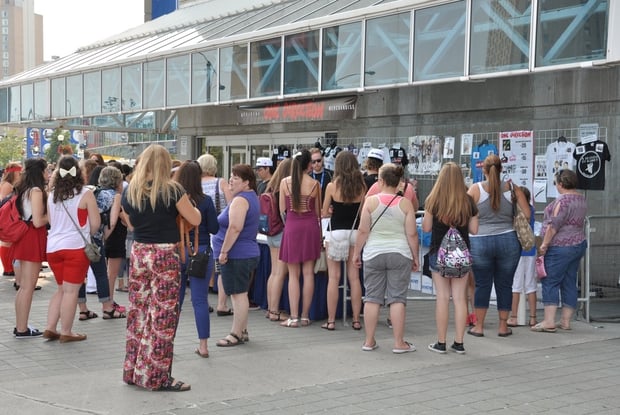 Photo by Lester Balajadia via Shutterstock
Being a musician has never been easy, but it's particularly difficult in 2016. There's still money to be made in the music industry, though, and a large percentage of that comes from merchandise. Fans who attend your concerts love to immortalize their experience by purchasing a cool T-shirt, poster, or perhaps your band's own zany creation. The potential for merchandise to bring in some serious dough is there, yet many bands aren't taking it so seriously.
Some musicians may see merchandise as "selling out," and therefore steer clear of putting a price on their music. Of course, you didn't get into music to become a business guru. Your art is important, and that's great, but if you want to have a profitable music career, it's worth it to know a thing or two about selling merch. Supporting your dream isn't free, but it doesn't have to be a painful process either. With the right type of merch sold in a strategic fashion, financing your music career is possible.
Do your research
When it comes to choosing which products to sell, a little research goes a long way. A quick Google search will overwhelm you with options of merchandise suppliers. They're far from equal in quality. You really want to dig in and research which company has the best prices, quality, and options available. When you find a few that you like, reach out to them and discuss your budget. They want your business and should be willing to accommodate your needs.
[The Musician's Essential Guide to Merch: What to Get, How Much to Charge, and Where to Buy]
During cost discussions, ask if the company will price match. Oftentimes, they'll comply or even throw in some extra promotional gear for you. Another approach to this is finding a local vendor and negotiating a long-term relationship. If you can promise them consistent business over a given period of time, they'll be more willing to help you out with lower pricing.
Furthermore, order your standard merch items like T-shirts in bulk. Buying in bulk saves you money and time. Also, be wary of elaborate and colorful designs. They may look cool, but many screen printers charge per color, so a flashy T-shirt just might break the bank.
Once you finally have your merch, it's time to establish pricing. Don't sell yourself short, but don't overcharge either. Something reasonable that speaks for the quality of your products will be best. From there, your merchandise table will become a well-oiled machine of commerce.
[How to Price Your Band Merch: A Simple 4-Step Guide]
Choose the right merch to sell
Unless you're KISS, odds are you won't need to invest in ridiculous merch like action figures and costumes. In fact, you don't even need to be particularly creative with what to sell. The foundation of any good merch table starts with your music and T-shirts. Any band will tell you those are the most sought-after items for fans.
You may want to just dump everything on a table and go mingle with people at the gig, but put a little bit of thought into the presentation. Try decorating your merch table with things like buttons and stickers. These items are extremely cheap to make, which means you can give them away for free or at a low cost. This means loads of free marketing for years to come – that is, if you have quality products. Investing in a quality product ensures that your image won't fade. It's tempting to go cheap on quality to save a couple bucks, but in the long run, you're only hurting your band.
If you're putting your name on something, do you really want it to fall apart? Think about how that will make you look. You don't have to buy the Lamborghini of band merchandise here, but don't cheap out. Your fans aren't stupid. They can tell if something is cheaply made, and they will pass on buying it. This will leave you with hundreds of ugly, leftover T-shirts that you can't get rid of. As for what brand to get, many bands swear by American Apparel. They're relatively affordable and have a great reputation for making well-made products.
Once you have your foundation set, you can start to venture into more unusual items. These will attract your biggest fans who want something unique. As you may know, low supply equals high demand. By telling your fans that you have a limited edition poster or something, they'll flock to the table. Of course, this will only work if you have laid down the base with quality products like your music and T-shirts.
Choose the right way to sell
If you have a trusted and charismatic friend, ask if he or she could work the merch table. If you're on the road, designate someone in the band to man the table when you're not onstage. When you're onstage, do your best to find someone to cover your merch – perhaps the merch person for another band. Another good strategy is offering a guest list spot to a local fan who wouldn't mind selling merch while you focus on the show. Some people don't enjoy talking to strangers or handling money, so it's important to find someone charismatic who can make some deals and promote your music.
When it's time to play the show, the selling doesn't stop there. You're onstage and have the attention of the room. Use it. Give a few shout-outs to your merchandise throughout the set. Don't overdo it and sound like an infomercial, but a few clever lines here and there can go a long way. "Buy our shirts" won't do. Try to get creative with it and establish a connection with your fans. Talk about a limited-edition item that's almost sold out, or mention a special deal fans get if they buy tonight.
[9 Secrets From Indie Artists for Selling a Ton of Merch After Their Shows]
Package deals are some of the more effective ways to offload merchandise. By discounting a couple of dollars off the cost of two items paired together, you can convince a fan they need that T-shirt and a CD as well. Everyone wins in this situation. They get to save some money, and you get to sell more than you originally would if you only sold the T-shirt. For example, if you're selling T-shirts for $10 each, sell two for $15. You'll be moving inventory fast and involving fans more effectively.
Lastly, make sure you can accept credit cards. Cash is becoming less common these days, and you don't want to miss out on selling merch just because you don't have a card reader. Card readers are affordable and easy to set up. Square is the most popular system for doing this, but there are many different ones out there with low fees.
Get more merch tips:
Anthony Cerullo is a nomadic freelance writer and keyboard player. In his spare time, he can be found reading, hiking mountains, and lying in hammocks for extended periods of time.