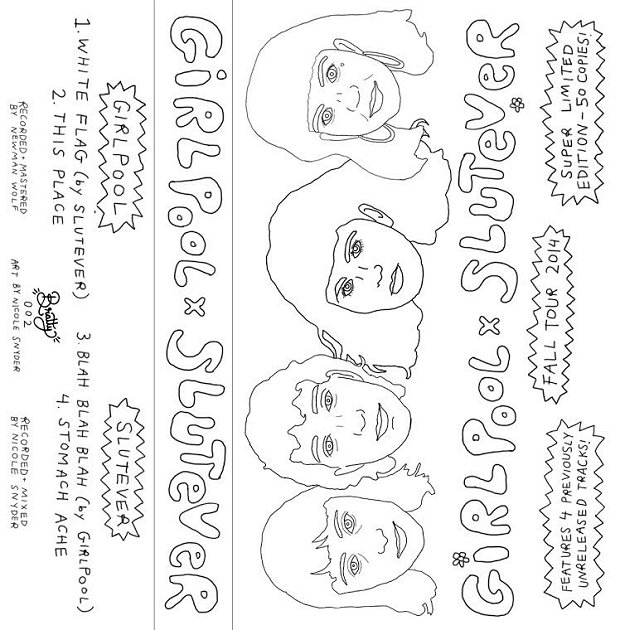 Artwork for Girlpool and Slutever's split EP, released last fall just before a joint tour. (Image via girlpool.bandcamp.com)
You didn't think we'd just gush about the many benefits of split EPs without offering some tips for releasing your own, right? Below is a general rundown of how it's done for first-timers, complete with helpful reminders for anyone not seasoned in the process.
Before you pair up with another artist, however, ensure that you're each willing to foot the bill equally. Sure, your band could front the cost and wait to be repaid by the other ahead of time, or you could recoup from sales. That's all a bit risky, though. You don't want to tarnish the partnership by arguing about money, and the best way to avoid that is to stick to the essence of the split, and go Dutch on everything.
1. Find the right partnership
While exposure to each other's fans is arguably one of the biggest benefits of a joint release, pairing up completely disparate genres is the hardest concept to market. If it's your first time offering your fans a split, try instead to source your other half from bands you think your audience might also like – maybe a group you've shared a bill with or met in passing at a like-minded show.
You don't have to be located in the same city, though. Whether or not that matters depends on how you plan to record. Some options for creative split releases:
Brand new tracks from each

Covers of each other's songs

A tribute to a band or genre with a cover for each

Mixing band members within each band
In most scenarios, you won't have to be together to record. You can share online from start to finish – just make sure you communicate well throughout the process to avoid any unwanted surprises.
2. Collaborate on artwork
Assuming you're working on a DIY budget, you'll want to keep the record sleeve cost at a minimum. We previously outlined a guide to getting great album artwork on a limited budget through routes like contests or working with artists looking to build their portfolios. Another benefit of the split release: in this dual effort, you've got two pools to pull from!
Be sure to work together on this, though. The artwork doesn't have to be a traditional one with both names on it – you can be as creative as you wish, just like with a regular album. Just don't forget there should be equal enthusiasm for the design from both sides.
3. Organize a release show
This goes for all release shows: wait until you've gone wild over the test pressing, confirmed with the pressing plant, and received a tracking number for your shipment before booking a date. You've got to be sure the physical release will be available as promised. Otherwise, you'll either have to cancel (which upsets the fans and the venue) or perform without the EP for sale (a super bummer). You can base the gig poster on your album art for an extra push.
It's normal to book another band or two, by the way. Don't rely on only yours and your split pals to draw the crowd.
4. Promote it effectively
Public relations reps typically start promoting three to four months before an album release. That goes for EPs, too. Make a plan that includes reaching out to contacts from both of your press lists. Obviously, your press release should include information about both parties, as well as potentially interesting tidbits like:
The impetus for the collaboration
How you know each other
Details about the song choices
How it was recorded
And don't forget to include information about the release show you've planned!
5. Keep the promo going: plan a joint tour
It's not a possibility for every band but, if you can, try a series of shows together – even if that just means visiting neighboring states. Playing together adds extra appeal for fans considering buying your shared release.
Jhoni Jackson is an Atlanta-bred music journalist currently based in San Juan, Puerto Rico, where she juggles owning a venue called Club 77, freelance writing and, of course, going to the beach as often as possible.