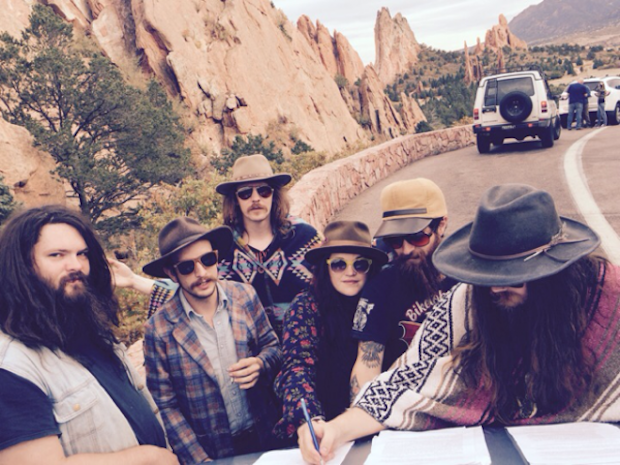 Banditos signing their record contract while en route to one of the 150-plus gigs they play annually. (Photo courtesy of the band)
The internet has brought the world closer than ever before, yet for young bands on the road, the tool that should be their strongest ally might be working against them.
My hometown, Birmingham, AL, has a strong local music scene. There are lots of great bands, new venues, and supportive audiences. Musicians play in each other's projects without much care for sticking with specific genre. As a result, both the bands and the crowds are more musically diverse. There's a general pride in seeing local bands succeed – even if it's a band whose music you don't particularly care for. It's lovely.
But I've noticed something: not as many bands want to leave the nest. What's more, fewer bands from the Southeast seem to be making it to town. There was a time when trading shows with bands from out of state was the norm. Now it seems that bands are more likely to stay in their own bubbles rather than branching out.
I presented this observation to Freaky Deakys on a recent episode of my radio show, Blood on the Knobs. The band, which was celebrating the release of their debut album with a short tour of the Southeast, had noticed this as well. "It's more intimidating now," said singer Trevor Dane. "You see all these other people [vying for shows] as well. It can kind of get to you." But the long odds aren't keeping the band from getting in their van and going for it. "I wanna go out and experience other places, and other bands, and other artists, and meet and do, and just get out there. That's what half of [playing music] is."
But the only reason Freaky Deakys was able to put together that tour at all was by getting themselves out there. "I don't know really know how other people do it…as far as trading shows with other bands," says guitarist Rolf Briney. "That's kind of how we built a lot of the dates on our tour."
It's understandable why a band wouldn't want to leave its bubble. It can be dispiriting to spend the time and money driving to somewhere new only to play to the bartenders and bouncers. There's also lots of competition from other bands – whether it's another local artist or a nationally known act passing through – or the myriad distractions provided by the internet. But guess what? Bands playing to no one is nothing new. It happened before the internet, and will most certainly continue until humans are sucked into The Matrix for good. By not touring, though, you're robbing your band of crucial character development, the chance to make important connections, and, most of all, great stories.
\\GT// is another Birmingham band that I recently featured on Blood on the Knobs. They've put out a couple of EPs and have a new album on the way called Beats Misplaced, which has already been released in Europe and the UK to rave reviews. I had them on the show both before and after an East Coast tour, so they could share stories from the road. Despite some setbacks, they played to small but enthusiastic crowds everywhere they went. They won over the venues, too, many of which invited them back. They moved merch, too, even making some trades: a bartender at Reggie's 42nd Street Tavern in Wilmington, NC, paid for an LP with both cash and a painting of "some guy that comes in his dreams all the time. It was really weird and cool," says singer/guitarist Scotty Lee. "I know how it is – you can't afford something, but if you have something that means something to you like [our album] means to us, then yeah, of course we'll help you out."
"Merch numbers can be equal to or more than the money the band makes off the door," says Charlie Smith, an experienced tour manager who's worked with King Kahn and the Shrines, Man or Astroman?, and St. Paul and the Broken Bones, among many others. "A small touring band's goal should be to break barely even off door guarantees, and then let all of the merch profit be gravy on top…. It's hard if you don't have a following to start touring, but you need to tour to really gain a following. There's no magic formula. You'll probably have to play a few weird pizza joints before you graduate to proper venues."
St. Paul and the Broken Bones' Jesse Philips concurs (especially re: the "pizza" gigs): "You gotta tour. The internet can actually help drive folks to the shows, once you gain a bit of notoriety. You will play tough gigs and probably lose money initially. And play a pizza joint or two. But I think it's the only way, ultimately."
So consider this: the internet may be your competition, but it should also be a tool. Obviously, worldwide access to your music won't guarantee you a global audience, but you can instead use that broadcasting power to focus on spots a little closer to home and, over time, gradually increase your touring radius.
"It used to make sense to build tours through major markets," says Janet Simpson, who's toured the US and Europe with several bands, including Teen Getaway, Delicate Cutters, and Wooden Wand and the WWIV. "Now, I'd say that because the internet has created equal opportunity access to bands' music, the forces that drove major markets like radio and press are basically nonexistent. Instead, bands should tour smaller, tighter circles. Hit minor markets. Small towns have bars where people are hungry for music. You could make more money touring seven cities in one or two states, plus shorter drives and lower costs!"
[5 States With More Than 5 Awesome Cities to Tour Through]
Furthermore, make sure your internet presence features quality representations of your music, not to mention videos – particularly of your live show. I know this seems obvious, but if the decision to come to your show will be based on whatever somebody can access from his or her phone, then you really want to put your best foot forward.
Of course, your band doesn't have to tour. Great music isn't made legitimate because of a live show, no matter what any Baby Boomer might tell you. But it is indeed a powerful force. If you have larger aspirations for your band, like getting signed to a label, then putting in road work (and it is work) will likely increase the likelihood of you being signed.
Just ask Banditos. Born in Birmingham and based in Nashville, Banditos' true home is on the road, where they've spent the last few years playing upwards of 150-plus shows annually. They recently signed with the venerable "insurgent country" label, Bloodshot Records, and have since put out a killer record, received tons of well-deserved praise, and a now global audience. All that hard work has earned singer Mary Richardson the right to wax poetic about life on the road, so I'll let her have the last word:
"Since we've been inside the low/mid-level touring band circuit, we've seen many friends doing the same rough touring as we are for about five years now," Richardson says. "I have an optimistic disposition about it. I think the internet is a great tool, but has made it easier to project yourself into the ears of a population that are less and less inclined to leave their house to find new bands. It's so easy when it's right there in their bedroom.
"Of course, we think live shows are the truest form of a band, but it's deciding to skip out on your job's pay, which is way above what you'd make in the split at 2:00 a.m. in some seedy club 500 miles from home. It's moving in with your girlfriend knowing you won't make much money, and you're living in a van. It's being a proud and glorified homeless cult. It's complete lunacy to most stable minds. But folks like us never did well with walls, right? And there's always us. I think the 'us' will never not think touring is the life they need explore, but embodying a bullet ripping through the dark like some sorta crazed firework will always end in a hard place.
"Love and music will always be the highest form of self-expression. I believe live shows are the closest feeling to God, or whatever, because it's all the good stuff mixed together. The internet can try, but they can't ruin that inherent need to express a tangible feeling."
Get more touring tips:
James P. Fahy is a writer, musician (Teen Getaway), radio show host (Blood on the Knobs airs every Tuesday on Substrate Radio), occasional publicist, full-time dad, and music business person who's worked with the Coalition of Independent Music Stores, Communicating Vessels, Naxos, and Redeye Distribution. He lives in Birmingham, Alabama.