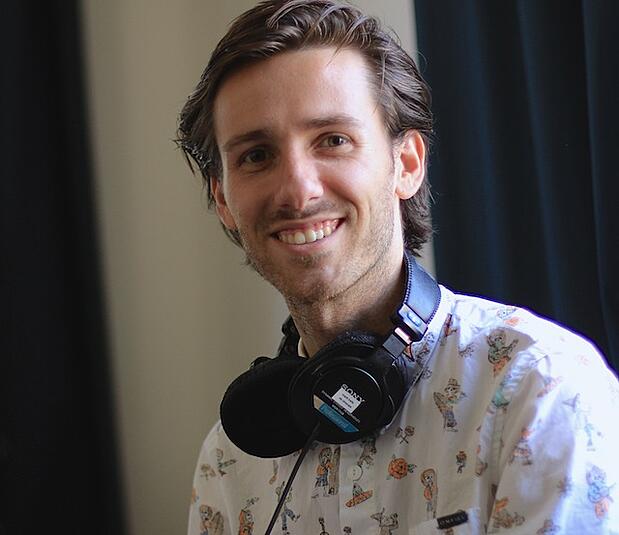 Roadtrip Nation began as an idea in 2001, spawning a full-fledged television show by 2004. The idea was to stick kids into an RV where they drove around the country (or multiple countries), interviewing people that were inspirational to them. By the end of the trip, the goal was for them to have a better idea of what they wanted to do with their lives.
Roadtrip Nation is currently working on its 12th season, which will air in fall 2015. The team is quite focused on featuring talented, independent artists on the show, and has turned to Sonicbids for help. This year, they are looking for 25 Sonicbids bands to feature as part of the soundtrack for the new season.
We got the chance to speak to Music Director Mark Batstone to learn more about what led him to Roadtrip Nation, the show, and the music in it.
Though your current project is the first you've had in the music industry, it seems music has always played a large part in your life at one point or another. Had you always wanted to ultimately work in the music industry?
Yeah. Well, kind of. My dad is a fulltime musician, so growing up he would always go on tours with bands and I would hang with bandmates or visit the video truck. After sitting in the trucks for a while, I started to gain an interest in video, too. So, I started gripping cables and taking high school classes on video production. At the same time, I was playing guitar and singing in bands with schoolmates, but I never exercised enough discipline to put in the hours to get really good. I thought my taste in music outweighed my musicianship.
I did some traveling as a grip and operating cameras at concert events, and ultimately I thought, "I want to do sound for film." I went to Vanguard University and studied communications with an emphasis in audio production, wanting to learn how to do studio recording and sound effects for film.
It was in College that someone told me about an internship with a small local production company that had a documentary series called Roadtrip Nation.
Tell me a little bit about your current project, Roadtrip Nation. What's the background on it?
Roadtrip Nation is a public television series that started in 2001, and we're working on our 12th season right now. The show centers around the question, "So, what do you want to do with your life?" It's a series about young people finding direction in their lives.
Every year people apply to go on a Roadtrip, and we pick who gets to drive one of the big green RVs across country for around seven weeks, interviewing all kinds of inspiring people to hear their stories and find out how they got to where they are today. This summer we're sending out three teams in three RVs to cross the US, but we've done trips to Australia, New Zealand, and Israel as well. We get the footage from these trips and edit them into a TV series, put all the interviews online, and create an educational curriculum with lesson videos for high school students to get a better idea of what careers are out there.
How did you get involved with Roadtrip Nation?
When I was a junior in college, I was working as a high school youth camp counselor. The leader of the church's youth group, Josh, knew that I was into film. His brother Luke was working at Roadtrip in the Production Department and was looking for interns.
I applied, went in for an interview, and then started working there 15 hours a week, capturing and organizing footage from the road. I was balancing work at a Greek restaurant, work as a youth counselor, my college courses, and an internship - but 15 hours a week turned to 20 hours a week, then to 29 hours a week. So, I left my tip-making job at the Greek restaurant and focused on studying and interning. After a while I got asked to come in fulltime.
Following your internship at Roadtrip Nation, it took quite a while before you ended up heading the Music Department. How did you go from being the audio and video editor to where you are now?
Since I started, I just kept on saying yes to things, worked, and learned. I enjoy solving problems and working with different people. From intern I turned into intern manager, to assistant editor, to post-production coordinator, to color corrector, to editor, to cinematographer, to audio editor, to educational video director, to RV driver, to music director. Not all of those jobs were a good fit for me.
My experience in music and adio kind of gave me an edge in video. Sound can be the overlooked half of video, and if the audio is bad or the music doesn't quite fit, the emotion doesn't carry or the video feels cheap. I was extra picky with my audio edits and helped other people out in placing music in the videos. And on the side I was recording my own music, and helping out other bands. When the head of our Music Department left and I got offered the job, I was really excited, but I didn't expect it.
What do you currently do as music director for the show? What are your primary responsibilities?
I structure my job to make Roadtrip Nation better through music. And I say that loosely, because I'm still trying to figure out how to use music in a variety of ways to create a better brand with all the different projects we have going on. Music can bring a "cool factor" to a TV show, and if I do a good job helping out Roadtrip Nation, I get to do a good job helping out the musicians as well.
We like to use independent, non-major label music because that type of music pairs up with the independent, non-mass-produced themes of Roadtrip Nation – which is both stylistically cool and really tricky. Good music is far better than drag-and-drop jingles or loops from a library, however, we're always on the search for smaller great-sounding bands that haven't quite gotten big yet. So, I'm often looking on music blogs, visiting Bandcamp pages, going to shows, or asking friends about music to find. And there's a lot of cool stuff to listen to.
I imagine that the show is a great educational outlet, not just for viewers and participants, but also for the crew. What are some of the favorite things you've learned from being involved?
I've been fortunate enough to have wandered through a lot of different job titles, so now I have both a deep and a broad experience of how these industries work together. I actually removed any job title from my business cards because my experiences are so varied.
That's a big theme of Roadtrip Nation: self-exploration. The show is about people asking for advice and sharing life stories. And when I'm working on these videos, a lot of those voices sink in. But also, to work at a nonprofit where you are helping high schoolers figure their lives out (and it works!) is great.
But I think I've learned the most in working with people. Doing all these different things, I've had to get better at communicating with my coworkers, and writing clearer emails and scripts.
What's next for you? Do you have any other projects you're also working on? Anything you would like to accomplish in the future?
Well, right now I'm mostly focused on Roadtrip. I'm having a band from our series play at our office next week, and we've got other live music events coming up this fall. Outside of the office, I'm filming the occasional music or camp video. And as far as my own musical career, I'm playing bass a couple times a month but I can't write lyrics for beans... I think I'll record some Beatles covers.
Apply by November 11, 2014 to get your music licensed for an episode of Roadtrip Nation!